You're interested in riding a bike to have a good body shape but afraid of the sun and pollution outside? Or that the wet season comes with rain keeps you at home all week long. Don't be upset. Pedaling now doesn't have to be done outdoors as there is the exercise bike that imitates every movement of a standard bicycle. You can go to the gym or most conveniently buy one for your house to do it whenever you want. However, among various models on the market, you should take notice of some key features and types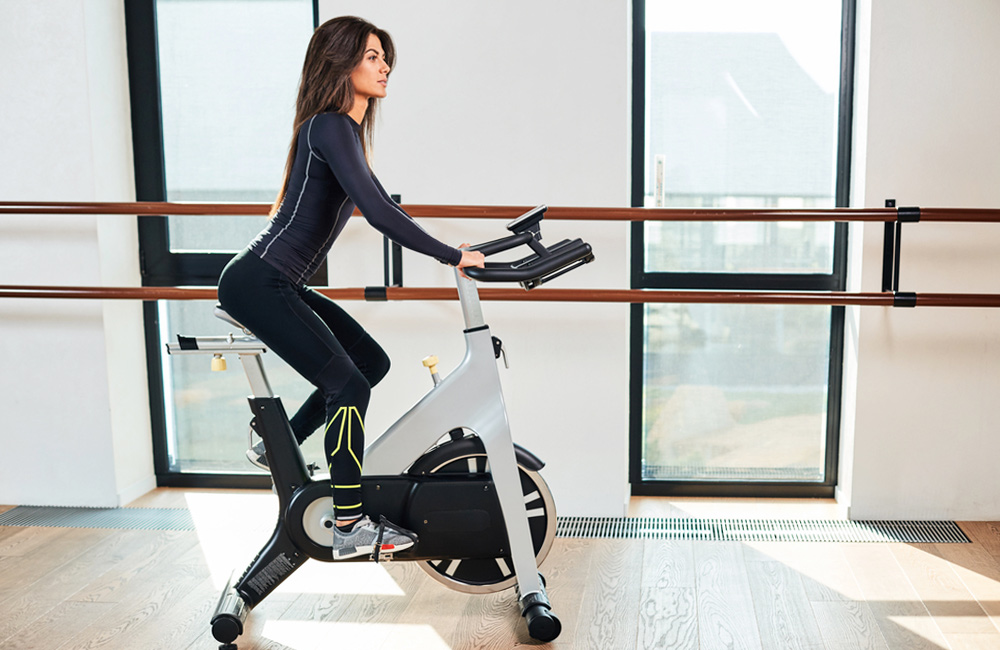 What are the different kinds of exercise bikes available?
There are three different types of stationary exercise bikes on the market: upright bikes, recumbent bikes, and dual-action bikes.
Upright Bikes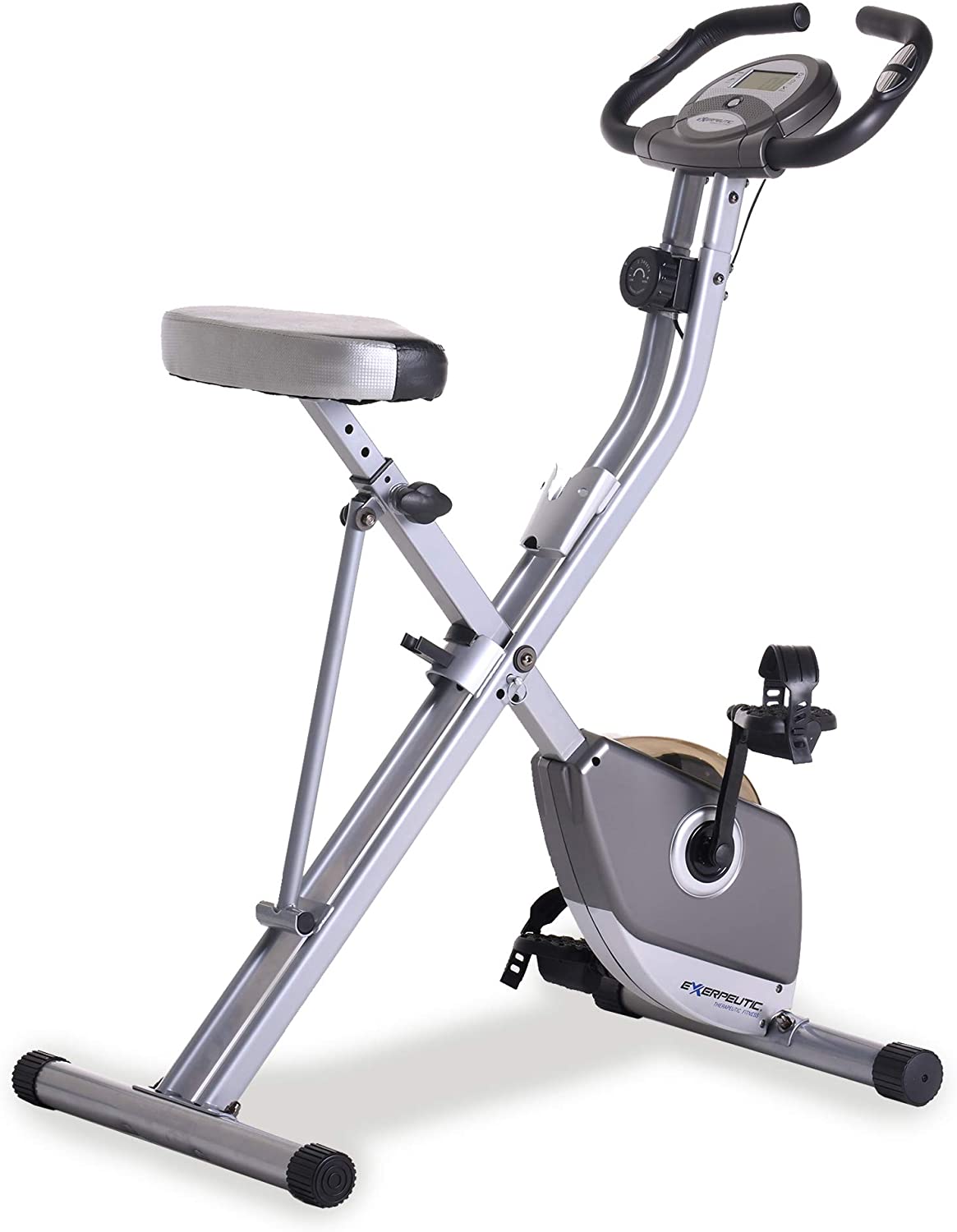 Upright exercise bikes and traditional bicycles have much in common. Their saddles are tiny and people will sit with their back unsupported. This kind of bikes doesn't take up much space and it provides effective workouts for your lower body and cardiovascular system. You can stand up while pedaling with ease.
Recumbent Bikes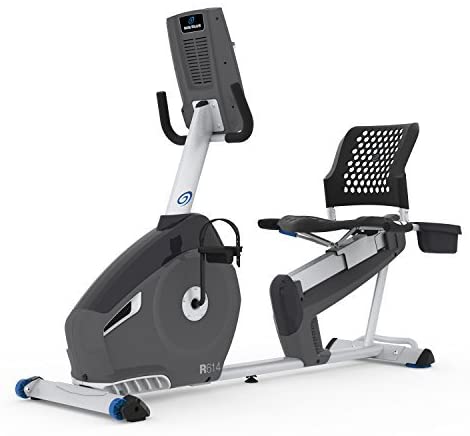 Recumbent bikes are what overweight persons often choose to have a workout. A reason lies in the laid-back seating style. Due to the chair-like structure, the seat allows you to comfortably lean back while pedaling. Therefore, people with back problems also love this kind of bikes. With the pedals located toward the front, the bike brings the feeling similar to driving for its riders. Your hamstrings and gluteals will be positively impacted. Also, blood flow throughout the body is promoted. Some recumbent bikes allow you to adjust the angle of your seat with a recline feature. If you are not a bike enthusiast, recumbent bikes should be perfect for you.
Indoor cycles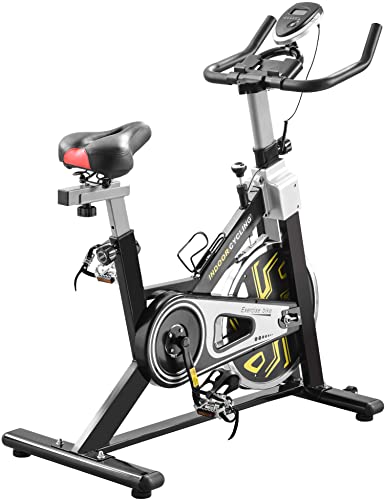 These bikes give a real riding experience, hence, providing the most intense workout for those who think highly of cycling training. Like racing bikes, they also have a chain drive system. You can manually set the resistance of indoor cycles. The main focus is on performance and training so other few features are not included.
How Many Calories Are Burned When Exercising With an Exercise Bike
Your pedaling speed and workout duration decide the number of calories burned. However, time and speed will depend on your body's weight. Therefore, you should plan your exercise based on your weight.
A study of scientists said that riding a stationary bike for 30 minutes, a person weighing 125lbs can burn 210-315 calories. The calories burned by people weighing 155lbs and 185lbs are 260-390 and 310-465 calories respectively.
When you exercise for 60 minutes, it will burn up to 420 calories for a person who weighs 125lbs. A 150lbs person could burn 520 calories and a 185lbs person could burn 620 calories. These values are only basic averages. Because in fact, it depends on many other related variables.
Research demonstrates that higher amounts of calories are burned when people do it in a class. That's especially the case where instructors motivate them. The energy and music in the room will be largely conducive to higher one's calorie expenditure.
What to Look for in An Exercise Bike
Flywheel and Resistance
The flywheel rotates and gains momentum due to the power of your pedaling. To make your pedaling fluid, it is better to choose one with a heavy flywheel. For a standard bike, it should weigh over 7kg but for entry-level or foldable bikes, the flywheel can be lighter. Some high-performance bikes might have over 20kg bikes
Resistance is to increase the intensity of your riding and there are 3 types of resistance possible on exercise bikes: mechanical, magnetic and air.
Mechanical resistance works on direct contact with flywheel. The resulted friction can be increased or decreased manually, usually by turning a knob. Other devices that produce the friction might be a band going around the flywheel or a brake pad. A high level of mechanical resistance helps your legs to burn large amounts of calories.
Magnetic resistance is the most functional system which uses magnets in different positions to change the resistance. It works well with heart rate control and pre-set workouts. Press buttons on the console to change the levels of resistance.
Air resistance works by your pedaling powering a fan that generates air flows. The resistance gets harder depending on your speed of pedaling. Therefore, that is the issue too. You have no way to have a lighter resistance rather than slow down your pedaling
Program
There are various built-in programs or trainers which feature kinds of workouts namely fat burning, high intensity, low intensity, etc in an exercise bike. You can program the adjustable or manual routines based on the model you want. However, you need to take your age, weight, gender into careful consideration before choosing a model so that it gives you the best program training.
Seat and Pedal
You should pay attention to the cushion and size of the seat. It had better be well cushioned. The original seat of your machine is highly recommended and to bulk it up, just add gel covers sometimes. If you're used to spin classes or fast cycling which often have the seat with larger size, you may need to choose the size of your exercise bike more precisely.
There are clips for hardcore trainers in some exercise bikes, but the majority will have normal pedals – try them out first to see whether it is too skinny for you so that you won't have to buy wider ones after buying an exercise bike.
Adjustments
If your bike doesn't suit your measurements, it is not the end of the world as there is a good range of adjustments which can be made. Check before buying to make sure your bike doesn't lack any adjustment. The seat pad is the most likely to be adjusted. In recumbents, they are horizontally aligned so adjust horizontally. For upright cycles, adjust vertically but try and pick one out with horizontal adjustment to your avoid leaning too much.
Remember there are handlebars that can be adjusted in some exercise bikes. As you may lean on the handlebars during high-intensity bursts, they play an important role but not every model has adjustable ones. However, with pedal straps, they are adjustable in almost all models now because it is directly related to safety. Your feet need to be secured firmly into the place so that you can pick up momentum without slipping off the pedals.
Console
The console is where you can control your session and see your stats as you ride. Choose a workout programme, set the resistance (depending on the bike) and track your distance, time, calories, heart rate and other key pieces of data. There are modern models with sophisticated consoles including LCD, color screens, audio inputs, and more detailed feedback options, not just minimal functions in simple consoles of some low-cost and outdated bikes. Some people get huge source of motivation by continuously looking at their performance so that they can keep trying to ride towards a goal for their session.
Folding
When you don't have much space left at home for an exercise bike, it is time you looked for a folding bike. Their advantages can be listed as light, portable, space-saving, easy to store or move between rooms. Although some people may find that the riding experience is not as comprehensive and satisfying as that of larger, more traditional exercise bikes, folding bikes are still popular and enjoyable to ride with many people. With people whose space is the most important criteria in selecting a bike, these bikes practically have it all to serve their demands.
Safety
With many moving parts, exercise bikes can be dangerous, particularly for children. You must obey the safety directions thoroughly. When the bike isn't in use, make sure you lock it and store it out of children's reach. When it is in use, completely forbid children to stay around.
Accessories
If you are alone or in a bad mood, you might feel less energetic to exercise indoors. Therefore, some modern models of exercise bikes have come up with many accessories featured in the whole package to make exercise more comfortable and enjoyable.
The accessories can be a built-fan to cool you off after getting hot because of intense workout, a built-in sound system for music lovers to chill while pedaling or a water bottle within your reach to keep you hydrated without stop pedaling time to time to go get water.
Warranty
You are advised to buy an exercise bike which has at least a one-year warranty, including labor. Labor warranty is essential because all bikes' parts are normally guaranteed but labor is not so you might get charged for it. When you have a labor warranty, you're free to call a technician to your house to repair your exercise bike.