Preparing for the adventurous journeys around the world without bringing the comfortable house with you, then what are you going to do is always a good question. These days, the backpacking cots have been becoming one of popular sleeping accessory for tourists besides the camping cots. They provide a good sleeping place outside when you are in nowhere. Thanks to the high-quality technology in the production process, these backpacking cots are produced as the good traditional sleeping mats. They are absolutely better than the others for their versatility, comfort, strength, and light. They seem one of the best things to keep you off the ground easily.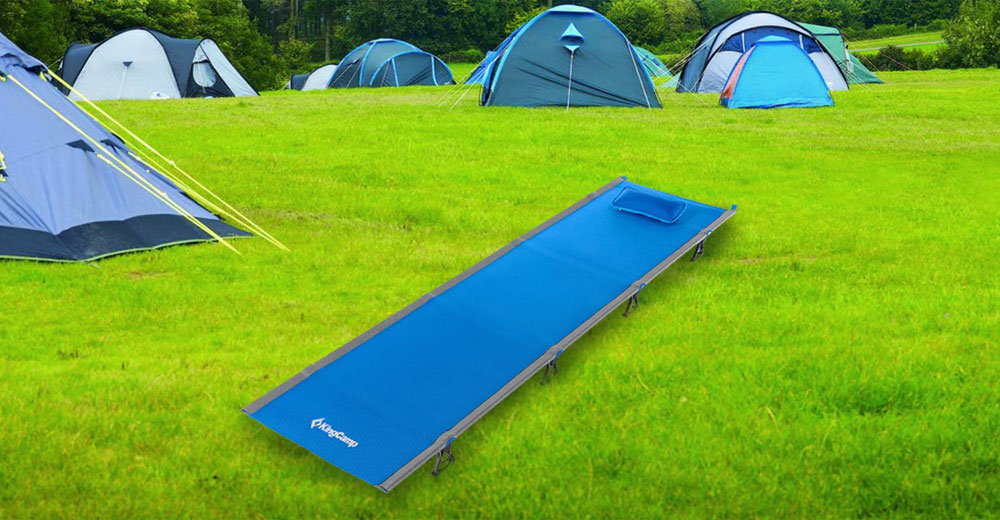 To be honest, they are considered as the best backpacking cots for enthusiastic backpackers nowadays. To meet the needs of people, we have been researching all camping cots and backpacking cots that are more useful than the othersand put them in a group that gives great features to recommend to everyone.
Top 6 Best Backpacking Cots Reviews
| PRODUCTS | MODEL | WEIGHT | SUPPORT | CHECK PRICE |
| --- | --- | --- | --- | --- |
| | KingCamp Ultralight Compact Folding Camping Tent Cot Bed | 4.9 Lbs | 265 Lbs | Check Price |
| | Therm-a-Rest Mesh Cot | 3.98 Lbs | 300 Lbs | Check Price |
| | Ultralight Folding Portable Cot by Yahill | 3.3 Lbs | 220 Lbs | Check Price |
| | MARCHWAY Ultralight Folding Tent Camping Cot Bed | 4.5 Lbs | 300 Lbs | Check Price |
| | ALPS Mountaineering Ready Lite Cot | 4.8 Lbs | 300 Lbs | Check Price |
| | Desert walker camping cots | 2.8 Lbs | 440 Lbs | Check Price |
Below are the detailed reviews
1
KingCamp Ultralight Compact Folding Camping Tent Cot Bed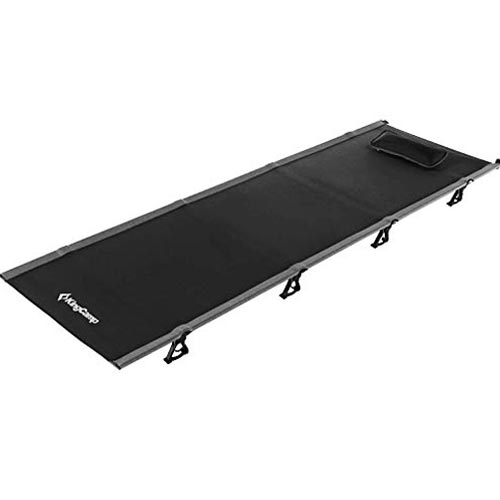 Specifications:
Support: 265 Lbs
Size: 75 × 25 × 4.7 inches
Folded Size: 14 × 5.1 × 5.1 inches
Weight: 4.9 Lbs
King camp ultralight compact cots only weighs 4.9 lbs thus they are really light and easy for packing and carrying. This backpacking cot looks like a bed when we set it up, the dimensions of this cot are 75 × 25 × 4.7 in. The sleeping surface of this product is 4.7 inches from the ground with its durable aluminum alloy rods support campers are up to 265 lbs in weight and 6 ft 2 inches in height. Moreover, it is quite lightweight at 265 lbs. It can be folded easily after use. We can pack it in the package to make a pillow in shape thus it is really convenient. It is equipped with two elastic straps that keep your 420D polyester fabric mat out of slipping.
Being produced with good four stents design, this backpacking cot gives you more useful functions to help you set it up easier than the others. The king came ultralight compact folding camping tent cot is a great packable and versatile portable tool that is used for outdoor camping and house also. The purchasers have 5 different nice colors to choose from. They are black, green, blue, red and grey.
There are no doubts that these backpacking cots are chosen for many people over the world because they are the best choice for camping, traveling, mountaineering, and hiking or even cycling because it collapses into an easy carrying size of 14 × 5.1 × 5.1 inches. And, they can be used in various kinds of outdoor activities thus they are so helpful with there multi-functions. However, in the case to avoid breaking the camping backpacking cots legs, you should always set them up on the flat surface. Then, you are able to use them for a long time.
Pros:
It is a high-quality product for camping
The adequate support will be given by the aluminum rods provide
Lightweight

Easy to set up

It is durable and packable
Cons:
It is imperfect for large sized-campers
2
Therm-a-Rest Mesh Cot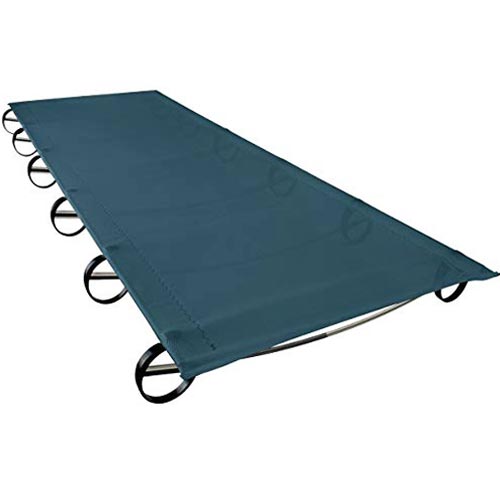 Specifications:
Support: 300 Lbs
Size: 77 x 26 x 4.5 inches
Folded Size: 18 × 6.5 × 6 inches
Weight: 3.98 Lbs
If you are looking for nice, light and ideal backpacking cots then the cots named Therm-a-Rest Mesh will be on the list. Because it is designed similarly with Therm-a-Rest's patented BowFrame technology thus they can keep and keep the joints from squeaking. They are suggested as the best backpacking cots for the comfort that they provide to help the users have a good sleep even they use no mattress.
To be produced as wonderful 4 season gear products, Therm-a-Rest Mesh Cots will be the best solution for your yearly using because they are suitable for all kinds of weather when you pair it with the NeoAir all Season SV Mattress. In addition, it is so wonderful when these backpacking cots have warm layers so you can use it in the cold weather or you can throw the NeoAir mattresses on top and then enjoy lying. The LL Mesh Cots give you sleeping experience.
There are some reasons for it to be worth your attention. Firstly, they are equipped with breathable Mesh top fabric. Secondly, the mesh surface is smooth, durable, stretch-free so these therm-a-rest meshes make the users feel totally comfortable while sleeping. A good thing that we can notice is a good connection of fabric with crossbars. All fabric stick up at each crossbar ( stress points of the backpacking cots) slightly will not catch your eyes.
Pros:
The bow frame technology gives extra comfort when it gives a large sleeping mattress.
Easy to setup.
Durable and powerful construction
Smooth and comfortable
Cons:
 Not lighter than any others in compared
3
Ultralight Folding Portable Cot by Yahill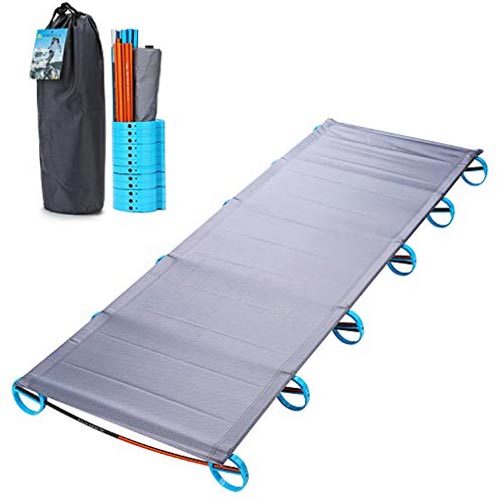 Specifications:
Support: 220 Lbs
Size: 70.8 x 22.8 x 3.9 inches
Folded Size: 16 × 4.7 inches
Weight: 3.3 Lbs
If you are thinking about something helpful for your journeys then Yahill's ultralight cots are needed to be in your account. These backpacking cots are the first generation cots camping bed and they are so light thus they are perfect for carrying on your small bags. Unfolding size at 70.8 x 22.8 x 3.9 inch with a super lightweight at 3.3lbs. It can support a weight of 220 lbs. And, their folding size is 16 X 4.7 inch. For their advantages, the purchasers can store them in your house easier than any other cots that sold on the markets these days.
The extra holes are designed on the sleeping surface of the backpacking cots help the enthusiasts keep their personal kinds of stuff thus you should require the extra legs and tubes to support the cots and make them stronger. The waterproof polyester sleeping surfaces and the skid-proof legs are helpful in the wet weather. In addition, they come with pillows and pockets nearby so you can keep your gear easily while sleeping. One more thing, the cots are related to foot and support rods thus the required time you need to set up is lesser. The best backpacking cots' frames are made of strong aluminum alloy. And, the fabric sleeping surfaces give you comfortable sleep that you can not find out easily from the other cots. However, all of these features will be sag over using time then they cause some troubles for the back while sleeping.
Pros:
 The replacements are available
 All parts of cots are separated
 They are perfect for storing and keeping
They are made from skid-proof legs
The pillows turn into the storage bags
Cons:
Sag materials can happen over time
Adequate back support is provided to meet the needs
4
MARCHWAY Ultralight Folding Tent Camping Cot Bed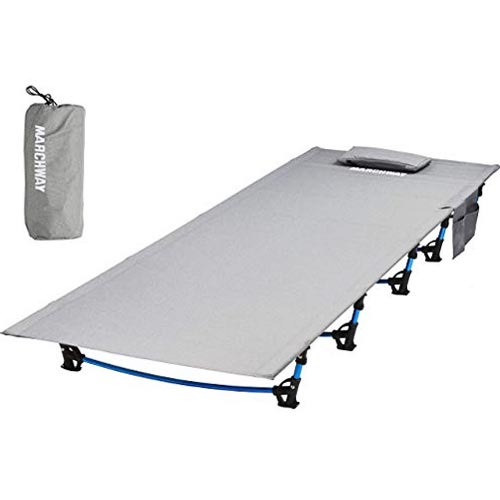 Specifications:
Support: 300 Lbs
Size: 74.8 x 27.4 x 6.5 inches
Folded Size: 16.9 x 5.5 inches
Weight: 4.5 Lbs
MARCHWAY Ultralight compact folding camping tent cot beds are one of six best backpacking cots for traveling. They are lightweight camping cots that are designed and produced from MARCHWAY. Its weight is 4.5 lbs, there is a bit heavier than some other models. The campers heights fit the camping cots up to 6 feet 2 inches with the support of the durable aluminum alloy rods. Especially it is designed with 10 anti-skid feet, making the bed stable without wobbling.
These backpacking cots dimensions are 74.8 x 27.4 x 6.5 inches and the sleep surfaces are up to 4.7 inches from the ground. You will have more choices to choose from with 4 main colors: green, blue, black and grey.
These cots are incredibly packable with carrying the size of 16.9 x 5.5 inches and they are reasonable also. These reasons make them become one of the best backpacking cots for traveling in different camping spots.
Pros:
It is easy to pack
Soft and reasonable
Good for carrying
Reasonable price
Cons:
Imperfect for tall purchasers
5
ALPS Mountaineering Ready Lite Cot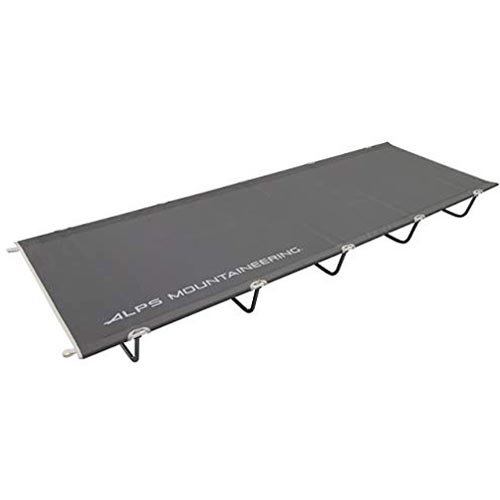 Specifications:
Support: 300 Lbs
Size: 78 x 28 x 7.5 inches
Folded Size: 17 x 7 inches
Weight: 4.8 Lbs
If you are thinking about the durable camping bed for the next adventurous trips then ALPS mountaineering ready lite cots must be in your minds. These Backpacking cots are remarkable tools at under 5 lbs to kick off all lightweight camping beds that have been sold on the markets these days. These lite backpacking cots areas camping beds which come from Alps Mountaineering thus they are designed and made of high-quality materials like aluminum frames and ripstop fabric.
There is no doubt that these lite cots are chosen by many backpackers. In addition, it is not difficult to store, keep or transport them by their lightweight-ness and sturdiness. The wide sleeping surfaces of these lite cots can be measured up to 78 inches by 28 inches. They are actually one of the great camping beds for tall guys who are over 6 feet in height. Thus, you will not worry about the discomfort caused by the sleeping area.
The best camping beds have to be the most comfortable ones despite their ruggedness as ALPS mountaineering ready lite cots. Moreover, thanks to the high-quality honeycomb design, the double-layered fabric of these backpacking cots keep the night sweats away so you will have really good night sleeps.
Pros:
Their weights are under 5lbs
The supports are up to 300 pounds
Longlife warranty
They come with shoulder bags
They have durable construction especially the aluminum
Cons:
They just have some main colors
Pillows or other accessories are not included
6
Desert Walker Camping Cots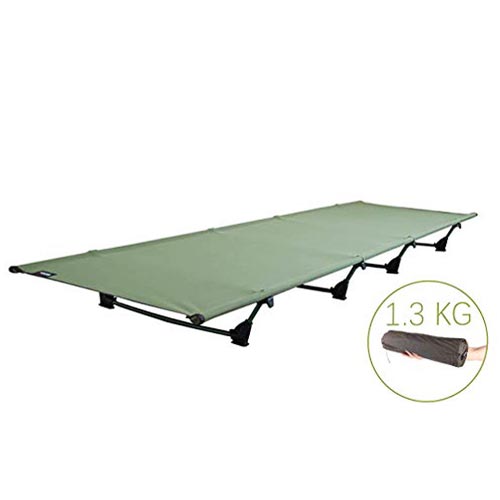 Specifications:
Support: 300 Lbs
Size: 72.8 x 23.6 x 5.9 inches
Folded Size: 20 x 5 inches
Weight: 2.8 Lbs
The lightest backpacking cots named Desert Walker camping cots. They are just only  2.8 lb, about 1.3 kg in weight but 73 inches in length so they are truly a good choice for the tall people. These best backpack cots' folded size is 20 x 5 inches and all of their elements are totally separated thus they can be disassembled and assembled easily. These camping cots are made of stable construction. There are 8 points in total to support the four leg bars. Even the capacity of these camping beds can be up to 440 lbs, but they are easy to pack in the small cases thus they are also great for transporting and you do not need to take lots of efforts to carry them.
The bed fabrics are waterproof and they are made from a special type of composite fabric as tear-proof. These features come with excellent ventilation to keep you staying away from the wet weather. Their large size of surfaces is available for back sleepers and side sleeper. All camping beds are in various sizes and lengths then you have to make sure to check out which bed is the best for your height at last.
Pros:
They are the lightest backpacking cots on the market.
They are durable.
Nice, versatile and comfortable.
Setting them up easily.
Reasonable price.
Large capacity.
Come with shock-corded elements.
Cons:
Buying Guide
Things to Know Before Buying a Backpacking Cot
Durability
The best camping beds as the cots above have to be made from high-quality and durable materials. We all pay great attention to the cots that have aluminum frames and fabric rip-resistant sleeping surfaces. One more thing, these backpacking cots are ideal if they are light and easy to fold in shapes to carry and transport them quicker and easier.
Portability
Portability is one of the main things make we consider a lot before buying the camping beds for our expected trips and campings. The best backpacking cots have to be highly portable. They need to be easy to be folded down in simple shapes thus you are able to take them with you easily. Their carrying cases are included to make them fit in your backpacks, so there are no worries about how to deal with these things.
Size
Thinking about the size of backpacking cots is an important thing. You have to find out how tall and heavy you are to make sure that you can look for and purchase a nice cot that is perfect for you because it accommodates you well really.
Budget
Budgets are considered along with the features that equipped with the camping cots. Which budget you would like to buy for elements your cots and how much will you pay for them?  Or will they affect the purchasing price much?
Lightweight Design
Lighter is better. It is a popular slogan of the backpacking cots nowadays. There is no one wants to pack all things on their backs and shoulders for a long way. The lightweight cots are helpful when you do not need to add many things to your supplies. You just should pack things under 5 pounds in your backpacks that is why you must buy the lightest sleeping cots for easy carrying.
Included Accessories
Some backpacking cots are included with pillows or blankets and other accessories. The best backpacking cots are full of these accessories. The sleeping cots come with pillows and blankets can provide good sleep at different sleeping positions. Do not get these things out of your minds when you choosing the good one for you.
Support
Durable and strong legs of the most ideal cots are the good tools to ensure you sleep comfortably at nights. The higher cots rise above the ground, the better they are. If you do not want to be annoyed at night and then wake up many times, then you should choose the sleeping cots that have high and strong legs. And, the truth is, the cots are under 5 inches in height is the bad ones because they cause discomfort for you totally.
Conclusion
Nature Mother has been giving you a right to do activities like camping, hiking, kayaking and to enjoy relaxing time on your own or with the others. Joining and enjoying outdoor activities are the best ways to connect with nature better. If you are having some interesting plans in your minds about making a good time for yourself then you need to prepare all accessories well.
To have good night sleeps after an enjoyable time, you are advised to choose the best backpacking cot that can support your size and weight. After finishing purchasing the best ones for you, then you need to practice setting them up or folding them. The backpacking cots are designed in different and unique styles then you should find out which are good for you and suitable to set up on the locations that you choose to spend your night after. It will be better if you select the best backpacking cots which come with waterproof sleeping surfaces durable features.
Don't forget to share and leave a comment for us.