A Complete Buying Guide to the Best Braided Fishing Lines
Do you love fishing? Are you planning to go fishing? If yes, then it is one of the best decisions you can make to spend your weekend. Some people find the fishing boring and time-consuming task, while for others, it is more than just sitting with a rod in the hands. Many people go fishing to relieve their stress while spending some me time.
However, it can be frustrating when fighting with a giant fish and then fail to catch it. If you don't want to waste your whole day and leave your catch, then you should think about investing in the best braided fishing line. Braided fishing lines have become very popular during the past few years. Made up of microfilaments braided fishing line is thinner and stronger than traditional fishing lines. It is a popular choice for many experienced anglers.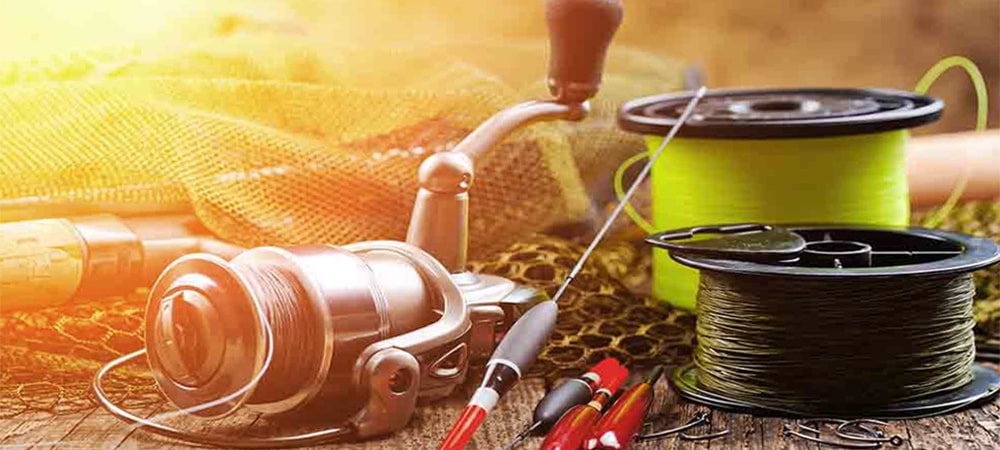 If you are looking forward to buying the superior quality fishing line, it can help you to pack more fishes onto the spool. Before you go ahead, you need to know the reasons to buy braided fishing line. In this guide, we are going to tell the advantages of braided fishing line.
Why You Need Braided Fishing Line?
Stronger
Braids are made by weaving synthetic fibers like Spectra or Micro-Dyneema into the strand of fishing line which makes a strong, tough and abrasion resistant line; it is difficult to cut the braid. Most anglers who use them carry scissors to cut them. Hence, it eliminates the chance of line breakage while setting the hook to catch the fishes.
Small Diameter
One of the major advantages of braid is that its diameter is very small which allows you to pack much more line on your reel. It enables the fisherman to catch a heavier and big fish such as tarpon, kingfish, and grouper. The thinner diameter also provides benefit to the fisherman during casting.
Durable
Some lines become weaker over time. Sun exposure and natural rotting can weaken fishing line over prolonged periods. However, braids last on your reel up to 5 times longer than mono fishing line. It enhances the ability of anglers to hold up against abrasive species such as dock, bridge pilings, mangrove roots, and oyster bars.
No stretch
The biggest advantage of braid is that it has no stretch which makes them ideal for deep water fishing. You can feel the bites of fishes with the help of braid. Battling a hog out of matted jungle grass is hard, but braids make it easier; it cuts through weeds like a knife while keeping more tension on the fish.
Flotation
Unlike mono and fast-falling fluoro lines, braided fishing lines float over the surface of the water which makes it a great choice for topwater lures such as artificial frogs. Moreover, you won't need to change your braid. It will help you to save your time and money as well.
While these were the reasons to buy the braided fishing line, many anglers find it difficult to use it. It is slippery which makes it tough for the fisherman to tie the knot. If you are planning to buy the braided fishing line, then it can turn out to be a wise decision. Before you go ahead, you need to know how to buy a braided fishing line. In the next part of the article, we are going to give some tips to buy a braided fishing line.
Tips to Find Best Braided Fishing Line
Choosing the right fishing line weight
'Test' is a measure of the strength of a fishing line. It determines the appropriateness of the line in catching certain species of fish. It is important to match the weight of the fishing line to three things: the species you are fishing for, the area of fishing and the method you use. A general rule of thumb is that the greater the size of the fish, greater the weight of the fishing line.
Choosing the type of braided fishing line
There are two different types of braided fishing lines; one is solid core braid, another is hollow core braid. Though the material of both the types is the same, they differ in their braiding patterns. While the solid core is a more firmly woven braid with no holes, the hollow core has a hole in the middle. You can use the hole to connect monofilament fishing lines with a knotless connection. But in most cases, a solid core braid is the best fishing line to use unless you are an advanced fisherman.
The number of strands
Braided fishing lines come in three types: 4-strand braid, 9-strand braid, and 16-strand braid. The names speak for themselves, what you need to know is which one to buy. There is no 'best-braided fishing line' which can be used in all conditions. The functionality of the three types differs. A larger number of strands mean improved castability. But, a low number of strands mean higher abrasion resistance.
Stretch
Fishermen usually look for less stretch in fishing lines. It increases the sensitivity to feel the fish. But, catching soft-mouthed fish like salmon requires a certain amount of stretch. Otherwise, the fish may get ripped off while pulling the line out of the water. Braided fishing lines generally have less stretch. But, the best fishing line would be the one that can catch the fish you wish to catch. Hence, while determining how much stretch you want in the fishing line, you should also consider the species of fishes you wish to catch.
Visibility and color
While this might seem like a negligible factor while buying a fishing line, but it matters a lot. If you are fishing in clear water, you should use a low-visibility line. Otherwise, the fish get scared from the line and prevent a good catch. But, high-visibility fishing lines are better for low-light conditions such as dawn, dusk and night. So, to choose the best fishing line for you, consider the environmental conditions of your fishing area and choose the color accordingly.
Other equipment
To maintain the condition of the fishing line, you need to buy something to clean the line as well. You should clean the line every time after using it or before storing. It will increase the flexibility of the line and extend its working life. You will have the best-braided fishing line only if you care of it as much as you use it.
Weather conditions
Weather can affect the properties of the fishing line. Water temperature, in particular, may have an impact on the line. Hence, it is advisable to consider weather conditions in your fishing area to determine the best weight for your fishing line.
While these were the tips you can consider when buying the best braided fishing line, there are many more such as decide your budget, check its material, decide your gear, learn how to tie a knot, etc. We hope that it will help you to choose the best braided fishing line. However, not all braided lines are created equally. Some are designed with added strength for saltwater fishing whereas others use unique fibers that are ideal for casting. In the next part, we are going to review some best braids of you can use while fishing.
Top 10 Best Braided Fishing Lines Reviews
1

KastKing SuperPower Durable Braided Fishing Line
It doesn't matter whether you are fishing for sharks or trout anglers; this fishing line has you covered! Not only it is one of the most durable, but it also has a smaller diameter as well. So, you don't need to worry about break-offs, even when the fishing line is thinner than most others. It is specially designed for increased casting distance. Combined with its Zero stretch, you are bound to see a rise in your catching ratio. The abrasion resistance quality will never let you lose your big catches. It comes in a variety of sizes and test strengths. From 6 lbs to 150 lbs, you can choose whichever is suitable for your fishing endeavors. It has a 4-strand and an 8-strand variant, with the 8-strand providing more power while being smooth. It has a lot to offer in color variety as well: grey, green, blue, white, pink, yellow and even multi-color. All of them are fade resistant. The fibers are of the material of bulletproof vests; so you can imagine its strength and durability well.
But, you do have a few things to keep in mind. It might break off while trying different lengths and knots. The line may also leak out color which can stain your equipment and your clothes. While it does give an assurance for its strength, you may find it difficult to tie a knot. With its pros are durability, you may want to consider other options for breaking strength.
Specifications:
Tensile strength: 6lbs to 150lbs.
of Strands: 4 to 8.
Pros:
Durable
Variety of color options available
Ultra-high sensitivity and Zero stretch
Suitable for big catches
Smaller diameter
Cons:
May break off at weight lesser than prescribed
May bleed out colors
Tying knots may be difficult
2

Power Pro Spectra Fiber Braided Fishing Line
An exceptional quality best fishing line not only offers an amazing experience in fishing, but it also offers great functionality. This Power Pro fishing line gives you just that! The Spectra Fibers used in the line are ultra-strong. While being powerful, it doesn't lack the sensitivity that anglers need the most at times. The three ended braided structure and near-zero stretch makes it highly sensitive for the catch. Even though it offers high strength, it doesn't lag behind in thinness. Its diameter range is from 0.005 inches to 0.035 inches. It has a built-in cutter and other functional equipment like arbor tape as well. The package is useful as it protects the remaining fishing line while you fish. The fishing line is an amazing piece of equipment for all fishers.
But, you would want to take care of certain things. The fishing line may bleed out color, which may spoil your clothes or other equipment. Also, the size of the braid may not be as big as mentioned on products.
Product specifications:
Diameter: 0.005 inch to 0.035 inch
Length: 150-3000 yards
Pros:
Ultra strong fishing line
Arbor tape included in the package
Package protects the remaining fishing line
Cutter comes with the fishing line
Cons:
Fishing line may bleed out colors
Roll of the braid may not be as big as mentioned on packages
3

SpiderWire Stealth Superline Teflon Treated Fishing Line
This SpiderWire fishing line as a lot to offer. It has mono manageability body and comes in attractive moss green color. The ultra-thin diameter and superior strength make it a premium fishing line. But it has various other features. It has various options in terms of sizes. The length offered varies from 125 yards to 3000 yards. So, you can choose whichever suits you best. Its micro-fibers are Teflon treated, which gives them exceptional strength. The line is thin and super quiet; this is likely to increase your chances of catching fishes. Unlike other fishing lines, Stealth fishing line holds its color intact. Moreover, its round shape reduces backlashes and prevents digging in on reels.
But, it may snap when you hook a fish. It may happen with the big ones. Also, cutting the line may be hectic. You may find frayed ends after cutting.
Specifications:
Length: 125-3000 yards
Tensile strength: 10 to 250 lbs
Pros:
Teflon treated micro-fibers which are super strong
Holds color, unlike other fishing lines
Micro-fibers are round and smooth which reduces backlashes
The line is super quiet which should increase your fishing performance
Cons:
The line may snap when you hook the fish
Cutting may lead to frayed ends
4

Sufix 832 Advanced Superline Braid – 150 yards
This fishing line comes in different test strengths which range from 30 to 65 lbs. It offers variety in colors as well: Low-vis green, coastal camo and neon lime. It has exceptional qualities which will improve your fishing performance. With its ultimate strength, you can catch those big fishes that you are looking for. Moreover, it has GORE Performance fibres which increase its abrasion resistance. This makes the line lasts for a longer time, improves accuracy and reduces line vibration. It has especially proven castability improvements, which lets you cast for longer distances. Its fibers need extra attention. Also, it doesn't bleed out color like other fishing lines. It has TGP technology which aids color retention. So, you don't need to worry about your clothes or other equipment getting spoiled, which is generally the case with most other fishing lines.
But, there are certain discomforting aspects of the fishing line. It may fray while cutting. Also, it may tangle which may consume time while preparing to fish.
Specifications:
Length: 150 yards
Tensile strength: 6-80 lbs
Line Type: 8 strand braid (Dyneema + Gore Fiber)
Pros:
GORE Performance Fibers improve castability, accuracy
High abrasion resistance
TGP technology increases color retention
Virtually no stretch
Cons:
The line may fray while cutting
Color may fade if you keep the fishing line in sunshine for long
May tangle up often
5

Piscifun Braided Fishing Line 6lb-150lb Superline Abrasion Resistant Fishing Line
Another best Braided fishing line from Piscifun is one of the best reels available in the market for fishing. The reason which makes the product more popular as compared to others is its top-notch performance and affordable price. The fishing line has been manufactured using high-quality materials having abrasion resistance property. This property of the fiber materials being used in the product favors durability and strength of the best fishing line. It has a round design with enhanced smoothness which makes it a definite pick for serious anglers. To let the anglers feel every bit of the movement of the fish, Piscifun braided fishing line has high sensitivity and zero stretches, which are one of its remarkable features amongst others. The line produces low memory line during deep water fishing. Besides this, the low tensile strength which ranges between 6lb-50lb consists of 4 strands, while high tensile with a range of 65lbs – 150lbs consists of 8 strands.
Specifications:
Length: 150 yards to 547 yards
Tensile strength: 6lb-150lb
Strand: 4 to 8
Pros:
Abrasion-resistant fiber is used.
The Fishing line is Durable and favors high performance.
It is a sensitive braided line.
Zero stretches
Cons:
As the diameter of the line is thin, therefore tying knots needs some good practice.
6

Goture 8-80LB Superpower Braided Fishing Line
This 4-braided superior-grade best fishing line is considered as an ideal product for those who love to go fishing. It is considered one of the strongest and highly reliable fishing lines. It is recommended to tie a Palomar Knot with this fishing line as it can retain almost 95% of the strength of the line. In addition, it is available in five different color protections namely army green, grey, blue, yellow and blackish green that keeps it hidden from the fishes for a long time. Its smooth surface helps in sailing effortlessly and quietly even through the guides. The Plate Package includes 1094 YDS lines that are under the 50lb size while the rest of the sizes like 50lb, 5lb and 80lb come under the Spool Package.
Specifications:
Tensile strength: 8-80 lbs.
Length: 547 yards
Pros:
Being woven from four fibers, it attains its ultra-powerful strength
The consistent roundness makes the product smooth
The extra-small diameter aids in case of skilled presentations
Its zero stretch features along with the unparalleled knot make it ultra sensitive that helps in detecting even the light bites
Its amazing capacity of abrasion resistance accounts for fewer break-offs even while the fishing is done around any hard structure.
The product is portable and can be easily carried along while planning a fishing trip
Cons:
The color bleeds off fast and fades after some time.
Quality wise it is not as superior as the other lines.
7

Piscifun Sword Fly Fishing
This Fishing Line is quite popular in the market these days. Though Piscifun is well known in the market for producing entry-level spinning reels, they have a small series of fly reels that have a pretty much good quality too. The reel depending upon the needs of the person can be purchased and customized in different sizes. As of now, the reel is available in three different sizes including ¾, ⅚, and ⅞. On the other hand, the weight, diameter, width, and backing capacity of the reel will depend upon these sizes itself.
With an eye-catching design, the reels from Piscifun are available in three different color variants which are, black, gold, and gunmetal. It is a CNC-machined 6061-T6 aluminum alloy reel has been designed to withstand harsh conditions and consists of a multi-disc cork and stainless steel drag system. Besides this, the reel is very convenient to make it switch between left hand and right hand.
Specifications: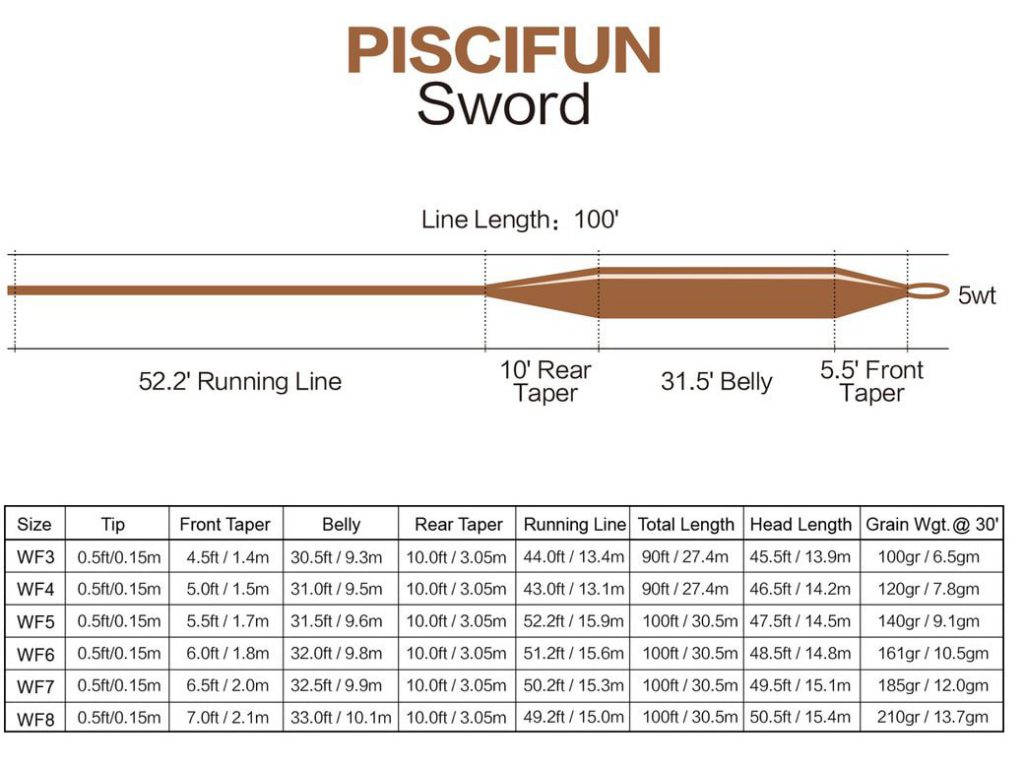 Pros:
Machined aluminum frame and spool.
Cost effective with high-quality anodized finish.
Cons:
Drag startup of the reel isn't very smooth
Unsealed drag
8

Sougayilang Multifilament Pe Super braid and Braided Fishing Line
The super braid and braided fishing line have been manufactured using top quality materials to provide utmost durability. The fishing line is available in three different colors, and you can choose from varying tensile force ranging from 12 lb to 72 lb as per your requirements and preference. The range provided is more than enough to suit any fishing condition.
This fishing line by Sougayilang has a thin diameter which offers accurate casting, and the line is light which makes it resistant to abrasion. The product is pretty much sensitive with almost zero stretches. Beside this, you will be backed by a money-back Guarantee within 60-days on the purchase of this product.
Specifications:
Tensile strength: 12lbs to 72 lbs.
Diameter: 0.0041 to 0.0197 inch
Pros:
The fishing line has been manufactured using top quality materials which favors the durability and strength of the product.
The product is available in several colors that provide options to the customers to pick the desired one.
Users will also have the flexibility to choose the tensile force as per the requirement.
Features thin diameter and has a lightweight design.
The fishing line offers incredible abrasion resistance.
The product is backed with money back guarantee within 60-days of usage.
Cons:
Users at some point may not like braided fishing lines available in different colors.
9

Power Pro Super Slick 300Yd Marine Blue
If you are aiming for the fishes like Tarpon and kingfish, then this braided thread supports you well. It is one of the extremely smooth and silky threads which are specially constructed with enhanced body technology and under high tension. It is light in weight which reduces the friction between the spool and the rod and it shoots like a bullet in the pond or river where ever you are fishing. This braided line is extremely strong because of its spectra fibers, so don't worry about snap offs in between your fishing time. It sinks faster into the water and has the nil line memory. You can use it in the summer season because it can bear the sunlight exposure stays with you for the longer period. This line is available in a different variant of size from 20 lbs to 80 lbs. This braided line gives you a trout angler in your budget.
Specification:
Length: 300 yards
Tensile strength: 20-80 lbs
Pros:
Enhanced body technology for smoothness and sensitivity
Durable, do not snap easily
Cheaper than other brands
Extremely strong Spectra Fiber which can endure the sun exposure.
Cons:
Tying Knot is difficult due to Slippage
Color Bleeding can be a problem
Cannot pull excessive weight
10

Pisfun Super Power Braided Saltwater Fishing Line
If your favorite fish lives in the salty waters, then this 4-strands braided line is a perfect match for you. This fishing line is thin because of its tight-weave construction technology. It comes in different variants from 14lb to 80 lbs and 500m to 1000m which makes it ideal for every type of fishing situations and water conditions. The strong fiber material is used in this line is twice stronger than the monofilament fiber which provides exceptional strength and compatible roundness. Those qualities which separate this braid from other brands are durability, knot strength, abrasion resistance, stretch resistant and tensile strength. This braided fishing line is available in different color options such as green, yellow, orange, blue, grey and white. The key feature of this braided line is its high sensitivity, which feels like the lightest bite and hookset is well secured. All these features give you the space to catch the toughest fish of the water whether in a pond or lake.
Specification:
Tensile Strength: 14lb-80lbs.
Length: 500-1000 meters
Pros:
Strength is exceptional.
Durable with high quality, do not snap easily.
Can tie a super strong Knot
Useful for Saltwater fishing and lure fishing.
Four braided line with tight-weave technology.
Cons:
Color Bleeding is a big problem.
Thickness can be a problem for some people.
Final Words
These are the best braided fishing lines that are listed on the basis of personal reviews and customers reviews. You can choose to buy anyone as per your needs and budget. If you still want to find more braided fishing lines, then explore the internet.
However, a braided fishing line is a necessary item that is required during fishing. Hence, whatever brand you choose, you should buy it before going on to fishing. Not only it helps you to catch giant fishes, but also add more fun to your fishing experience. When you step out to shop fishing lines, do remember our tips to buy the best fishing lines. Make sure that you protect your fishing line from sun exposure while storing it to enhance its lifespan. If you like our post, feel free to comment on it. And if you have any queries, you can contact our experts.