Elliptical trainers are now becoming more and more popular at the gym and also at home. No matter at beginning, intermediate or advanced level, an elliptical highly recommended for low impact yet high-efficiency training. It's a perfect choice for not only cardiovascular exercises but also toning up upper/lower body workout and losing weight as well.
If you go online searching for some recommendations, there are tons of options to choose from. Of course, the final decision depends on your own preferences. You should consider the prominent features of an elliptical machine that you really need before buying. Some looking for an elliptical with high-class material, some want to experience the ease of operation, and some require strict safety standards.
After going through many brands, overviews, and researches, we've now come to a shortlist of 9 best elliptical machines. We hope that our best elliptical machine reviews below will help you find the best elliptical value in any price range. Let's dive into it!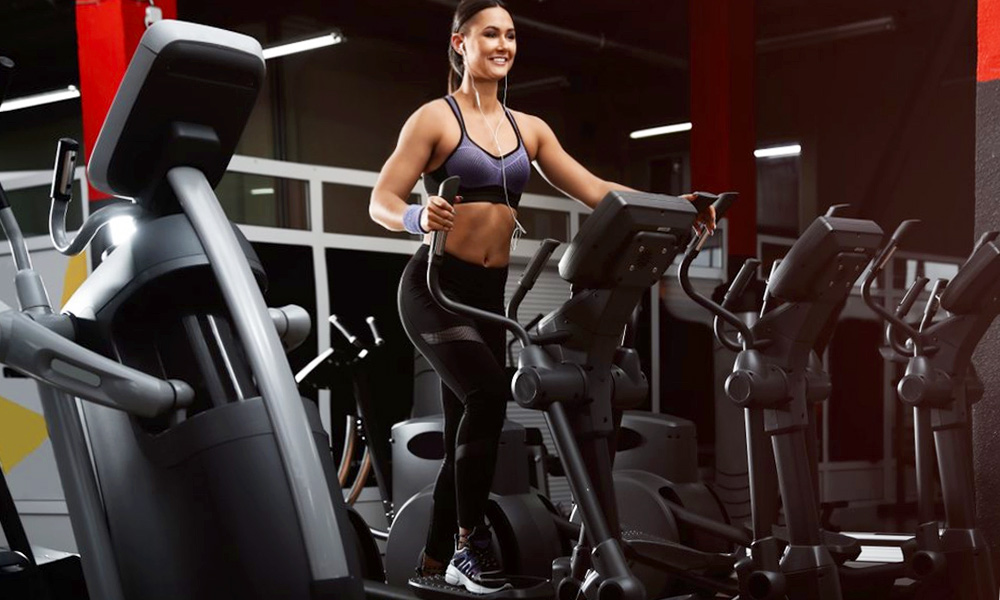 Types of Elliptical Machines
Elliptical machines offer a wide range of models for customers to choose from compared to how limited its models are at the first launch.
Standard Elliptical Trainers
This is the most popular model among people, especially those who don't know much about elliptical machines. The machine is specialized in exercises relating to the heart and blood vessels and its flywheel may be located in any positions listed above. Its strength is lower body workouts but the location of the flywheel decides the scope and intensity of the exercise. Unlike some other elliptical models, standard elliptical trainers tend to provide a lower-impact workout. Therefore, people who are just beginners looking for a low-intensity workout to gradually adapt themselves have no better choice than standard elliptical trainers. Their knees and ankle joints won't suffer much from strain, allowing the user to attain many of the same benefits as treadmill exercise but with more safety and healthiness for your legs, especially your ankles.
Elliptical Cross Trainer
Elliptical cross trainers may give an illusion of a stationary bike when you first look at them but this model is more than that. This type of elliptical trainer brings no fewer advantages than a standard elliptical trainer. What makes elliptical cross trainers differ from standard elliptical trainers is that users can perform the exercises on elliptical cross trainers from a seated or reclined position.
Just like any standard elliptical trainer, foot pedals and handlebars are provided and there is a seat similar to that of a stationary bike so that users can sit on it and have their lower body relaxed a little bit. Lax as this type of elliptical trainer seems to be, it actually helps users to exercise their whole body comprehensively. Users won't remain stationary like what many people think because the handlebars move with your movement. Therefore, their upper body, core, and back muscles are subject to great workouts.
Elliptical Glider
Elliptical gliders are said to be the simplest and most low-impact model among elliptical machines on the market. This type doesn't need a flywheel and the pedals operate on a swinging glider, not on a circular track. To lessen the strain put on hip, knee, and ankle joints, the user's feet remain fixed in the pedals. An advantage of elliptical gliders is its rather compact design as there is no bulky flywheel. Thus, this model is most suitable for individuals who want to own an elliptical machine at home with restricted space.
Next, we lead you to the 9 best elliptical machine reviews. At the end of the article is a buying guide, which will list out the important features so that you can easily choose an elliptical machine that best suits your needs.
Top 9 Best Elliptical Machine Reviews
PRODUCTS
MODEL
FEATURES

CHECK PRICE
Sunny Health & Fitness SF-E905 Elliptical Machine

Weight Capacity: 220 lbs
Resistance Levels: 8
Stride Length: 11"
No. of Programs: -

Check Price

Schwinn 430 Compact Elliptical Machine

Weight Capacity: 300 lbs
Resistance Levels: 20
Stride Length: 20"
No. of Programs: 22

Check Price

Teeter FreeStep Recumbent Cross Trainer and Elliptical

Weight Capacity: 300 lbs
Resistance Levels: Variable Resistance
Stride Length: 13"
No. of Programs: -

Check Price

Schwinn 470 Compact Elliptical Machine

Weight Capacity: 300 lbs
Resistance Levels: 25
Stride Length: 20"
No. of Programs: 29

Check Price

ProForm Cardio HIIT Elliptical Trainer

Weight Capacity: 325 lbs
Resistance Levels: 24
Stride Length: 10" Vertical, 5" Horizontal motion
No. of Programs: 32

Check Price

ProForm Hybrid Trainer

Weight Capacity: 350 lbs
Resistance Levels: 16
Stride Length: 15"
No. of Programs: 16

Check Price

Bowflex Max Trainer Series

Weight Capacity: 300 lbs
Resistance Levels: 20
Stride Length: Approx. 12"
No. of Programs: 7

Check Price

Sole Fitness E35 Elliptical Machine

Weight Capacity: 375 lbs
Resistance Levels: 20
Stride Length: 20"-22"
No. of Programs: 10

Check Price

Nautilus E614 Elliptical Trainer

Weight Capacity: 300 lbs
Resistance Levels: 20
Stride Length: 20"
No. of Programs: 22

Check Price
Below are detailed reviews of these elliptical machines
1
Sunny Health & Fitness SF-E905 Elliptical Machine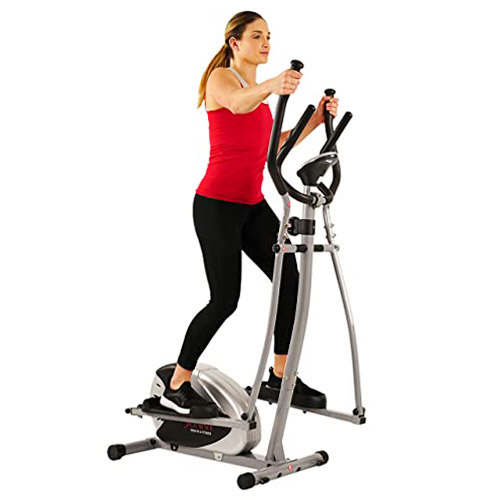 Specifications:
Weight Capacity: 220 lbs
Resistance Levels: 8
Resistance type: Magnetic
Number of Programs: –
Stride Length: 11″
Display: Digital monitor
Bluetooth, speakers: No
Weight: 60 lbs
Warranty: 3-Year Frame, 180-Day Parts
Sunny Health & Fitness SF-E905 is our starting pick of this list providing an effective cardio workout at a reasonable price. It's a magnetic elliptical so you can satisfy with its quiet and smooth operation compared to other resistant system types. The machine has 8 built-in levels of resistance which can be easily adjusted by twisting the precise microcontroller under the LCD screen.
This LCD can help you follow along with your training progress by showing data like time, speed, distance & total distance, and calories with a scan mode to scroll through them every few seconds. On both sides of the screen, there are hand pulse sensors that read your heart rate automatically and then send them to the LCD to be displayed. With these statistics, you can monitor and maintain your workout target.
The oversized anti-slip pedals and handlebars offer a safe and stable foot platform during intensive exercises. The full-motion arms deliver a larger range of motions for not only the shoulders but also focus on other muscle groups.
The SF-E905 is designed with wheels at the front of the unit in order to be moved around simply without lifting or muscle strain. The onboard stabilizers help to lever the machine on the floor, avoiding falling, rolling or swaying during a steady workout.
Even when you don't move or store it, the SF-E905 is still considered a small machine that can be put anywhere without space occupation. With its 11' stride length, it can fit easily into any corner of your house. But as a result of the reasonable price, lightweight design and small size, this model is not suitable for heavy-duty workout.
Pros
Low cost
Compact dimensions
Portability
Micro-tension controller
Have hand pulse sensors
Full motion arms for better upper body training
Cons
Low weight capacity
Unfoldable
2
Schwinn 430 Compact Elliptical Machine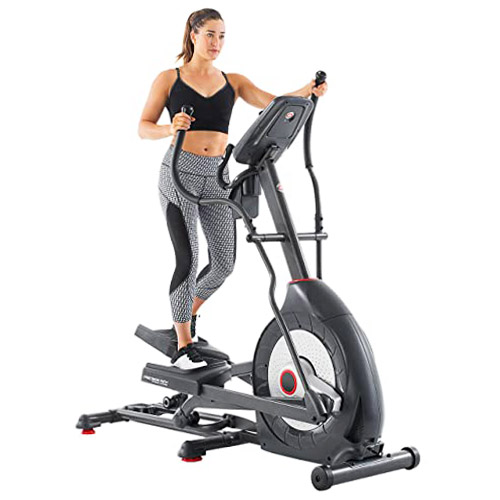 Specifications:
Weight Capacity: 300 lbs
Resistance Levels: 20
Resistance type: Magnetic
Number of Programs: 22
Stride Length: 20″
Display: DualTrack 2 LCD
Speakers: Included
Bluetooth: No
Weight: 183 lbs
Warranty: 10-Year Frame, 1-Year Parts and Labor
Schwinn 430 is designed with a high inertia drive system that delivers easy speed-up and smooth operation. It includes 20 levels of digital controlled resistance to fit any level of intensity you require. The ramp incline is designed with 6 different positions so that you can adjust it manually to customize both upper and lower body workouts. The wide range of resistance and incline levels stimulates your muscles differently and creates a variety of new patterns of workouts.
The DualTrack 2 LCD screen displays increased visibility to preset programs and stats tracking. It brings about the high-class feeling of some fancy luxurious elliptical machines. There are 22 preset workout programs including 9 profile, 8 heart rate control, 2 fitness tests, and 1 quick start. Goal Track technology allows people to set their specific fitness targets by monitoring time, distance and calories to motivate and keep your focus on your goals.
In addition, Schwinn also made an MP3 port for you to listen to some music or Audible through the speakers. The large cushioned footplates guarantee a comfortable, low-impact experience while the ergonomic moving and fixed handlebars offer flexibility and balance for hand positioning.
These features are outstanding in comparison with model A40 from the same series of Schwinn (only 8 resistance levels, 17.5'' stride length, basic LCD displays, etc). If you love all of these revolutionary functions but still want a higher quantity or more heavy operation, you can upgrade to model 470 reviewed down below.
Pros
High weight capacity for heavy-duty purposes
Dual track 2 backlit LCD with Goal Track technology
USB charging, MP3 port included
Contact sensor for heart rate monitoring
Long stride path for natural running motion
Maximum 6 different incline options
3
Teeter FreeStep Recumbent Cross Trainer and Elliptical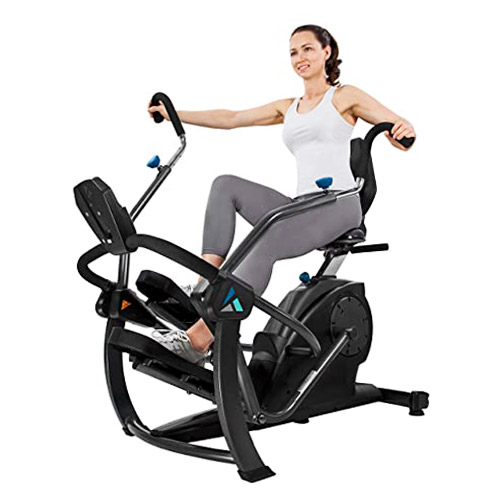 Specifications:
Weight Capacity: 300 lbs
Resistance Levels: Variable Resistance
Resistance type: Magnetic
Number of Programs: –
Stride Length: 13″
Display: LCD display
Bluetooth, speakers: No
Weight: 110 lbs
Warranty: 1-Year Full Warranty
Teeter FreeStep Recumbent Cross Trainer, as its name says it, allows your total body workout or isolating your legs, arms or biceps/triceps to target upper or lower body only for extra strength. The Dual power motion promotes your upper and lower body simultaneously, engaging all major muscle groups to burn more calories in a shorter time. According to the energy expenditure research of Colorado Center for Health & Sport Science, the FreeStep burns 17.4% more calories per hour at the same level of effort comparing to a normal recumbent bike.
The unique striding motion delivers natural riding which is gentle on the knees, hips, backs, and ankles and consequently, offers a low-stress, zero‑impact cardio and strength workout. Although it's in the mid-class price range, we still appreciate this machine as a bargain due to the fact that it features the exclusive high-class maintenance-free linkage system for affordable and long-lasting home-usage. This adjustable magnetic system is nearly silent and ideal for all fitness levels. That's what makes it into our top 9 best elliptical machines.
You can change the seat height and handle rotation settings to fit your body perfectly for varying intensity and added comfort. The 3-position reclined seat optimizes posture, muscle engagement and reduces body fatigue. All adjustments can be done easily by one simple dial via the blue auto-locking knobs.
In terms of convenience, this model is designed with a water bottle holder underneath the seat and a tablet stand available above the LCD screen to keep yourself hydrated and entertained during workout sessions. The digital monitors some basic information including time, distance, speed, and calorie burned just like any other fitness machines on the market.
Pros
Have phone/ water bottle holder
Auto-locking knobs
Adjustable seat and handlebars for superior comfort
Patented joints technology protects joints, backs, and chest better
Dual Motion burns more calories
Linkage system delivers a quiet and low-impact workout
Cons
Basic data display, no heart rate monitor
4
Schwinn 470 Compact Elliptical Machine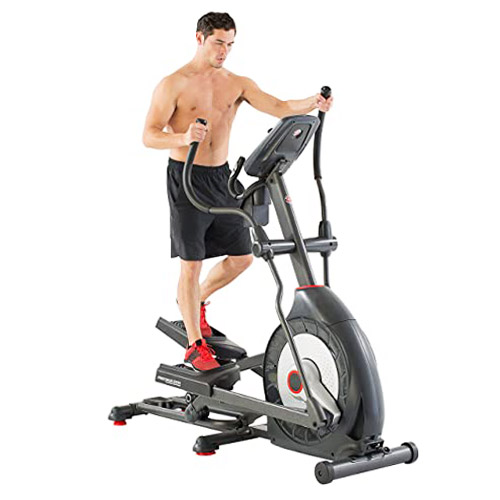 Specifications:
Weight Capacity: 300 lbs
Resistance Levels: 25
Resistance type: Magnetic
Number of Programs: 29
Stride Length: 20″
Display: 2 DualTrack blue backlit LCD
Bluetooth, speakers: Included
Weight: 189 lbs
Warranty: 10-Year Frame, 2-Year Parts, 1-Year Electronics, and 90-Day Labor
This 470 model is the same series with the Schwinn 430 mentioned above, but it is an innovative version of the 430 and cost you $200 more. A prominent innovation is the Bluetooth capability; it syncs with the Schwinn Trainer App and other apps for professional fitness tracking.
With this connectivity, you can set, track and monitor your training progress with popular app-based tracking tools like Explore the World, MyFitnessPal, UA Record, and so on via your phone or tablet placed on the media shelf in front of the LCD screen. The machine also comes with console speakers, MP3 port, USB media charging and an adjustable built-in fan for added convenience and comfort during training sessions.
The Schwinn 470 provides up to 25 levels of resistance, which is considered a wide range of workout intensity options compared to normal elliptical. Different intense levels are created by the 10° motorized adjustable ramp which enables incline control. The Precision Path foot motion technology mimics real running motion with 20'' stride length. Together, these features deliver a natural yet challenging experience.
In addition, there are 29 preset workout programs consisting of 12 profile, 9 heart rate control, 4 custom, 2 fitness test, and 1 quick start, displayed on the DualTrack blue backlit LCD system. The LCD screen, in my opinion, has an elegant design and enhanced monitoring functions that are superior to others in the mid-end price range.
With nearly $1000 price tag, this model is neither our budget pick nor compact pick but it's still one of the best elliptical machines thanks to the outstanding features over the payment.
Pros
High-end LCD
Built-in speakers, USB port
Bluetooth connectivity
Long path stride
Tons of preset programs
Wide range of resistance levels compared to other models in the series
5
ProForm Cardio HIIT Elliptical Trainer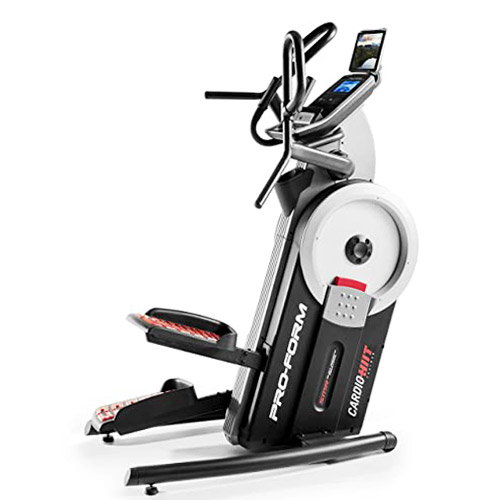 Specifications:
Weight Capacity: 325 lbs
Resistance Levels: 24
Resistance type: SMR Silent Magnetic
Number of Programs: 32
Stride Length: 10″ Vertical, 5″ Horizontal motion
Display: 7ʺ Backlit Display
Bluetooth: Yes
Speakers: Dual 2'' Speakers
Weight: 187 lbs
Warranty: 10-year frame, 2-year parts, and 1-year labor
The ProForm Cardio HIIT Elliptical brings about heavy-duty training that is suitable for HIIT exercises, its weight capacity is up to 325 lbs. The weight of 187 pounds makes it easy to operate with high intensity but the compact dimensions take up only half the space of a regular elliptical machine so you can get a great workout while saving more room in your house.
Like Schwinn 470, this product has a wide range of resistant levels (24 compared with 25), preset workout apps, and it is designed for feet moving on a 10-inch vertical and 5-inch horizontal elliptical path. You can increase and decrease resistance levels through the control board that lies below the LCD screen to adjust the intensity.
Moreover, you can track detailed workout data through a digital screen included with an iFit trial membership (after trial period, credit card is required). This is an advanced technology which allows you to customize your training process by giving access to an expansive library of online exercises designed to fit your own levels and fitness goals with expert trainers, providing real-time interactive control via Bluetooth, and connecting to Google Maps to draw your routine wherever you are.
This model also delivers a smooth and zero-impact operation. The oversized cushioned pedals protect your feet from falling and help to minimize stress on your knees and back. The enhanced Silent Magnetic Resistant system provides a quiet and smooth stepping motion so it not only supports the effectiveness of your workout but also helps you to concentrate on exercising without any loud noise. Besides, the built-in cool air fan, inertia enhanced flywheel, and the multi-function handlebars with grip pulse monitor are also prominent features that make this machine more desirable.
Pros
Compact design
Advanced iFit technology
Designed with levelers & transport wheels for easy moving and storage
Suitable for heavy users and training purposes
Long warranty
Nearly silent operation
6
ProForm Hybrid Trainer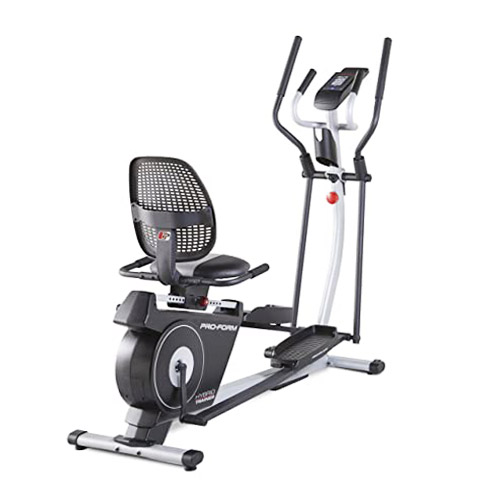 Specifications:
Weight Capacity: 350 lbs
Resistance Levels: 24
Resistance type: SMR Silent Magnetic
Number of Programs: 32
Stride Length: 15″
Display: Large LCD
Bluetooth, speakers: Included
Weight: 116.8 lbs
Warranty: 5-Year Frame; 90-Day Parts & Labor
Like Teeter FreeStep, the Hybrid model from ProForm brings to you the combination of a normal elliptical and a recumbent bike for the price of one. This model is also equipped with some great features like any other best elliptical machine such as 16 magnetic resistance levels, transport wheels, large LCD with online exercise library assessment (the Hybrid Trainer has iFit trial membership available, a tablet holder but no tablet included) and so on.
With elliptical functionality, it allows you to have full-body cardio exercises that tone up your arms, shoulders and back muscles. The upper body grips are soft-touching and the 15-inch elliptical stride supports a zero-impact running motion.
When turning into recumbent bike functionality, you can adjust the oversized cushioned pedals to the position you want to support your feet during riding while laying your back on the wide seat behind.
On both sides of the LCD, there are EKG pulse sensors that quickly tell you how fast your heart is beating so that you can track and control your routine better. Right below the digital screen is dual 2" speakers designed for your entertainment. With this onboard sound system, you can plug music into the machine and enjoy your favorite playlist while exercising. Besides, there is also a water bottle holder on the frame, under the speakers, designed for added convenience.
Pros
Reasonable price
Lightweight
Weight capacity up to 350 lbs
Dual functionality for cross-training
Grip Pulse Sensors monitors heart rate
Silent magnetic resistance system release stress on joints and backs
Cons
Doesn't have incline ability
7
Bowflex Max Trainer Series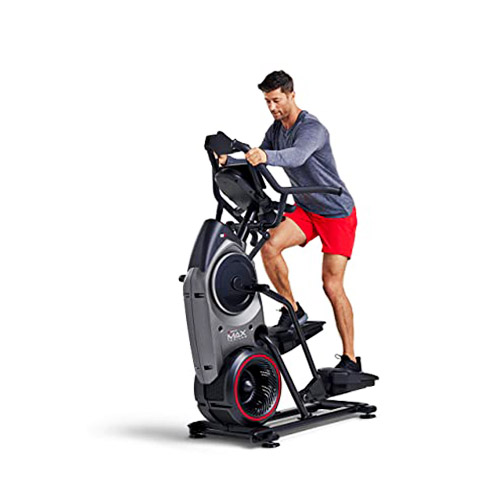 Specifications:
Weight Capacity: 300 lbs
Resistance Levels: 20
Resistance type: Magnetic
Number of Programs: 7
Stride Length: Approx. 12″ vertically
Display: Dual-Mode Backlit LCD/LED Screens
Bluetooth: Yes
Speakers: No
Weight: 148 lbs
Warranty: 3-year frame, 3-year parts, 90-day labor
In this article, we will give you an overview of the M8 model in the Max Trainer series of Bowflex. It will cost you over $1000 and consequently, provide a bunch of outstanding features and design. '14 minutes is all it takes' – this statement from Bowflex indicates that the machine only takes 14 minutes to deliver the full effect of interval training. Along with the solid and sturdy design, it makes M8 Max Trainer worth the hype.
In the Max series, models from M8 and above are all connected to the JRNY app via Bluetooth. You can easily create custom daily workouts, automatically adjust the time and intensity as your fitness improves from experts from a tablet placed on the mobile device stand.
Another plus of this machine is the burn rate display. There are burn rate indicators showing how many calories burned per minute. They also help to set goals for each level and motivate you to achieve them. The backlit display interacts with 7 preset workout programs and 20 resistance levels, giving you a more challenging workout. A Bluetooth heart rate armband is included to estimate your heart rate and help to monitor your training progress.
With its design, the M8 model can help to consume calories in full-body training effectively, combine the low-impact motion of an elliptical with the challenging intensity of a stepper. It also features a  really small footprint compared to most ellipticals and treadmills on the market.
Pros
Backlit LCD screen with burn rate data
Contact Grips
Bluetooth connectivity
Bluetooth heart rate armband
Solid built yet compact design
Small footprint
8
Sole Fitness E35 Elliptical Machine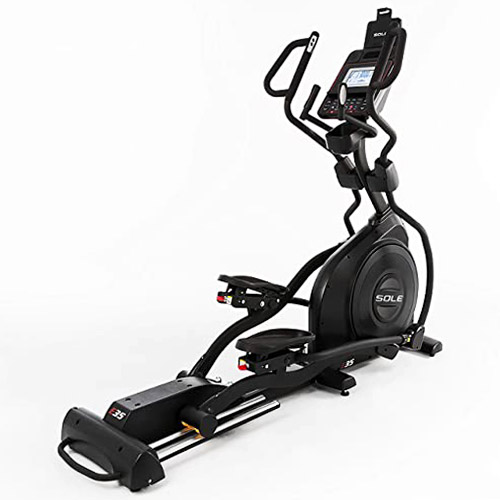 Specifications:
Weight Capacity: 375 lbs
Resistance Levels: 20
Number of Programs: 10
Stride Length: 20″-22″
Display: 7.5-inch LCD console
Bluetooth, Speakers, Cooling fans: Included
Weight: 215 lbs
Warranty: Lifetime frame; 5 years electronics and parts; 2 years labor
If you're really into keeping fit at home, we can ensure that the E35 model from Sole Fitness can totally worth the investment. It offers fluid and natural motion functions in both forward and reverse. This smooth feel is created by the 4 rear wheels on heavy-duty rails and flywheel. The high gear ratio delivers a smoother experience and minimizes side-to-side foot pedal motion, while the heavy-duty parts ensure a stable, solid feel.
The E35 has 10 preset programs including six standard programs, two user-designed programs, and two heart rate programs. The stride length is  from 20'' to 22''; the ramp angle can be completely adjusted from 0 to 30 degrees. These powerful and adjustable features provide additional resistance and variable positions for challenging cardio exercises and training all major lower body muscle groups separately.
The targeting fitness goal progress is supported by a backlit LCD monitor that helps you track essential training data. There are pulse sensors built into the handlebars and a chest strap for checking heart rhythm and thus, helping you adjust the level of exercise for maximum results. Besides the 7.5-inch screen, the machine also includes a sound system, a built-in fan and water bottle holder for your convenience.
Moreover, the E35 uses a front-drive system with 15-inch pedals. Each pedal is designed with a two-degree inward slope reducing stress on your ankles and knees. The footplates are also adjustable for customized comfort. Like Bowflex or Schwinn, this model from Sole also has it own app called Sole Fitness App for Bluetooth connectivity.
Pros
Highest users weight capacity in this list
Advanced sensors for heart rate monitoring
Quiet drive system
Long stride path
Motorized power incline
Adjustable pedals inward slope reduces strain
Cons
The most expensive option in this list
Heavy
9
Nautilus E614 Elliptical Trainer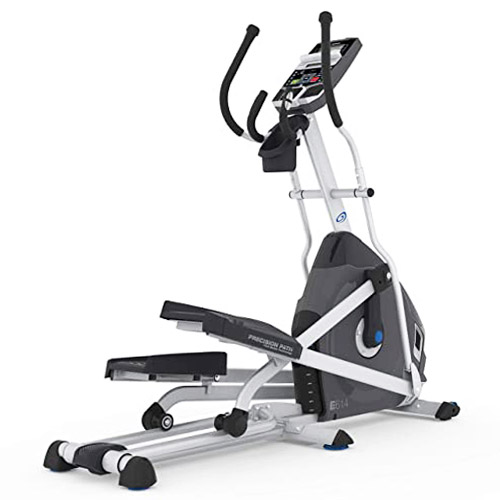 The fast, high inertia drive system with a heavy flywheel supports the E614 model of Nautilus to deliver a quick start and a smooth, consistent operation. The high performance is also the result of 20'' precision stride path. To customize for smoother operation, change the ramp angle with 6 different positions in total. But this incline is not motorized so you have to do it manually.
You can customize your personal workouts in your own ways with 20 levels of resistance, 22 preset programs, and the Goal Track capability. 20 resistance levels provide a wide range of workout intensity options. The preset programs consisting of 9 profiles, 8 heart rate controls, 2 customized programs, 2 fitness tests, and 1 quick start. The Goal Track will allow you to set your individual exercise goals.
Through a DualTrack LCD multi-display console, you can watch and control your workout speed, time, pulse, calories burned and distance covered. Some prominent additional features include built-in fan and speakers, USB charging, mobile device stand, etc.
But if you require more specific tracking data functions like chest strap, this machine is not the right one for you. In our opinion, the Nautilus E614 is highly durable and stable elliptical trainer, so it is an effective piece of equipment for for most peoples who seriously want to increase their levels.
Pros
Suitable for overweight users/ heavy-duty training
DualTrack LCD multi-display features many workout programs
Goal tracking functionality
Power motorized incline
Long stride
High speed, high inertia drive system
Built-in fan and speakers
Cons
No chest strap and pulse sensors
>>Related article: Best elliptical under $1000
Things to Know Before Buying a Elliptical Machine
Before making your decision to buy an elliptical machine, you are well-advised to consider many important features. Those crucial features are listed below.
Stride Length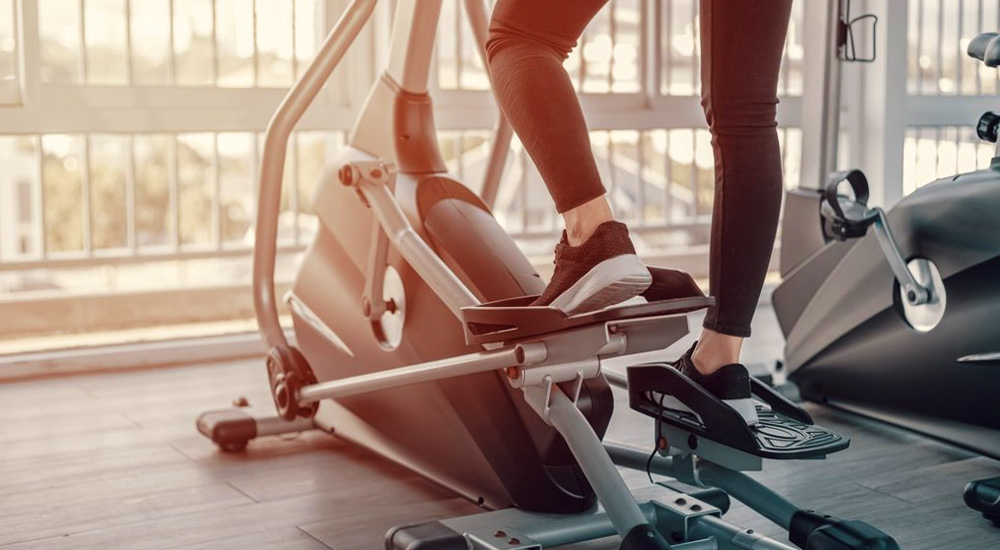 The standard stride for elliptical machines is 20-inch long. This is similar to the average person when walking.
Stride length is measured to be fit for purpose on most of the common ellipticals but, if you're taller than most people, you should seek something that makes allowances for this.
Maximum User Weight
An ideal elliptical machine should have a maximum user weight of 300 lbs or more. This not only supports more users but it also indicates good elliptical design and durability.
Resistance levels
The resistance level is known as the internal braking system of an elliptical machine. This system works to resist your pedaling so that you won't pedal too easily and effortlessly. You have to push your legs more to move the pedals and how difficultly you pedal depends on the level of intensity that was set before.
The majority of ellipticals available now have adjustable resistance to meet everyone's needs. Regarding your workout goal, fat-burning, heart rate zones or long-distance runs, set the resistance appropriately.
In general, that more levels are offered makes the elliptical more versatile. However, don't be too worried as even with the budget ellipticals, they still have eight levels of resistance for you to experience a decent workout.
Incline
In addition to resistance, some ellipticals have incline which compounds your conditioning by activating different muscle groups as you pedal. You will burn more calories while pedaling at a suitable degree of incline.
Programs
There are programs to help you work out. If you want it to be a customized program just for you, just pay an extra cost. Deciding whether you get more motivated or willing to exercise with your own program or not, then you can figure out what the preset programs are and make sure you will use them. If the motivation you get from preset programs is not enough, you can always find a program to follow along with on your tablet, iPod, or laptop. For those who are used to being in a class with an instructor and are not familiar with workouts at home, it is advisable to choose a program that helps ease you into the new environment.
Warranty
A warranty is enclosed with the majority of ellipticals sold, usually lasting from one to five years, and varies among different parts. Some budget models may not offer warranties. However, with $500 spent on an elliptical machine, it is better to purchase one covered by a decent warranty.
Elliptical Machine – FAQs
Does an elliptical machine take up much space?
It depends. Because there are a wide variety of types and brands of ellipticals on the market. Some may take up a large part of the room but some are just little. On average, most ellipticals require approximately six feet long as well as three feet wide. Of course, more space is better as you have more room to move around
Should those who have bad knees work out on elliptical machines?
Working out on an elliptical machine is considered a low-impact aerobic exercise so safety is guaranteed for anyone, even for the elderly. Therefore, damage to knees is rare and impossible if users carefully follow the instruction. If you have knee pain due to arthritis, you can see it as an option for running or jogging.
Are Ellipticals Good for Weight Loss?
Yes. The machine offers an effective way to lose weight without trying too hard. Choose the fat-burning resistance level and well incorporate the resistance handlebars, then you are about to have a nice body.
What extra features am I looking for?
The basic one is easy to use, but if you want something more sophisticated, there are some with speakers, a media rack, lots of program options and different elements to play with.
Conclusion
As you can see, there are many factors to make an elliptical shown up in this shortlist including price, weight capacity, smoothness and quietness, built-in features, and so on. Choosing the most suitable one will help you sweat your full body out and reach your fitness goals easily while still don't break the bank. If you are a professional user, don't hesitate to take a look at some high-class models with advanced innovative functions.
The best elliptical machines mentioned above are our top 9 favorites on the whole market so make sure to check out all the incredible features and also the disadvantages we have here for you!
If you have any questions or comments, please leave us below.