Are you looking for home fitness equipment and thinking about an elliptical or a treadmill? While these are popular and beneficial, a rowing machine is a worthy mention thanks to its combination of both upper and lower body workouts.
There are many features to evaluate a good rowing machine. But have you ever notice some called a home-use-machine but they are actually non-foldable? We believe that compact is one of the key features to consider whether a rower is good enough for you to bring it home. Because it's obvious that nobody wants a bulky machine taking up space in their house.
There are tons of rowing machines advertised by the manufacturers as the best rowers that buyers get confused to decide which suits them the best. After sourcing through many brands, models and feedbacks of customers, we have shortlisted the 7 best rowing machines for buyers who require the compact and portability in their home machine. So let's dive into it!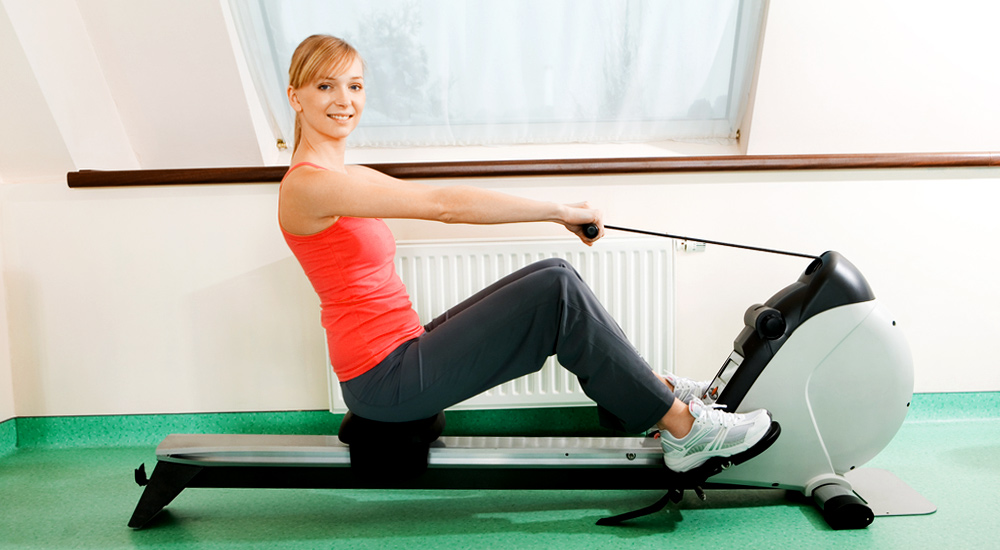 Types of Rowing Machines
Available on the market now are four main types of rowing machines. It is divided based on the types of resistance. Keep reading to see what they are:
Air Resistance
The mechanism of air resistance models is using fanlike air-fins on the flywheel to create resistance. Once we increase or rowing speed, it becomes more difficult to pull the bar because of the high resistance generated. On the flywheel is a vent which we can use to adjust the resistance of the machine. A tachometer is responsible for measuring the resistance based on the flywheel. Currently, Concept2 Model D is the best selling of air resistance type among others.
Water Resistance
The water rowing machines are quite popular than the other types but still there is a downside of this type is itself the need for water, which make it heavy and unportable.
It is activated by the paddled water in an enclosed tank. Resistance is generated by the mass and drag of moving water. For all intents and purposes, the water-resistance type can interestingly give you the feeling of rowing on a river. However, the only con of this type is that it is not compact and portable because of its need for water.
Hydraulic Resistance
Hydraulic cylinders are attached to the handlebars of the machine in order to create piston resistance. Users can themselves adjust the resistance by changing the length of the handlebars. However, this also makes this type of machine not as precise as others, leading to the fact that it is much cheaper on the market of rowing machines.
Magnetic Resistance
Magnetic resistance type is the choice for many people who want a portable machine in their home. Its resistance is generated by electromagnets, leading to an amazing feature: silence. The only disadvantage is that electromagnets do not allow us to change the resistance no matter how fast or slow we row. The resistance does not increase or either decrease, it is always constant during your workout.
Top 7 Best Rowing Machines Reviews
PRODUCTS
MODEL
FEATURES

CHECK PRICE
Concept2 Model D Indoor Rowing Machine with PM5

Resistance: Air
Weight capacity: 500 lbs
Folding: Need to disassemble

Check Price

Sunny Health & Fitness SF-RW1205 Rowing Machine

Resistance: Hydraulic Cylinder
Weight capacity: 220 lbs
Folding: No

Check Price

Stamina Body Trac Glider 1050 Rowing Machine

Resistance: Hydraulic Cylinder
Weight capacity: 250 lbs
Folding: Foldable arm

Check Price

Sunny Health & Fitness SF-RW5515 Magnetic Rowing Machine

Resistance: Magnetic
Weight capacity: 250 lbs
Folding: Yes

Check Price

Fitness Reality 1000 Plus Bluetooth Magnetic Rower Rowing Machine

Resistance: Magnetic
Weight capacity: 250 lbs
Folding: Yes

Check Price

MaxKare Magnetic Rower Rowing Machine

Resistance: Magnetic
Weight capacity: 243 lbs
Folding: Yes

Check Price

Stamina ATS Air Rower

Resistance: Air
Weight capacity: 250 lbs
Folding: Yes

Check Price
Below are detailed reviews of these rowing machines
1
Concept2 Model D Indoor Rowing Machine with PM5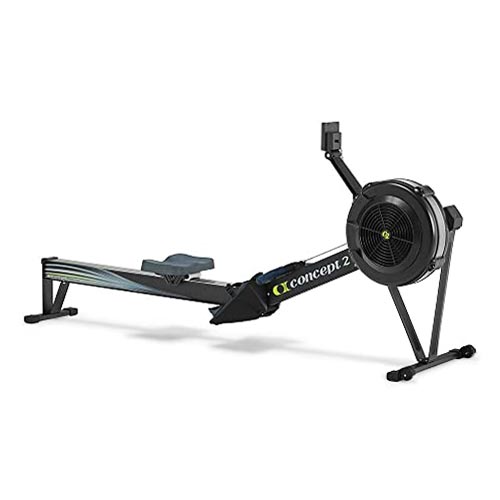 Specifications:
Resistance Type: Air
Weight capacity: 500 lbs
Folding: Need to disassemble
Digital display: Yes
Console: yes
Storage: 25 x 33 x 54 Inches
Machine Weight: 57 lbs
Warranty: Limited 2-year and 5-year
We are going to start the list with the world's No.1 best selling rowing machine for over 40 years – the Concept2 Model D Indoor. It is used widely at gyms and home by anyone of any age thanks to the low impact workout that engages all major muscle groups with a smooth motion and solid build quality.
The Performance Monitor 5 (PM5) allows you to track your progress with comparable data including time, distance and intervals in real-time through a backlit LCD display that is gentle for your eyes. The wireless Bluetooth and ANT+ connect the machine to a heart rate monitor and popular fitness apps. You can join the online challenges or watch online rankings and choose to use free apps or sign up to record and store workouts on your smartphone.
Moreover, the 14-inch high seat and adjustable footrests are designed to fit a wide range of users' sizes, except for extra-oversized people. It can be easily divided into 2 pieces for storage and then assembled with only 8 screws. The caster wheels are used for rolling/ moving the equipment around smoothly.
This rower has air-resistance flywheel, which is smooth and preferred by professional athletes. It provides a variable resistance by letting you row at your own intensity, then adjust the resistance accordingly. Plus, this model is protected with 5 years of warranty for frame and 2 years for parts.
The Concept2 Model D Indoor is a little expensive than the rest in this list, but we assure you that this extra bit of money is put forward into a higher and professional rower.
Pros
PM5 is considered as the best performance monitor on the market
Air-resistance flywheel provides variable and smooth resistance
Damper levels up to 10, easy control airflow
Bluetooth & online available
Easy to read backlit LCD
Designed to fit most users
Easy to assemble, move and store
2
Sunny Health & Fitness SF-RW1205 Rowing Machine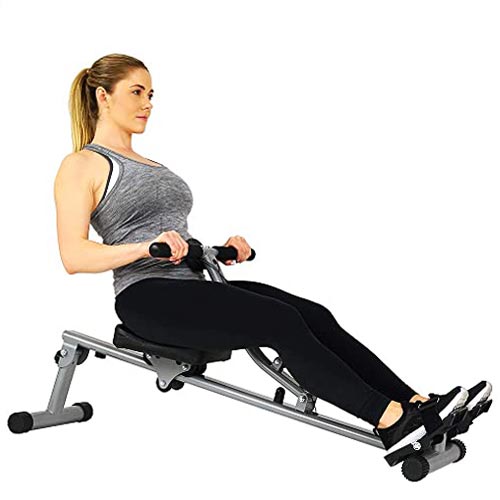 Specifications:
Resistance Type: Hydraulic Cylinder
Weight capacity: 220 lbs
Levels of resistance: 12
Folding: No
Digital display: Yes
Dimensions: 54L x 20W x 23H inches
Machine Weight:  20.5 lbs
Warranty: 3 year structural frame 180 days other parts
The Sunny Health & Fitness SF-RW1205 is our budget pick with a super reasonable price but still meets enough users' needs for a low-impact, full-body workout. This model has a hydraulic resistance system creating a smooth and quiet rowing motion. Through 12 levels of resistance variations, you can change the intensity while working out easily with a glide.
The SF-RW1205 rowing machine is simply designed with a commercial grade heavy-duty steel frame to delivers standard and solid built quality for your workout. The large foot pedals have non-slip texture and foot straps to keep your balance and comfort in mind. Plus, you can adjust the pedal straps to fit your feet and control the rower up and down with stabilizers. The rubber handlebars not only make you feel comfortable but also support a wide range of motion and hence, provide more intense upper body training.
Tracking your workout data on model SF-RW1205 is as easy as other rowers in this list with the digital monitor displaying calories burned, time, stroke count, and scan function. You will definitely get this rower at a bargain because we're not sure you will get any well-made and effective piece of equipment that is under $100 like this one.
Pros
Low cost
Simple design that meets all full-body workout requirement but still compact and lightweight
Large non-slip footplates &  Adjustable foot straps to fit every users' size
Stabilizers help level the rower to your space
Easy assembly
Cons
Weight capacity is not too high
Basic monitor
3
Stamina Body Trac Glider 1050 Rowing Machine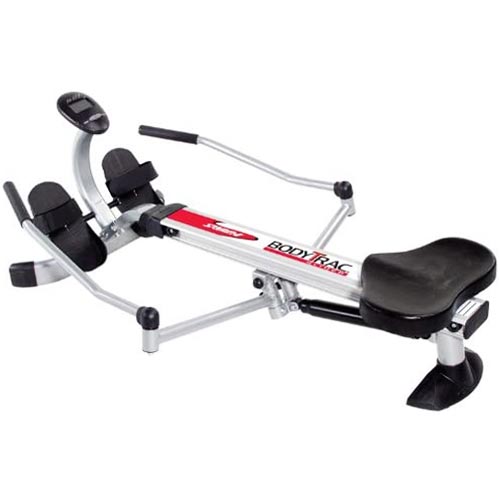 Specifications:
Resistance Type: Hydraulic Cylinder
Weight capacity: 250 lbs
Levels of resistance: 12
Folding: Foldable arm
Digital display: Yes
Dimensions: 58.25 x 42.5 x 18.125 inches
Machine Weight:  39 lbs
Warranty: 1-year warranty on the frame, 90-day warranty on parts
The Stamina Body Trac Glider 1050 is a sturdy, steel frame constructed rowing machine. The full-range separated rowing arms closely mimic the movement while rowing on actual water. After exercising these arms can be folded toward the frame which makes the whole machine slimmer and easy to store. It also takes only 30 minutes to assemble without any tools, which makes it into the list of best rowing machines.
We assume that Trac Glider 1050 is smooth and powerful enough in its price range. You can easily adjust the hydraulic cylinder to change the intensity between 12 levels of resistance. The handlebar is padded with foam giving extra grip for users and the footplates with a textured surface and safety straps will keep your foot and hand stay firmly. In addition, the molded seat helps enhance your comfort and smooth workout.
This model also has a multi-function digital monitor displaying calories burned, total strokes accumulated, workout time and so on for you to keep an eye on your training results. Although you may feel the one-year frame and ninety-day parts warranty is a little limited, remember that this model is really affordable and high-quality.
Pros
Full-range rowing arms imitate actual rowing motion
Small size & Saving-space folding arms
Adjustable molded seat
Footplates equipped with straps provide stability
Built-in shock resistance
Cons
No Heart Rate monitoring
Short warranty
4
Sunny Health & Fitness SF-RW5515 Magnetic Rowing Machine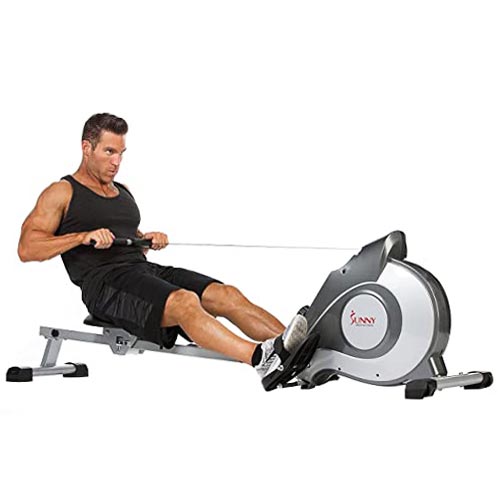 Specifications:
Resistance Type: Magnetic
Weight capacity: 250 lbs
Levels of resistance: 8
Digital display: Yes
Folding: Yes
Folded Dimensions: 37 X 19 X 53 inches
Machine Weight:  59 lbs
Warranty: 3-year warranty on the frame
Unlike the above, the SF-RW5515 model from Sunny Health & Fitness is a magnetic folding rowing machine, which means it creates resistance by a magnet located in the flywheel. The advantage of a magnetic rower over other types of resistance is that it provides a quieter rowing experience. This model is equipped with an advanced magnetic tension system, according to Sunny Health & Fitness's statement, which is smoother than the old one. You can switch up the intensity from level 1 to level 8 quickly by twisting the knob on the center panel of the machine.
The LCD console shows you the necessary data such as time, count stroke, burned calories, total count. Although it's only a basic monitor, we think it's enough for tracking your workout. When scan mode is activated, the monitor will scan through each data set every few seconds and allow you to have these features repeated to keep control of your data in a convenient way.
This model's slide rail length is up to 48 inches and inseam length is 44 inches, which makes it suitable for nearly any size of users, especially extremely tall people. The transportation wheels support easy storage, you don't need heavy lifting to carry it around. The Sunny Health & Fitness SF-RW5515 also has a fully padded seat, foam handlebars and large anti-slip pedals with reinforced straps. They together create a comfortable, stable and safe experience for every user.
Pros
Smoother and quieter row with enhanced magnetic resistance system
Adjustable height angle
Convenient resistance knob
Extra long slide rail can fit tall people
Non-slip pedals and grip handle
Easy storage
5
Fitness Reality 1000 Plus Bluetooth Magnetic Rower Rowing Machine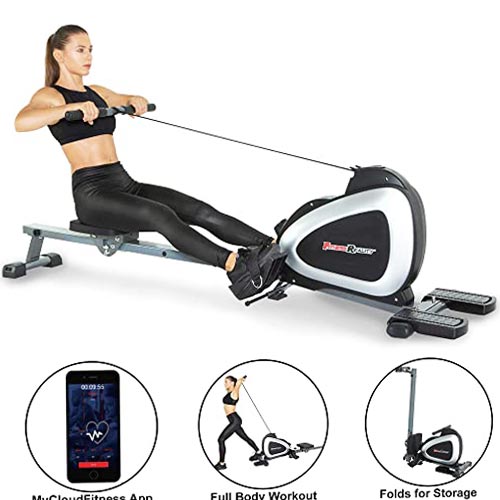 Specifications:
Resistance Type: Magnetic
Weight capacity: 250 lbs
Levels of resistance: 14
Digital display: Yes
Folding: Yes
Folded Dimensions: 39.5 x 21.5 x 53.5 inches
Machine Weight:  63.6 lbs
Warranty: 12 months
Fitness Reality 1000 Plus is really a feature-rich full body rower that doesn't break the bank. The additional front stabilizer foot pads let you train with more optional exercises besides rowing such as front raises, side raises, tricep extensions, reverse grip curl. The 21.5″ extra wide foam handlebars also help to improve these exercises' performance. Thanks to this feature, the Fitness Reality 1000 Plus model can provide a total body low impact workout focusing on forearms, bicep, triceps, shoulders, legs, thighs and so on.
You are able to track all of your historical workout results via a large LCD screen using Bluetooth connectivity. The free My Cloud Fitness app can set time goals, calories goals, and distance goals, but heart rate chest is not included. You can also plug your mobile device and put it on the smartphone holder to keep yourself entertained during your workout progress.
Despite its compact size, Fitness Reality 1000 Plus has extra wide grip foam handle and also extra long stride rail which is 21.5″ and 39″, in that order. These features provide comfort for different workout exercises. This model has magnetic tension resistance with 14 levels of intensity. The pivoting foot pedals with safety straps and a contoured cushioned seat allow a large range of motion while rowing.
Pros
Extended optional full body exercises
Bluetooth available with free My Cloud Fitness app ready
Extra wide handlebars & extra long slide rail
More resistance levels for users to choose from
Easy storage
Cons
The LCD doesn't last long
6
MaxKare Magnetic Rower Rowing Machine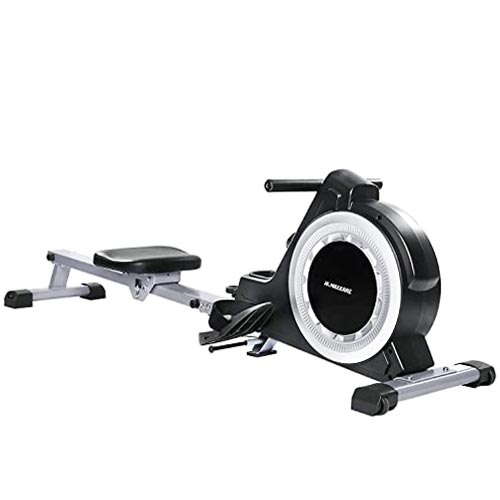 Specifications:
Resistance Type: Magnetic
Weight capacity: 243 lbs
Levels of resistance: 16
Digital display: Yes
Folding: Yes
Dimensions: 76.4 x 18.9 x 10.2 inches
Machine Weight:  64 lbs
Warranty: 1 year limited
Coming up next to another full motion home rower in this list – the MaxKare Magnetic Rower. This is an affordable yet sturdy and durable option when it comes to the best rowing machines. Weighing only 64 lbs and being equipped with transport wheels, this magnetic rower from MaxKare can save your space and brings portability to your experience.
The machine has magnetic tension resistance with the number of levels up to 16, which could adapt to various intensity demands with easy and customizable operation. It provides total body workout targeting various muscle groups such as biceps, forearms, legs, triceps, back, shoulders and more with additional exercises. All of this training progress will be tracked via an easy-to-read LCD screen and managed through the data of calorie, reps per minute, time, count and total count.
One of the most prominent of this MaxKare magnetic rower is the storage box. You can put your phone or even your bottle of water to keep yourself entertained and hydrated when you are rowing. The foam-padded handles allow a wider range of motion for better upper body workout. Moreover, the elevation is not too high or too low. It stays balanced and stable during your workout, which prevents users from slipping or falling out of the machine.
Pros
Convenient storage box
Multifunctional LCD monitor
Easily moved by pulley
Cost-effective
Quiet operation
More resistance levels
Cons
Adjusting resistance can be a little rough
7
Stamina ATS Air Rower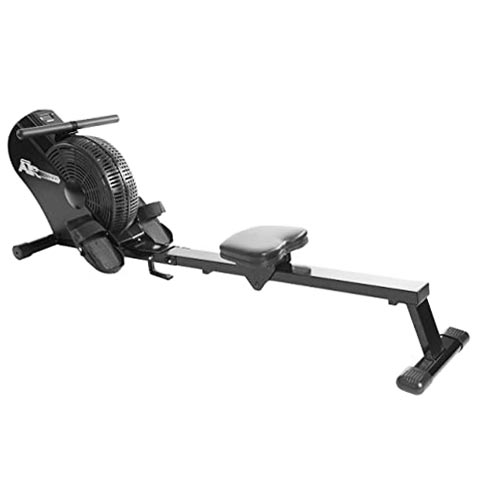 Specifications:
Resistance Type: Air
Weight capacity: 250 lbs
Digital display: Yes
Folding: Yes
Folded Dimensions: 48 x 18.75 x 28 inches
Machine Weight: 50 lbs
Warranty: 3-year frame and 1-year parts
The Stamina ATS is another air rowing machine we want to mention in this article, with a dynamic fan-type flywheel spinning when you pull the handles and creating resistance for your workout. There is no knob for you to switch the intensity up or down like the magnetic one. It varies and matches your pace, just speed up for more resistance and slow down when you want less.
Rowing on the Stamina ATS Air Rower improves your total body strength and creates a low impact workout activating 86% of the body's musculature and cardiovascular. During your routine, the Stamina ATS can track basic data such as speed, distance, time and calories with the large LCD display. It also has a scan mode that scans through your fitness data every 6 seconds. Nevertheless, the screen has no backlight thus it can be hard to read in low light areas.
This model is also equipped with an oversized upholstered seat, adjustable footplates and grip rowing handle that supports the smooth-sliding workout. These are familiar features in this list but there are some pieces of equipment out there that are not equipped with convenient and comfortable features and, consequently, can not make it into our top pick for best rowing machines. The Stamina ATS comes with a three-year frame and one-year parts warranty, and fortunately, it can be extended for free!
Pros
Budget-friendly for an air rowing machine
Easy assembly and portability
Free extended warranty
Upholstered seat
Solid oversized angled rail for smooth sliding
Cons
Non-adjustable damper/ resistance
Features to Consider When Buying a Best Rowing Machine
Once we decided to purchase a rowing machine, it's definite that w have to consider many features in order to get the suitable one. Getting a good model will facilitate your journey to achieving a fit body. We are listing out some of the striking characteristics below so that you can compare when you make a purchase:
Resistance Type
The first matter to think of when purchasing is to pick out the wanted resistance type. Basically, there are four types of resistance: air, water, magnetic and hydraulic. Each type has its own pros and cons, keep reading all this article will help you have an understanding of each type because we will cover all the information clearly.
Comfortable Seating
Because you may have to spend a long time sitting while working out, the seats should be as comfortable as possible. Some rowing machines are equipped with very nice seats whereas others are not. Hence, check out the seat carefully before buying.
Weight Capacity
The weight capacity is one of the matters that make sure your workout will turn out smoothly. Each person is suitable for different weight capacities. However, it is a bit harder to choose when you need a machine with a high limit. Normally, many compact rowers have a weight capacity of 300 pounds, if you need a higher weight limit you should ask for the assistant to help you. Using a rowing machine with too low weight limit compared to your weight will not only shorten its life span but also easily cause you injuries. Remember to put your safety on top of the priority list.
Workout Programs
If you have never used a rowing machine, you can consider going for ones with preset workout programs since they will not cause you confused about setting the speed. Moreover, they can auto-change resistance when necessary. Once you become more familiar with rowing machines, you can set suitable workout programs yourself.
Display
If you first time uses a rowing machine, it is easier for you to pick a machine that has a simple-designed display. Using a complicated display from the beginning can make you confused about a large amount of information. Usually, it is sufficient to find a machine that shows those statistics: calories burned, workout time, strokes per minute, distance and heart rate. When you get more familiar using a rowing machine and you demand a more intense workout, a machine with a more complex display can show you more statistics for your training.
Noise
Though you may unintentionally ignore this feature when purchasing, it can be a decisive factor afterward in whether you have motivation for your workout or not. A noisy machine can be so annoying that you do not even want to touch it. Besides, a noisy machine will definitely be a pain in the neck of your neighborhood every single time you work out. Now you see how important a quiet machine is.
Price
Like other equipment, the price of rowing machines varies a lot depending on their quality and brands. High-end machines are enclosed with more functions and they are also more durable. Cheap models whereas usually have fewer functions. It can fit your budget right now but you may replace some parts of it or pay for its maintenance afterward.
Warranty
There are three sections of rowing machines' warranties: the parts, the frame and the labor. Warranties for parts are the most important because the fee for replacing parts such as monitors, cords and hydraulic pistons is very high. A three-year parts warranty is good enough for a rowing machine. To commercial rowing machines, parts coverage is quite short but it is not a big problem as people do not use these units continuously in home gyms.
Warranties for frames are not usually used since they are rarely broken. Sadly, low-end hydraulic rowing machines usually have poor warranties.
Conclusion
To conclude, the most important function of a rowing machine is its flywheel, which is used to build resistance and make it different from other fitness trainers. Besides, you have to consider the effectiveness, durability, size and especially, your using purpose. If you are searching for portability and space-friendliness in a rower you'd better check out our recommendation above. In this article, we listed the 7 best rowing machines that are foldable and easy to store. Each has its own merits and demerits, we have reviewed them in detail and given you the clues to lean towards one that suits you the most. We hope this will help you discover significant suggestions to make a better buying decision for a piece of equipment that can totally improve your health.