"The best gear is the gear that you'll actually use". When it comes to fitness, nothing is best than a fitness watch. It acts like a personal trainer that you wear around your wrist. In order to help you to improve your health, it tracks your pulse rate, steps count, exercise type, exercise intensity, burned calories, and monitors your sleeping & eating patterns.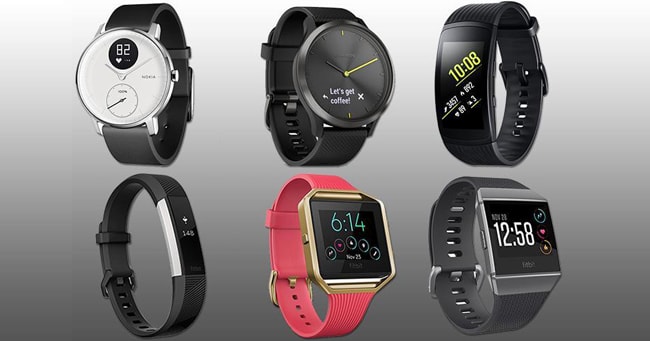 In today's market, there are different types of fitness watches you can buy, but "what is the best fitness watch for you?", it must match your needs, interests, goals. They all are intended to achieve the same goal. Many fitness trackers featured with alarms that remind you about your goal and dietary intake. Not only it helps you to maintain your health but also helps you to predict your future diseases.
However, it isn't a silver bullet fix that guarantees you achieve your health goals; you have to do hard work and follow a healthier diet chart to reap the benefits. Many people are turning towards the best fitness watches for the motivation to maintain a healthy lifestyle. According to studies, it has been found that approx. 14 million people were wearing activity trackers in 2015 and it is predicted that this number can rise up to more than 200 million by 2020.
If you are gearing up for an upcoming triathlon and dreaming to shed some weight, a fitness tracker can solve your problem with immediate effects. There are countless numbers of reasons to buy a fitness watch. Here are some benefits you can reap from an activity tracker.
Reasons to Buy Fitness Watch
Keeps a Track Record of Your Fitness Progress
It has been found that a person should have 10,000 steps count per day for a healthy body. But, due to a sedentary lifestyle, most people do not achieve that. A fitness watch tracks your step count and motivates you to reach this step count daily. After realizing this fact, you can change your schedule. It also helps you to change your food choices and adjust your sleeping hours; it will further improve your body energy level.
Tracks Your Sleep and Eating Patterns
Adequate sleep is an essential part of a healthy body; it helps us to relieve stress, improves physical and mental health. A fitness watch helps you to track the time you were asleep, the number of times you woke up and the density of the sleep. By doing this, you can find a solution to your poor sleep. Apart from monitoring your sleep, it monitors your diet too. It calculates the number of calories consumed and burnt by you.
Helps You to Build a Routine
It is easy to start doing exercise, but maintaining a routine is difficult. When a fitness watch notices that there is no activity in your body for a long time, it reminds you to walk. When you have a poor diet, it tells you to change your diet chart. It continuously checks the condition of your body like the pulse rate. If it founds some problem, it raises an alarm which can be lifesaving in some instances.
A fitness tracker helps you to share your fitness goals with your friends on social media which can help you achieve your goal faster. When you see your friend's progress, this could encourage you to do more exercise or activity. Not only it can help you to achieve your goal in a short time but also helps you to find a friend who has similar goals to yours.
Helps You Build Healthier Habits
As mentioned fitness watch tracks your activity, sleep patterns, diet and overall well-being. After getting this information, you will find it easy to make changes and develop manageable goals. It will further help you to make healthier habits. For instance, it reminds you to perform exercise and eat healthy food daily.
We hope that the aforementioned points are sufficient to entice you to buy a fitness watch. If you are looking forward to buying the best fitness watch on the market, then it can turn out to be the best decision of your life. From Fitbit and Garmin to Misfit and Xiaomi, there are many popular brands of fitness watches available on the market. How will you decide that you are buying the best fitness tracker and it will suit you?  When you have so many choices to choose from, it becomes difficult to make the right decision. Therefore, we are going to tell the things you should consider when purchasing a fitness watch. We hope, it will help you.
Things to Consider When Buying a Fitness Watch
Decide Your Goals
Most fitness trackers perform their function by tracking your step count, distance covered, calories intake, exercise intensity, etc. Some fitness watches come with advanced features like GPS tracker, inbuilt optical heart rate monitors and different types of sensors that measure your body temperature, UV exposure, etc. Before you make any decision, decide why you want to buy this device. It helps you to make the right decision. When you buy a fitness tracker, make sure to choose the one that can capture data according to your activity you do the most.
Budget
We have seen the launch of the best fitness watches in 2023 with improved functionality and style. But, not all fitness watches are same; their prices vary with the specifications. That is why it is crucial for you to decide how much you want to spend on a fitness watch. It will help you to narrow down your options. For instance, if you are an athlete or adventure lover, then it is good to buy an expensive tracker with advanced features. But, if your primary activity is walking, then the great option is to buy a tracker with common features.
Display Screen
A fitness tracker comes with and without a display screen. A fitness watch with screen allows you to check your progress immediately. On the other hand, you have to connect a fitness tracker with your smartphone to check your progress. Another factor you need to consider is the color of your display. Decide whether you want a colored, black and white, or LED display.
Water Resistance
Many companies purport that their products are waterproof, but in reality, there is no such product that is waterproof. Each product has a certain level of capability to bear the water pressure. Therefore, a product with a higher water resistance capability is marked as water resistant. In case you are going to wear your fitness watch on all day, including in the shower or swimming, make sure you opt for a device that can bear more than a splash of water.
Battery Life
It is an important factor to consider. Fitness trackers are of two types – those that require charging every few days via a USB cable and devices that use cell batteries that last for 6 months. Charging your band every few days can be a hassle. It can also affect your fitness goal too as you may have to leave it home for charging. But, it is less expensive than the other that uses cells batteries.
While these were the factors you can consider when buying a fitness tracker, there are many more, such as accuracy, design, user experience, compatibility, etc. If you are looking for the best rated fitness watches , continue reading this blog. We have reviewed the top rated fitness watches that you can choose to buy as per your budget and requirements.
Top 9 Best Fitness Watch Reviews 2023
| Products | Model | Check Price |
| --- | --- | --- |
| | LETSCOM Fitness Tracker HR | Check Price |
| | Fitbit Charge 3 Fitness Activity Tracker | Check Price |
| | Garmin vívoactive 3 | Check Price |
| | Fitbit Charge 2 Heart Rate | Check Price |
| | Fitbit Flex 2 | Check Price |
| | Henoda Fitbit Alta HR and Alta Bands | Check Price |
| | Garmin vívosmart HR | Check Price |
| | Tomtom Spark 3 | Check Price |
| | 3D Fitness Tracker & Real Time Audio Coach, Moov Now | Check Price |
Below are the detailed reviews
1. LETSCOM Fitness Tracker HR
Unlike Fitbit and Garmin, LETSCOM is not a popular brand, but it is renowned for developing fitness trackers, incorporated by all the features that most of the fitness bands must have. Therefore, we are going to review one of the best fitness watches to buy by LETSCOM.
LETSCOM Fitness Tracker is a smartwatch fitted with an OLED screen display and a soft rubber band that is available in different colors. It tracks your steps, distance traveled, calories burnt, sleep and monitors your heart rate. Its size is 9.4 x 0.8 x 0.4 inches. It is fitted with Kionix kx022-1020 sensor and its CPU is Nordic nRF51822-QFAC. While its screen precision is 278ppi, its screen resolutions are 320 by 320 pixels. It is compatible with Android/iOS with LETSFIT app, which allows you to receive notifications from your smartphone. You can set your height, weight, age, gender and daily step and sleep targets in your fitness tracker. If it founds that there is no activity in your body for long hours, it reminds you to move. Its battery life is good; you can use it for 7-10 days in a standby mode and up to 4 days of active use battery. Furthermore, there is an inbuilt USB charging plug; you need not buy any cables. It allows you to share your progress with your friends and competitors. It allows you to use it in landscape or portrait mode.
Pros
Heart rate monitor
Unisex style and size
Waterproof
Remote Camera Control
Bluetooth: 4.0 wireless sync to iOS and Android Products
Connected GPS
Cons
Honestly, we don't find any cons in this fitness tracker.
2. Fitbit Charge 3
Fitbit Charge 3 is a good fitness tracker you can buy for most people. It is luxuriously designed and versatile, so it makes you stand out wherever it is whether in the office or in the gym. It has one of the more accurate wrist-based heart rate sensors than some we've ever tested. In addition, its water resistance will keep you from having to worry about weather and sweat.
Fitbit Charge 3 can connect to smartphone GPS for real-time speed and distance during running and going outdoors. Its battery life is up to a week on a single charge. Therefore, Charge 3 is a great option.
Fitbit Charge 3 has more than 15 exercise modes such as run, bike, swim, yoga, … and you can get workout data in real time to evaluate the effectiveness of your workout.
The touchscreen of Fitbit Charge 3 is pretty responsive, it also has two buttons on the sides of the screen you can press. In addition, it can get call, text and smartphone app notifications on your wrist.
Pros
Made in the USA
Comfortable design
Improved notifications
Swim proof and water resistant
15 plus exercise modes
Great battery life
Cons
3. Garmin vivoactive 3
If you aren't on a budget, then this device is for you. It is another best fitness tracker with GPS which comes with smartwatch functionality. It is featured with stainless steel bezels, a monochromatic screen, heart rate monitor, water resistant, accurate GPS tracker, impressive smartwatch features with almost a week-long battery life. You can also choose between a stainless steel or a polymer frame. Vicoactive 3 comes in three different color options – black with slate hardware, black with stainless steel hardware and white with stainless steel hardware. It has plenty of activity tracking profiles that tracks walking, cycling, running, swimming, skiing, padding, and golf. Its attractive and customizable design works with casual wear as well as business attire. It is compatible with Android and iOS. Not only it allows you to reply to text messages directly from your watch, but also manages your contactless payments and stress measurement. It is a combination of all the best features from all of Garmin's fitness trackers into a single product in this range.
Pros
Water Resistant.
Contactless Payments.
GPS Tracker.
Activity Tracker.
Super Long Battery Life.
Compatible with Android/iOS.
Cons                             
4. Fitbit Charge 2
This device is considered as one of the best fitness watches 2023 because it automatically tracks your heart rate, steps count, calorie burned, sleep, and distance traveled. It's basically a silicone band with a rectangular stainless steel OLED display module in the middle. It allows you to pop out the module so that you can swap it into different color straps. Due to its monochromatic display, you can use it in direct sunlight without any difficulty. While there is no inbuilt GPS tracker, you can still capture running routes and lap splits by connecting it to your phone. It is easy to wear for long period of time. It doesn't eat into the battery and lasts about five days on a full charge. This device is resistant to rain, sweat, and splashes. It syncs your data with your mobile automatically, whenever it is in range, though you can manually sync too. It is available in 3 different sizes. If you are looking for a full-featured fitness tracker at affordable prices, then Fitbit Charge 2 is an excellent option to choose from.
Pros
Monochromatic Display.
Heart Rate Tracker.
Activity Tracker.
Long Battery Life.
Cons
No GPS.
Limited Phone Notifications
5. Fitbit Flex 2
Another best fitness watch of 2023 designed for the swimmers as its water resistant rating is up to 5ATM. Fitbit Flex 2 is an advanced version of Fitbit Flex which is about 30% smaller in size. The heart of Fitbit Flex 2 is a tiny tracker that tracks your steps, distance and calories, swimming laps. It also tracks active minutes. It can be pop out during the charging. While there is no display screen, it uses a pattern of LED lights to show your progress. Its design is sleek and think. It features a silent vibrating alarm and waterproof. Its straps are available in different colors. It can be worn as a pendant or a bracelet. When it comes to battery life, it may disappoint you; its battery life is not good.
Pros:
Water resistant.
Available in different colors.
Can be worn as a bangle or a pendant.
Cons:
Battery life is not good.
Less accuracy rate.
6. Fitbit Alta
Fitbit Alta has a small modular 128-by-36-pixel, 1.4 inch OLED screen in the middle of the band which allows you to pop out the screen to fit into another colored band. Its display works vertically as well as horizontally. It comes in three different sizes (14-17cm, 17-20.6cm, 20.6-23.6cm) to fit wrists. It tracks your steps, distance, active time and calories burned by using Omni-axis accelerometer. It also tracks your sleep and various activities like walking, cycling, weight-lifting, yoga or aerobics. There is no GPS tracker, optical heart rate monitor, and an altimeter. It recognizes various types of exercise and automatically records your workout for you via SmartTrack feature. It is compatible with your Android/iOS which allows you to answer your texts, calls. It can last for five days on a single charge. Additionally, you can track your weight loss and record your food and water intake. It is easy to wear. It is very trim and sleek, but it isn't waterproof. If you are looking for a fitness tracker with all basic features, then this is for you.
Pros
Striking design
Easy to use and customize
Long battery life
Cons
No GPS
Not Waterproof.
Tap-sensitive screen isn't sensitive enough
7. Garmin vivosmart HR+
Another wearable tech award winner, the Garmin Vivosmart HR+ is one of the best activity trackers designed for athletes. It is a reliable, affordable and feature-packed fitness band. This all-in-one gadget includes a GPS tracker, a heart rate monitor, accelerometer, barometric altimeter, etc. Additionally, it is compatible with your smartphone; it can display all the notifications from your smartphone. Its display can be customized according to the third-party widgets and apps.
Its plastic body encased in a rubber strap makes it more durable; it can withstand knocks and drops of the floor. It is water resistant to 5ATM. You need not worry about it in the bath or shower; you can wear it during swimming. It is available in different colors; you can choose according to your preferences. Some of its special features may appeal you like a virtual pacer, auto pause/lap, personal records, and a walk/run mode. You can also sync it with the app to view your detailed metrics or overall progress. If its GPS mode is on, it can last for 8 hours and if its GPS mode is off, it can last up to 5 days. The only negative side of this device is its design; its thickness is 192mm. If you are not a fashion enthusiast and want to buy a device at affordable prices, then this is for you.
Pros
Reliable and Affordable.
GPS Tracker.
Heart Rate Monitor.
Compatible with Android/iOS.
Water Resistant up to 5 ATM.
Long-Battery Life.
Cons
Design is not attractive; thickness is 192mm.
8. TomTom Spark 3
TomTom Spark 3 is designed for the runners. It is equipped with 3-axis accelerometer, heart rate sensor, and compass. It automatically tracks your activity. It is lightweight and waterproof fitness tracker. It has a storage space of 3GB which allows you to listen to the music when your phone is not near to you. It has a GPS with route tracking which helps you to create and upload running routes directly to the tracker. Unlike many trackers, it doesn't deliver notifications from your phone. It can submerge up to 130 feet underwater.
It has a modular monochromatic LCD display with a 168-by-144-pixel resolution. Its battery can last up to 11 hours when GPS is on and up to 5 hours when GPS, heart rate and music all firing at once. If it is used for only tracking everyday activity, it can last up to 3 weeks. There are a few drawbacks: its design is not exactly fashionable, its size is 2.7 by 1.5 by 0.5 inches (HWD). It has a Cyclopean button below the display which is very big, but that makes it easy to use when you're wearing gloves or sweaty. In spite of a monochromatic display, it is difficult to view in the dark; you have to cover the display with your hands. Furthermore, it requires 3 separate apps to make use of all the Spark's 3 features: in-browser web application, mobile app, and PC software. If you have some patience to deal with some chunky software, then this fitness tracker is for you.
Pros
Good Battery Life
GPS tracker
Monochromatic display
Lightweight and waterproof
Cons
Chunky Design
Lengthy setup process.
9. Moov Now
The Moov Now is one of the most preferred fitness bands because of its price. It is a small disc with a storage space of 3GB that sits in an eye-catchy latticed black rubber strap. It is available in different colors. This device got nearly all the features that a fitness watch should have; it monitors your steps, sleeping pattern, cross-training, eating habits, and run coaching. You can wear it during swimming and a boxing workout. Its battery can last up to 5 days. It is so light that you won't even notice its presence on your wrist. It is known for its accuracy. The Moov's app is loaded with different types of workouts including training programs. It can accurately differentiate between different exercises. For instance, when you select a boxing workout, it can effectively differentiate between a jab and a cross and a hook and an uppercut. Furthermore, it is featured with Omni motion sensor technology which is able to capture and analyses your motion in 3D. It tracks and analyses the activity you are doing with the help of an inbuilt coach and guides you to do workout properly via vocal feedback. For instance, if you are not hitting your target with accurately, it guides you to improve the intensity of your punches in boxing sessions. It can also help you to improve your style of swimming in the pool, running speed, etc. The only drawback of Moov Now is its sync step. Most fitness trackers sync your phone with the fitness tracker automatically, but Moov Now requires a six-step sync process. However, there is a recent update in the Moov's app which allows you to sync your phone in a one-step process. While a single press can initiate the sync, still there is a need to connect your device to the phone. This device is the cheapest fitness tracker and best for the beginners.
Conclusion
While we have reviewed the best fitness watches in this guide, there are many devices from different brands that you can choose to buy. If you need some more information on the best activity trackers, explore the internet. But, before you click on the buy button, make sure you check the customer reviews and specifications of a fitness tracker.