Among the home gym equipment that you can buy, a power tower is one of the most useful pieces absolutely worth your consideration. The best power towers undoubtedly can train your whole body from your neck to the bottom of your legs since we have various bodyweight exercises that you can perform with this equipment. Excited?
Now if you want to possess your own pull-up dip station but you are considering the space of your house or apartment, your limited budget, what types of exercises you can perform with it or simply what brand you should choose, I am here to answer these tough questions. Here below are in-depth reviews of 6 best power towers which will give you all of the information you need to decide which one will be perfect for your home workout routine. Read the reviews below carefully and smartly while making sure to use all that information properly so you can pick the best one for you.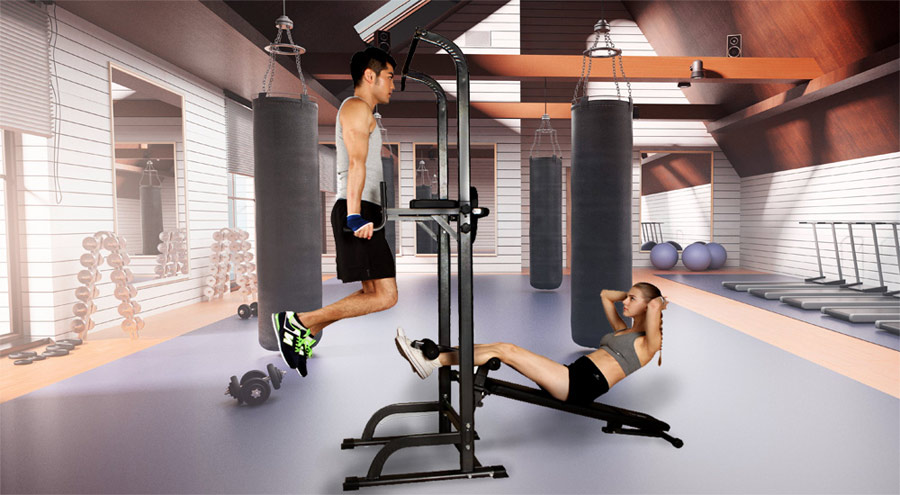 Things to Know Before Buying a Tower Power
Spending a long time and good money on buying a tower power is worthy. As we mentioned above, various power towers come with different features that seems complicated and hard to analyze. Thus, we would like to take you to a short detailed list that helps you purchase the best power tower for yourself.
Versatility
As you know, all kinds of power towers are made differently to meet various users' needs. For this reason, you are not able to expect all the power towers offer the same level of versatility. To figure out which trainer works well for yourself, you should have good knowledge about your cardio workout plans as well as parts of your body that you would love to concentrate to strengthen. In other words, you need to know which group of muscles and types of exercise that you tend to target in your long-term training program.
Normally, basic power towers have the same workout sections which bring users comfort and ease while doing exercise. However, if you can afford a power tower that has more versatility, some designs like the Stamina or X Fortress Power Tower are the best options. They all come with useful attachments like a built-in rack, detachable weight bench, and space for hanging a punching bag also. Anyway, it takes time to find out the best power tower, but if you know how to narrow the list of products, you can get the best one in no time.
Weight Limit
Well, let's have a look at the weight limit of a power tower right now. This feature is truly important to ensure you buy a trainer which offers an excellent complex of your upper body training process and your body's weight. In fact, there are several power towers that provide weight capacity from 250 to 300 pounds, matches people's weight well. Choosing a heavy-weight power tower for your home gym is never the right choice, so you are suggested to grab the lighter one.
Stability and Durability
There is no doubt to say that stability and durability are the very first things you have to consider before purchasing the best power tower for your workout. Most power tower machines these days are almost made up of durable materials and steady structures or solid construction. But, the fake ones still exist and you might get the wrong one if you aren't good at selecting things. For these reasons, you should have a good consideration of the materials of the frame bars, grip, and back pad. To handle your weight well for a long time of use, the hand bars are needed to be made of high-quality steel. The handgrips should be made of good-quality rubber, and their covers should be made of high-quality vinyl that help them avoid tearing well. In addition, to make sure that the power tower doesn't wobble during the workout progress, it's helpful to look a heavily weighted base product.
Additional Features
Now, it is time to think about the additional factors of a power tower. Thanks to the innovative technology of producing process, most power towers offer some great additional features which help you increase your upper body workout as well as improve the exercise at your lower body parts better. They can be straps, handles, clip-on handlebars, plyo boxes, or climbing bars. Thus, it is crucial to find these things out before buying the best power tower for your home gym.
Price
As you know, power towers vary in many types and prices. And, the budget now becomes one of your considerations before purchasing a power tower. Some powerful power towers released at very high prices and it's tough to afford one. But, it worths your money anyway. However, you are always encouraged to purchase the best power tower which offers a reasonable price. Thus, just figure out which one is suitable for your workout and grab it.
Warranty
Power towers are likely to be used for a long time, so it would be great if they come with a great warranty. Famous manufacturers provide high-quality products with longlife warranty to ensure they can last the distance. For this reason, users can benefit the best maintenance.
Top 6 Best Power Towers Reviews
PRODUCTS
MODEL
FEATURES

CHECK PRICE
Body Champ VKR1010 Fitness Multi-Function Power Tower

Versatile dip stand
Sturdy design
Perfect for home

Check Price

Weider Power Tower

Total Upper Body Training
Push Yourself
Target Your Core

Check Price

Stamina Power Towers

All-in-one fitness equipment
Stable and comfortable
Fits many spaces

Check Price

Ainfox Power Tower - Tower Dip Stands Fitness Gym Office

Vertical Knee Raises & Dips
Hammer Pull Ups
Push Ups

Check Price

Bowflex BodyTower

7 levels of adjustment
Heavy-Duty Commercial
Handgrips and Sling Straps

Check Price

Marcy Power Tower Multi-Grip Pull Up

Heavy-duty construction
Full-body workou
Integrated backpad

Check Price
Below are detailed reviews of these power towes
1
Body Champ VKR1010 Fitness Multi-Function Power Tower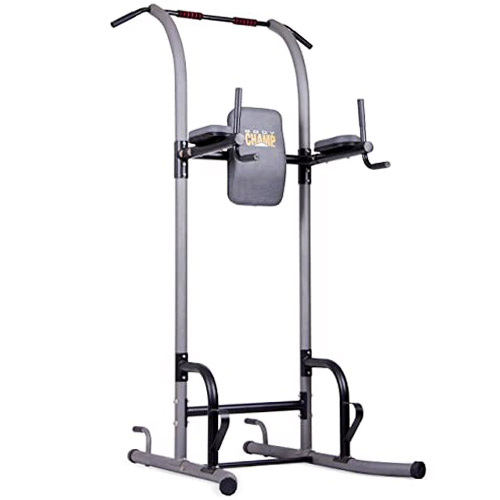 The first option made by Body Max is designed for tried-and-true exercises which means you will perform the basics. This power tower provides many types of exercises allowing you to exercise your chest, triceps, and shoulder muscles as well as strength training just simply by lifting your body without using weights.
This model can provide you with 4 workout stations in 1: a vertical knee raises, pull-ups, a dip station, and lower push up bars. Made of quality steel with a durable D-frame designed into two arched stability bars and seam-stitched cushions which are actually safer for your back, this sturdy power tower can be used for your light commercial or home fitness setting. It comes with handles with 2 grip options including inner foam and ergonomic outer one that help you avoid slipping while training and comfortably perform different kinds of workouts.
Pros
Easy to install
Cost-effective
Perfect for limited space
Sturdy design
Suitable for your home fitness setting
Cons
Barely functional for smaller people
2
Weider Power Tower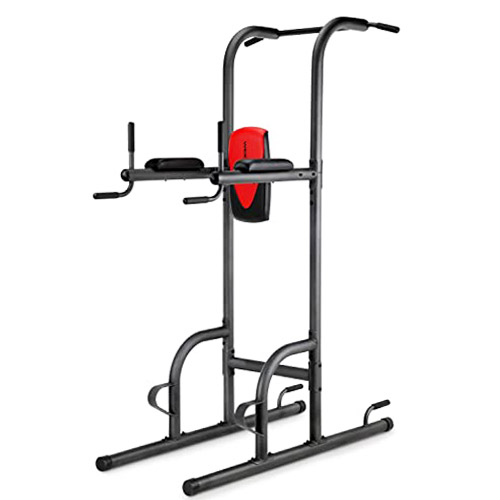 Weider Power Tower is another perfect option for your home gym. Built from good quality materials and has a sturdy design, you will never have to worry about its durability. Its size is approximately 53.2 x 43.3 x 86.6 inches with a weight of 86 pounds and its maximum supported weight limit can up to 300 lbs.
One plus point of this model is it features five workout stations just in 1 compact piece of fantastic equipment. Pull-Up Station with 2 comfortable, padded handles can comfortably target training your biceps and forearms. The dip station with adequate space will work your triceps, chest, and shoulders. Built-in push-up station features two non-slip grips that allow you to go deeper into your more effective push-up targeting your arms and chest than regular push-ups trained on the floor.
Vertical Knee-Raise (VKR) Station with padded back and armrests will support you to raise legs and knees which work your abdominal muscles. Lastly, you can work your lower leg muscles by using the calf raise station. Besides non-slip grips that ensure the frictions, the Power Tower also owns sewn vinyl cushions which support a lot for your back during workout time. Overall, I find it a well-designed and worthwhile option for a home Power Tower.
Pros
Five workout stations
Inexpensive
Well-designed
Ultra-durable
Easy to assemble
Cons
Plastic pieces aside can be broken
3
Stamina Power Towers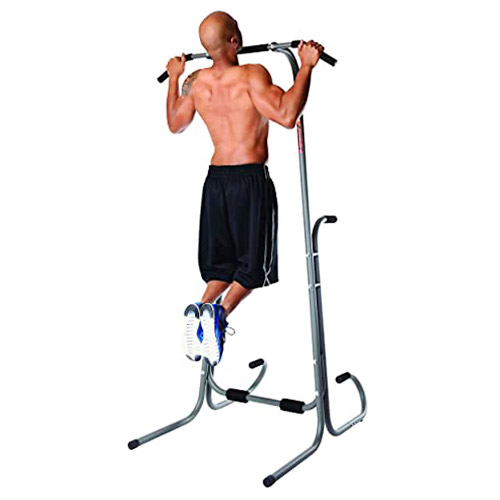 With a simple but solid design, Stamina Power Tower is a fantastic option for home gym. This all-in-one power tower can support you to work many kinds of bodyweight exercises such as pull-ups, dips, push-ups, chin-ups, sit-ups, vertical knee raises and more. With a compact size of only 49×42.5×81 inches, easy to install and use, it is suitable for most users and different spaces, even for apartments with limited space.
The Power Tower features 4 stations that utilize mainly gravity and your own body weight for many different bodyweight workout movements. They are: push-up station, pull-up station, dips station and sit-up station. Each station is equipped with foam padded grips to support your hands or your feet and avoid slipping.
These Power Towers are guaranteed by an incredible 5-year frame and 90-day parts warranty so you absolutely can feel secure when using and if any problem occurs, you will receive a refund.
Pros
Good warranty
Suitable for limited space
Ease of assembly
Good price
Pretty lightweight
Cons
Maximum weight capacity is only 250 lbs
4
Ainfox Power Tower - Tower Dip Stands Fitness Gym Office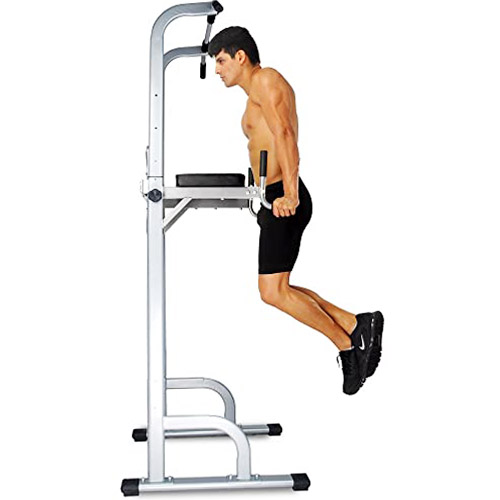 Dubbed as the powerhouse for workout freaks, Ainfox Power Tower is really one of the most inspiring choices for home workout lovers. The 30.7″(L)x 42.5″(W)x 84.7″(H) ultra-durable design with reinforced steel frame makes the weight of the model up to 60.5 lbs and the weight capacity up to 550 lb which is far beyond other items. In addition, users can also adjust the height of the tower from 64.6″ to 84.6″ according to the workout preference and the different types of exercises. This is an undisputed plus point for Ainfox manufacturer when they make their items fit for most people.
Like all power tower, Ainfox's items also feature handles with non-slip grips supporting for your workout. This Power Tower owns 2 large cushions that use imported leather, thickened soft skin design. With the 10.2″x 17.9″x 2.0″ back cushion and 11.8″x 4.7″x 2.0″ arm cushion, they are very supportive during training time and more comfortable for long time exercises.
Ainfox Power Tower works effectively for a plethora of exercises such as dips, chin-ups, pull-ups, abs workout, leg workout, arms, back, and shoulder workout to make your muscles ripped and strong. With this power tower, for sure, you can train your body without going to the gym.
Pros
Height can be adjusted
Sturdy construction & step-up design
Weight capacity is up to 550 lbs
Steady frame tube
Easy assembly
Cons
Plastic feet is slightly unstable
5
Bowflex BodyTower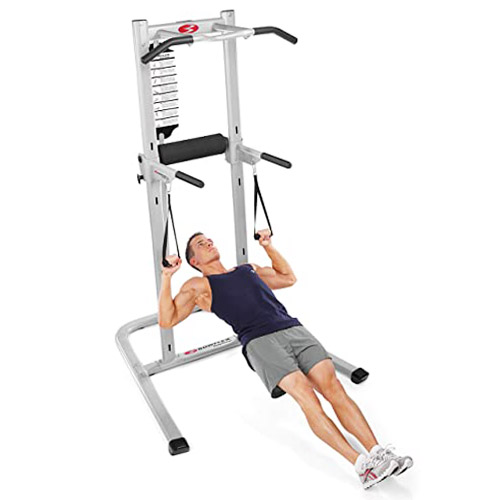 When it comes to the best power towers, we absolutely have to mention Bowflex BodyTower because of its versatility. The design is clever. The unique feature of this multi-station tower is that it allows you to adjust E-Z horizontal bars so that more workout exercises can be performed as well as the training intensity may be increased or decreased according to your preferences. There are totally 7 levels of adjustment which allow you to perform more than 20 exercises. In addition, the power tower also has an extremely wide footprint with measures of 53″L x 50″W x 77″H which helps it become one of the most stable power towers available. You can hardly feel any shake or wobble from this solid frame when doing pull-ups and dips. However, the height is quite short so it can annoy some tall people.
The quality of this tower materials is excellent that the heavy steel frame gives a sense of rigidity and durability, and actually it is. The maximum weight capacity can reach up to 300 lbs so you can feel free to get much workout as you want without having to worry about it bending or breaking.
These power towers come with a 5-year warranty for the frame and a 1-year warranty for the rest of the components but I can assure that everything will last much longer than expected.
Pros
Very sturdy
E-Z Adjust Horizontal Bars with 7 levels of adjustment
Various range of exercises
Easy assembly
Guide featuring 10 additional exercises also included
6
Marcy Power Tower Multi-Grip Pull Up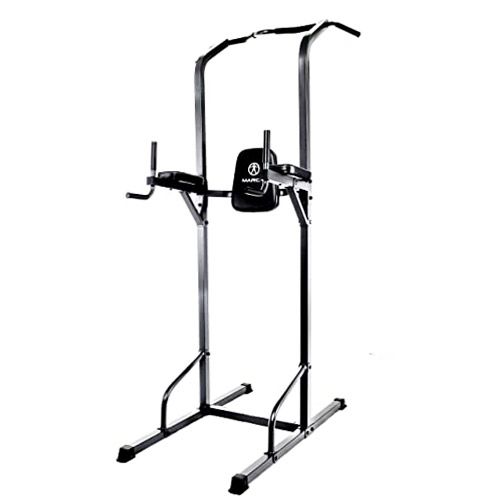 The Power Tower provided by Marcy is a piece of all-around exercise equipment which is useful for training different areas and muscles of your body. With sturdy powder-coated steel frame design and multi-grip station, this equipment can be used effectively for full-body workout exercises such as push-ups, back training, and abdominal workouts. Plus, it features an integrated back pad and armrests to assist your body to feel comfortable when performing intense movements. With this design, the integrated push-up station will act as a step when you do vertical knee raises.
With the dimensions of 52L x 42W x 89H, this power tower shows its stability and boats the maximum weight capacity of 250 lbs which be suitable for the majority. The handles are covered by non-slip grips which are ideal for dip workout routines.
Pros
Solidly constructed
Budget-friendly
Easy to assemble
Easy to use
Easy access to quick mini workouts
Cons
Quite high for some people
How to Set Up Your Power Tower?
First: You should pick up a right place for setting a power tower at your home gym.
You take out the available instructions offered from the box which gives you the explanation of the manufacturer to get a good spot instead of the bad one.
If you work out, your stand will cover most stress and tension provided by the power tower.
There is an unwanted problem is waiting for you if you let the power tower ends up rocking back and forth.
It is impossible for the weight cap on a power tower to consider speed or your swinging motions.
Doing a single arm pull-ups on a power tower can put you in the wrong direction.
If you want to position your power tower, you are capable of finding a concrete surface or hardwood surface for this device.
Lastly, if you want to make sure that your power tower can be placed in the right spot, you should set it up on a spacious and permanent sot. Also, you can put it in the corner to stabilize two sides of the tower stand during exercise.
Power Tower – FAQs
Q: What is a power tower workout?
A: A power tower workout is a multi-purpose workout machine. It provides available tools to perform essential exercises for both upper and lower parts of your body. These exercises consist:
Pull up (pronated grip)
Chin up (supinated grip)
Chest Dips
Triceps Dips
Inverted Rows
Vertical chair knee raise
Low incline push up
Hanging Leg Raises
Ab crunch
Squats
Group muscles of your upper body like your back, chest, shoulders, triceps, biceps, & abdominal muscles are greatly activated by this daily cardio workout.
Q: Can I lose weight with this power tower?
A: You are able to lose the unwanted weight on your body with a power tower. This daily workout trainer offers amazing exercises to burn as many calories as you can to get a lean body. Moreover, this daily workout process motivates you to have a healthy life and fit body by giving simple and tension exercises.
If you just want to lose weight and need a compact equipment then you can use a whole body vibration machine, but it will not give you versatile exercises like a power tower.
Q: How to prevent the power tower from wobbling?
A: A wobbling power tower can cause bad injuries while exercising. There are some reasons that make a power tower wobble. One of the reasons is setting this training machine on a rough surface. So, to reduce wobble, you can use a gym mat on the floor before placing the machine on it. And, gym mat is also good protection for your gym gear and floor because it keeps the power tower away from unwanted problems like cracks and scratches.
Conclusion
We've come through an overview of the best power tower that you can consider buying for yourselves. If you had read everything so far, I can say for sure that you have a certain amount of knowledge about many different power towels and perhaps you also know what exactly you should be looking for at the store. If not, you just need to take your time and make the right decision for you while considering your budget, available space, your body weight and height, and features and exercises you want.