If you are looking for the trampoline to perform your professional jumps or whether you just want to share exciting moments with your family and friends in your garden then this article just comes at the right time. We will give you thorough and newly updated information about the best trampolines in the following list with simple and crystal clear explanations. To contribute to the accuracy of the review, we also consider customers' comments, ratings and opinions towards each product for objective writing.
Below are eight different trampolines rated in 2020 by customers and users. They are designed in different shapes and sizes to feed the specific needs of customers. Spacious trampolines for multiple people at once or mini-trampolines to fit in your little garden. Each package also comes with enclosures net, basketball hoop and/or amazing customer services like lifetime warranty. Let's wait and see what you will receive if you do the purchase at any big website like Amazon.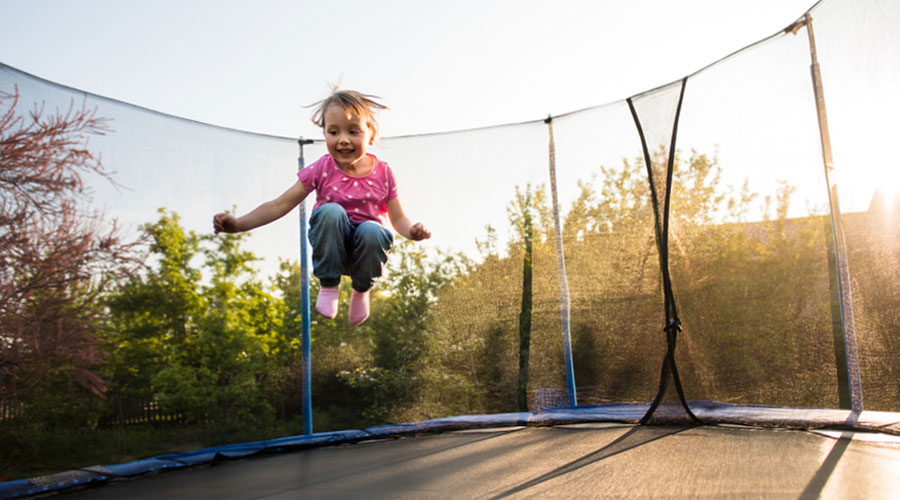 Factors You Should Consider When Buying a Trampoline
As you know, the best trampoline would be the one offers a nice look to your yard as well as comes with the safest features for your beloved children. It would be easier for you to purchase the most suitable trampoline if you follow some detailed factors below.
Size Of The Trampolines
Trampolines are classified in different types and sizes. In fact, you can choose the round trampolines based on the diameter of their metal frames otherwise the square and triangle trampolines are quoted in feet and measured by the dimensions of the bounce mat. Most types of trampolines are ranged from 6 to 14 feet which can totally fit people at different ages well. In fact, picking up a mini trampoline which is between 36 or 40 inches would be a smart option for the children under 12 years old and the bigger one for the adults. However, the frame around the jumping mat always takes up more space than you expect so you should check the size of your backyard carefully before buying a trampoline for your family. To us, it is better to free 2 meters of your yard for all around the trampoline is a must thing to do to ensure its safety.
Shapes
Shapes of trampolines reflect their frame strength. Therefore, it is crucial to look for the best product for your family. For decades, round trampolines have gradually proved themselves as the most likable products in every western country and especially the U.S.A. These trampolines bring you safe and joyful bounce in the center of the jumping mats. And, they're also highly recommended for the children.
Square and rectangle trampolines are closely used as exercising equipment for gymnastic because they provide better bounce which leads users to a heavier cardio workout. The users are able to control their bounce so they might feel quite hard for the first time using them. Besides, there are some other rare trampolines in oval and octagonal shapes that are usually offered at higher prices. They are also considered as great choices for fitness and narrow spaces when people still can get trampolines with similar diameters to the round ones.
Weight limit
It is so important to keep the weight limits of various trampolines in your minds. Thanks to the innovation of technology, trampolines have been improved to meet people's needs. Some trampolines are made to carry only a single person otherwise some others can carry up to 2 or 3 people at the same time without making any problems. For instance, an 8 feet trampoline can be perfectly used by 1 to 2 people, a 13 feet trampoline and some bigger ones can be used for 1 to 3 people or 2 to 3 people at the same time. For the better use, please consult the manufacturers for more an ideal weight limit before purchasing the best trampoline.
Safety Features
Alright, let's turn your consideration to the safety features of the trampolines now. They are the main factors that you need to figure out carefully before buying a trampoline if you don't want to face some problems or hurt yourselves while enjoying jumping later.
It is not safe and sound to let your children jump on the trampoline on their own even you are having a high-quality trampoline at home for them. Thus, keeping an eye on them is important to not let them involve in bad things which can happen every time.
Let's roll down to the safety features that come with a trampoline for your backyard.
A safety net (made from a mesh material)
Safety padding
Mat to cover the springs
A ladder
A powerful anchor system.
Durability
It is worthy to invest a big budget in a durable trampoline. Strong frame, flexible elastic springs with thick rustproof layer of zinc are the main key features to give the trampoline lifetime maintenance in the bad weather well. More than that, the spare parts should be available to replaced at any time.
How to Set Up a Trampoline
After having a trampoline in your backyard, you would rush into the instruction manual which is given by the manufacture, and find out the next step to follow. However, there might be some of you don't even want to check it out when you totally trust the manufactures and their products. To me, you should better to check out the box carefully to make sure all certain separated parts are there if you want to get things done in a short time.
Here are all you need to set a trampoline:
A Philips head screwdriver
1 or 2 adjustable wrenches.
A Rubber Mallet
Spring Tool
Time to Check the Box
As we mentioned, it is crucial to check all parts related to the trampoline before starting to set it up. You have to spend enough time check additional parts included to the trampoline, and ensure that there are not any missing pieces there. Then, you should set your time to read and keep in mind the instruction in the manual handy book because it is the simplest way to put things together quickly.
All parts of the trampoline are:
Frame legs
Enclosure poles
Round frame parts
Jumping mat
Enclosure net
Protective padding
Bungee cord
Springs
Time to Set Up a Trampoline: Set It Up Step by Step.
Now, it's time to get started. You are normally able to manage everything by yourself, but it will be better to have some help from others and have a laugh together.
Firstly, you put the trampoline steel frame parts together by connecting with the T-Joint sections. Different shapes of frames have to come with different T-joints, and they need to be equal in number. For example, an 8 feet trampoline usually comes with 6 to 8 parts, so you need 6 to 8 T-joints.
Next, you need to join all pieces of the frame together to form the basic trampoline frame properly. You should always start to add the legs first, screw them with strength to make them strong enough.
After securing the frame with the screws, it is time to check the jumping mat and springs again to make sure that they are all in a good condition and ready to be used.
Secondly, you start to put the jumping mat and springs to the trampoline. Make sure that all springs should be added equally in every side of the trampoline to avoid putting too much pressure over the others in order to balance the trampoline perfectly on all sides. For the next step, you will add the padding and spring cover to the trampoline frame. Don't forget to tie them well.
Thirdly, you are going to add the support fixtures to the trampoline. Then, you are going to put the safety enclosure net around your trampoline.
Lastly, you will add the trampoline ladder and secure it with an anchor kit. Please check it all over again to make sure that all parts feel tight and secure enough for you and your family members.
Top 8 Best Trampolines Reviews (5ft, 8ft, 10ft to 16ft Trampolines)
PRODUCTS
MODEL
FEATURES

CHECK PRICE
Skywalker Trampolines Mini Trampoline with Enclosure Net

Jumping Surface: 5.3 to 14.4 Sq Ft
Enclosure net: Yes

Check Price

Giantex 8FT to 16Ft Trampoline with Safety Enclosure Net

Diameter: 8 to 16 Ft
Enclosure net: Yes

Check Price

Clevr 7ft Kids Trampoline with Safety Enclosure Net & Spring Pad

Diameter: 7 Ft
Enclosure net: Yes

Check Price

Merax 15 FT Trampoline with Safety Enclosure Net

Diameter: 15 Ft
Enclosure net: Yes

Check Price

Sportspower My First Trampoline

Diameter: 7 Ft
Enclosure net: Yes

Check Price

SereneLife 36" Inch Portable Fitness Trampoline

Diameter: 36"
Enclosure net: No

Check Price

Merax 12FT 14FT Trampoline with Safety Enclosure Net

Diameter: 12 Ft
Enclosure net: Yes

Check Price

Wamkos 2020 Upgraded Dinosaur Mini Trampoline for Kids

Diameter: 36"
Enclosure net: No

Check Price
1
Skywalker Trampolines Mini Trampoline with Enclosure Net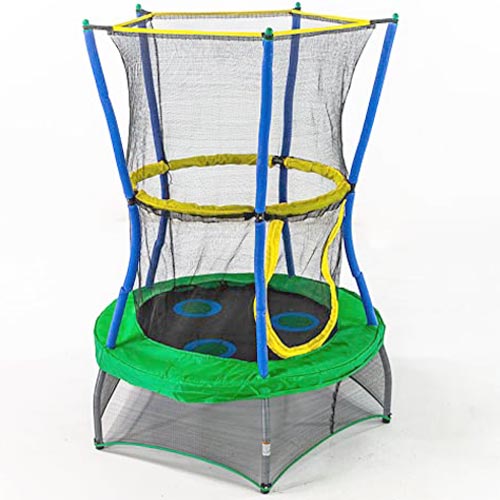 Specifications:
Jumping Surface: 5.3 to 14.4 Sq Ft
Indoor Use: Yes
Enclosure net, printed Mat: Yes
Warranty: 3 year limited
Look at how lovely and cozy this mini trampoline will give your toddlers. Safety is always the number one priority. The enclosure net is tightly sewn to the jumping mat, no gaps is missed for best security. All details are tested carefully and meet or exceed all ASTM standards. This product is the best trampoline designed for small children from 3-7 years old to freely play inside. Moon and stars printed graphics on the mat stimulate your baby to play and jump. Neutral color tones of the overall products surely delight both kids and parents.
Now, this is the next thing that every buyer will consider- the product's warranty. You will receive a 3-year warranty on the frame and 1-year warranty on all other parts and segments going with the package. The jumping space is 40'' (also available 48 "and 60"), easy to move and pack inside or outside the house. Metal springs are replaced with stretch bands to eliminate unexpected injuries for small children. Frames and poles are fully padded for maximum safety. Padded ring at the middle helps to secure each bounce and jump or children.
Pros
Friendly price for your budget
High safety standard
Great warranty policy
Lightweight
Easy to assemble
Cons
Not a weather-proof product
Weight capacity is only 100 lbs
2
Giantex 8FT to 16Ft Trampoline with Safety Enclosure Net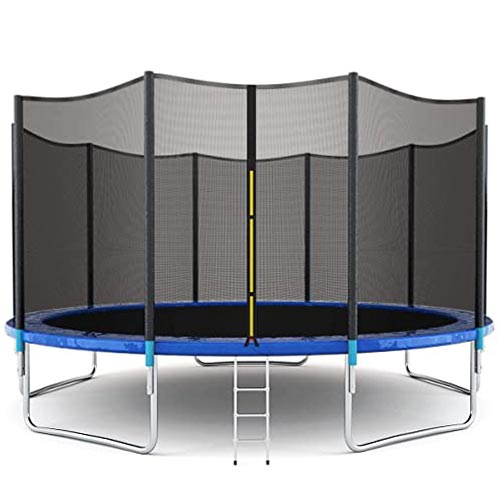 Specifications:
Diameter: 8 to 16 Ft
Weight limit: 330 lbs
Indoor/Outdoor Use: Outdoor
Enclosure net: Yes
Suitable for: Kids, Adults
Giantex Trampoline with Safety Enclosure Net is rated as one of the best trampolines for a high-quality product. No need for explanation, this giant trampoline gives users a safe and comfortable feeling just with its outside cover and appearance. Four U-shaped legs hold up the entire structure above and can stand multiple jumpers topping at once. The stable legs and frame together give a sturdy and unbreakable structure. Every metal part is produced of rust-free steel for longer service life.
Enclosure net is tightly attached to the poles and frame to create a spacious and safe room for competitive jumpers. PP jumping mat is made of high-quality tightly woven mesh to support even bounce, give higher bounce and balance jumps at any point and position. Powerful metal strings attached to the mat provides the potential stretch for bouncier jumps and dunk. The complete set includes a steel frame, jump mat, enclosure net, and ladder going with a simple and clear instructing guidebook illustrated with pictures.
Pros
Great buy for a durable product
High-quality product
Weight capacity is up to 375 lbs
Easy to assemble
3
Clevr 7ft Kids Trampoline with Safety Enclosure Net & Spring Pad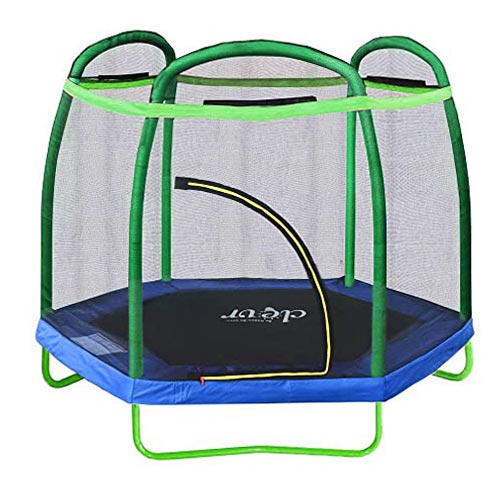 Specifications:
Diameter: 7 Ft
Weight Capacity: 100 Lbs
Indoor/Outdoor Use: Yes
Enclosure net: Yes
Trampoline Height: 16.5″
Suitable for: Kids
A plus point of a Clevr 7ft Kids Trampoline with Safety Enclosure Net & Spring Pad is that it provides thicker water-proof padding to eliminate unexpected impacts and injuries for energetic jumpers compared to its competitors. Now parents don't have to worry each time their child falls down to the mat. No opening gap is left within the strong and tightly PE mesh and zipper of the enclosure net surrounding the entire trampoline. 63″ high enclosure net with the support of three U-shaped padded frames and the ring on top helps to prevent jumpers from falling off the ground, provides more security and rigidity.
The three heavy-duty U-shaped frames also create a triangle base to prevent the trampoline from falling over. Rust-free springs attached to the mat are made to last and provide a bouncy and stretchy surface for more joyful and exciting jumps. Blue is the basic tone of the product, customers now have three options to pick from: green, orange or all-blue trampoline. The product also provides supporting services If you have any difficulty in assembling the trampoline.
Pros
Low basement for small children get in and out themselves
High-quality product made to last
Catchy designs and colors
Easy to assemble
Neat and tidy design for small space
Cons
Weight capacity is only 100 lbs
4
Merax 15 FT Trampoline with Safety Enclosure Net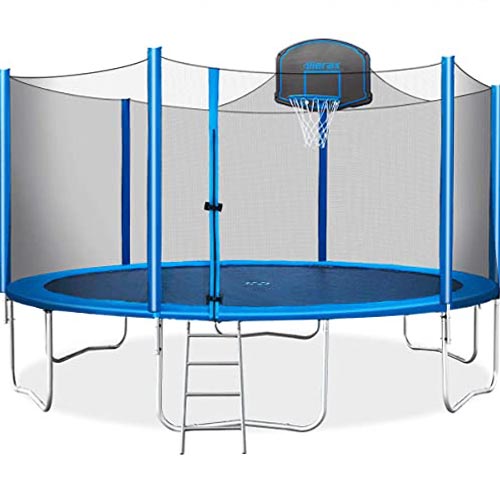 Specifications:
Diameter: 15 Ft
Weight Capacity: 375 Lbs
Indoor/Outdoor Use: Yes
Enclosure net: Yes
Springs: 108
Suitable for: Kids, adults
Merax 15 FT Trampoline with Safety Enclosure Net looks spacious with 15 feet in diameter, amazing for dunker and professional jumpers. The number one feature you are always looking for in a trampoline is safety and this giant just meets perfectly to your need. Six-feet enclosure net tightly attached to the six padded metal poles creates a safe and comfy room for users. Six heavy-duty W-shaped legs are designed for maximum stability and balance. A 4-step ladder gives an easy way for children to get in the tramp.
This trampoline has 108 powerful strings tightly connected to the mat to stretch and secure the jumping area for more balance and bouncy jumps. Blue fame pad covers up to ensure no gaps are left so users can jump freely without getting toes or fingers caught. A basketball hoop is added to the package for more amazing activities outside with family and friends. The assemble is easy and simple. But If you have any problems, there is an instructing video on Youtube.
Pros
Safe and sporty design
High-quality materials
Weight capacity is up to 375 lbs
Easy to set up with clear instruction
Sturdy and strong frame structure
Cons
No wind stakes
The net cannot catch over-shot balls
5
Sportspower My First Trampoline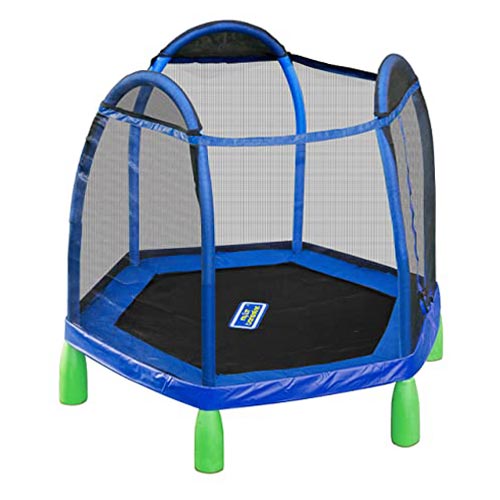 Specifications:
Diameter: 7 Ft
Weight Capacity: 100 Lbs
Enclosure net: Yes
Color: Blue/Green
Measures: 84″ W x 73.5″ H
Suitable for: Kids
Look how lovely this trampoline is. It seems like a light and fragile package to stand any jumping force from falling off. But do not judge it by its cover. The heavy rust-free steel frame is carefully padded with foam and very sturdy and stable. High-quality UV-treated enclosure net and bouncy mat are made to last and security. Parents also can monitor their babies from a distance with the visually 360-degree net. Each part attached perfectly to the outside frame and poles to provide a comfortable room for children to play inside.
No gaps are left for added safety with the blue pad cover up all the strings. The base is low to the ground so small children can manage to get in and out easily without support from adults.
This product is considered the safe trampoline for children from 3 years old and above with all the numbers and measures meets and/or exceeds ASTM safety standard. The hight within the net is 73.5'' and the wide is 84'', ideal for your child to jump and do exercises. The package is also easy to move and place either indoor or outdoor.
Pros
Easy to set up
Lightweight
Durable and sturdy frame structure
High-quality materials
Low cost
Cons
Maximum weight limits is 100 pounds
6
SereneLife 36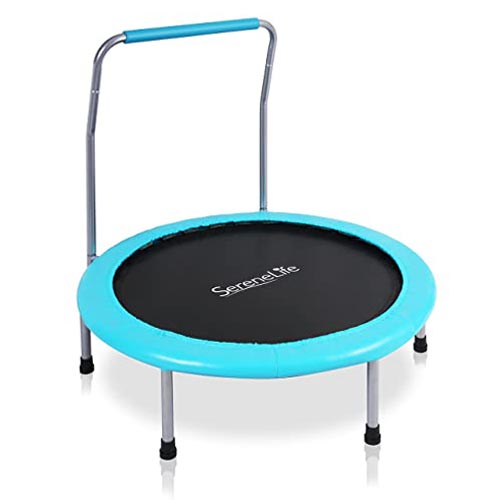 Specifications:
Diameter: 36″
Weight Capacity: 150 Lbs
Enclosure net: No
Assemble size: 36″ x 32″
Suitable for: Kids
SereneLife 36″ Inch Portable Fitness Trampoline is perfect for small apartments that almost have no empty room for anything else. Let's have fun with this 36″ in diameter rebounder inside your cozy home. Jump mat is made of polypropylene to provide the potential bouncy surface. 24″ inch padded handlebar that fits users' height and gives a stable supporting point to perform specific moves. Children also can hold the bar for more controlled bounce. This trampoline is super handy as you can easily fold and/or move it and take it to any place without any struggle.
This lovely tramp can support up to 150 pounds of weight limits, ideal for doing any yoga, workout or exercises for children with a powerful frame structure made of durable materials. Each step of assembling is illustrated in pictures and clear instructions. There is no way you cannot assemble this little rebounder alone in the most time. Let your child burn fat with SereneLife Portable Fitness Trampoline now!
Pros
Handy yet durable frame structure
High-quality materials
Good price
Super easy to set up assemble
Cons
Maximum Load is 150 pounds
7
Merax 12FT 14FT Trampoline with Safety Enclosure Net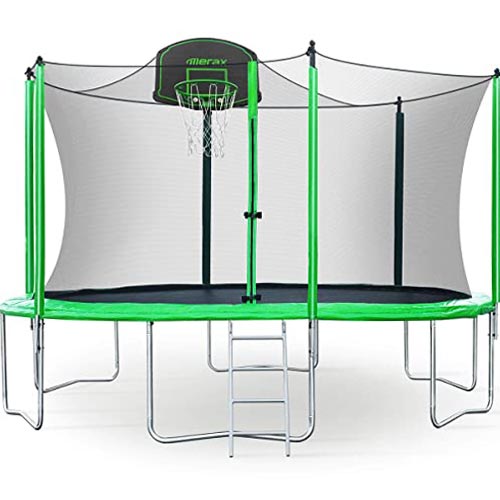 Specifications:
Diameter: 12 Ft
Weight Capacity: 300 Lbs
Enclosure net: Yes
High safety enclosure: 6.5 Ft
Suitable for: Kids, Adult
What Merax 12FT Trampoline with Safety Enclosure Net gives users from the first look is its super stable and sturdy frame structure which is one of the most important features needed for a nice trampoline for your family. Each piece of this trampoline is made of high-quality materials such as rust-free steel, UV-proof safety net, etc. To multiply the entertainment, a basketball hoop is added for dunk lovers. Let's burn off your calories without any fear of falling off the ground because the six W-shaped legs system beneath can handle any possible forces from jumping and/or bouncing.
The entire enclosure net is perfectly attached to the tightly woven jump mat and secured on the top of six padded poles to create a safe and spacious room for users. However, the net is not vertically entirely attached to the six poles to make a complete 90-degree angle, it makes a slight curve at each side. Plus, the net does not cover the entire bottom surface, it stops at the point where the strings and mat meet. These two special designs make the overall looks smaller than its actual dimensions.
Pros
Heavy-duty and sturdy frame structure
High-quality materials
Reasonable price
A product made to last
Weight capacity up to 330 pounds
Cons
Provide a smaller room compared to same size competitors
8
Wamkos 2020 Upgraded Dinosaur Mini Trampoline for Kids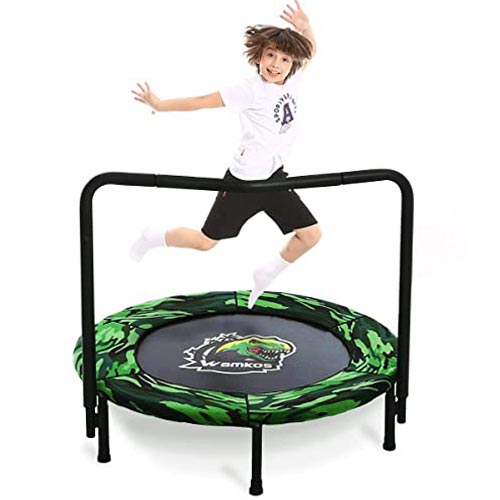 Specifications:
Diameter: 36″
Weight Capacity: 220 Lbs
Enclosure net: No
Size: 36″ x 36″ x 9″
Recommended Age: 3+
Wamkos 2020 Upgraded Dinosaur Mini Trampoline attracts kids with fantastic dinosaur graphics and woodland padded cover. This mini trampoline can make the best gifts for toddlers with a tidy and neat structure supporting up to 220 pounds and a rust-free steel frame. It is also very easy to assemble, fold or unfold to save space. This package features a durable steel frame, a bouncy jump mat, 30 stretchy bands that eliminate the noise to the less.
The overall structure will give even bounces and smooth jumps. Every hard surface or metal part is carefully covered with thick pads for maximum safety and reduce unexpected impact on the fragile joints of your children. Rubber-tipped legs limits squeak sound and scratch to the floor. More important, the padded handle is easy to hold so children can have better control over their jumps. Now here is the best part, you can receive a money-back guarantee if you have any problems with the product or If you need a replacement in 30 days for free!
Pros
Handy yet sturdy frame structure
High-quality materials
Healthy for your budget
Great money-back guarantee policy
Weight capacity up to 220 pounds
Trampolines – Frequently Asked Questions (FAQs)
How dangerous are trampolines?
A: Getting injuries is an unexpecting thing while enjoying a fun time on the jumping mat. Normally, the trampolines can cause cuts, sprains, bruises, and fractures if they have poor maintenance as well as poor padding. Also, falling off the jumping mat without landing on a soft surrounding area is another reason which leads your kids to bad injuries. To avoid the injuries, you should give your children more caution about the dangers of the trampoline and tell them how to jump safely. So, they can be more aware of it.
What is the difference between a round and a rectangular trampoline?
A: A rectangle trampoline uses 3 landing spots and a strong body that provides more intensive bounce and absorbs your rebound which pushes you back to the middle line at the same time. It is greatly used for most professional athletes and growing families who would like to burn more calories. Otherwise, a round trampoline has a single sweet spot that gives you the best bounce in the middle point of the jumping mat. This type of trampoline is a wonderful product for children.
How long does it take to set up a trampoline?
A: Different kinds of trampolines come with different installation time, the smaller the trampolines are, the shorter they take. As a rule,  it takes around an hour to set up a 10 feet trampoline, and 2 hours afterward for a bigger one if you set it up on your own. This YouTube video will walk through the installation of a larger trampoline. Thus, let's watch it here.
Conclusion
We just have a quick review through 8 best trampolines on the market today with lots of attractive features and policies. Your job right now is to pick up one of the best trampolines to fit your demand and of course your recent pocket condition. Each good point might overwhelm several remained problems so you should think twice before doing the purchase. You will never regret it If you choose one of the most recommended products in this article. We stand behind our guarantee.
If you have any better ideas please comments below and share If you think this article is useful. Thank you so much for your reading.