A healthy garden is a miniature world of thriving vegetation, rainbowed with colorful blossoms sending out sweet, pretty fragrances and some adorable tiny insects visitors. But, the harsh reality is that heaps of leaves and piles of grass clippings and debris that are accumulating itself on the ground will undoubtedly be perfect nesting places for non-friendly insects, plus the task of raking all of them out of your garden is no more than daunting and disheartening.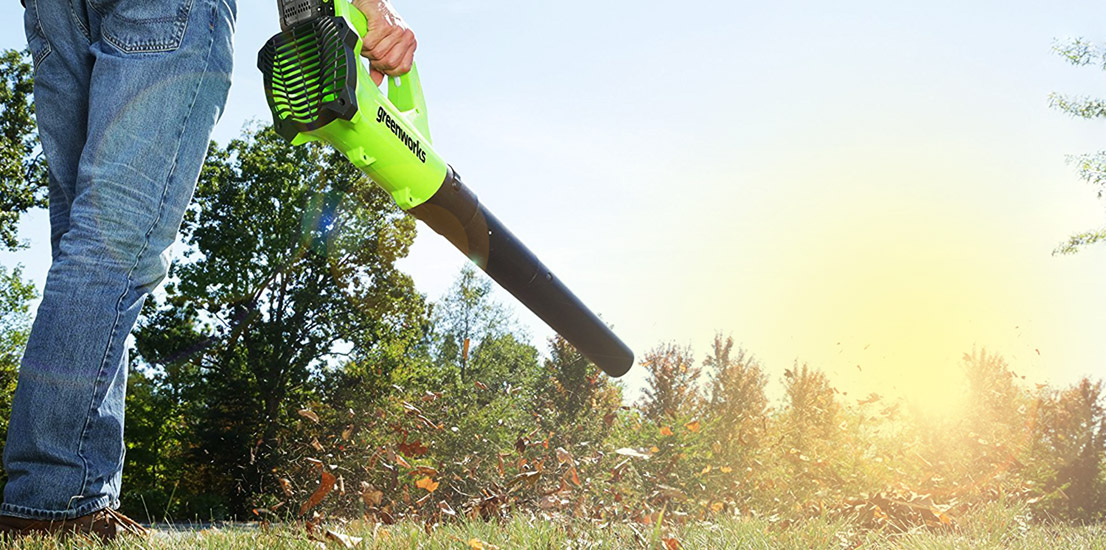 But don't worry, the following best of the best battery powered leaf blowers will offer escapism from that nightmare right away. The machine is in an ideal condition, with no extra cord attached to its side, allowing users to do their jobs at lightning speed and better ease. Guess what, these batteries powered leaf blowers are among the least expensive options and do not require gas and fuel mixture because having the battery fully charged is enough for a rewarding leaf blowing experience.
Just take my word for it because you will be sure how this magical device is gonna do wonders to your lovely garden which is in desperate need of tender care and love. Ready to discover?
Top 6 Best Battery Powered Leaf Blowers Reviews
Purchasing a suitable battery-based leaf blower is the first step in making your gardening experience more of a rewarding pleasure. Leaf sweeper of this sort comes in various designs and functionality, which may be baffling for buyers. Understanding that, we have created a simple overview list of the available six best battery powered leaf blower on the market, each coming with an in-depth description. Finally, there is also a buying guide on the blowers' unique features and their peculiarities. Together, a careful study of the given information is crucial for the ultimate judicious choice of yours.
| PRODUCTS | MODEL | PERFORMANCE | MOTOR TYPE | CHECK PRICE |
| --- | --- | --- | --- | --- |
| | DEWALT DCBL720P1 XR Brushless Blower | 400 CFM and 90 MPH | Brushless | Check Price |
| | Greenworks 40V 150 MPH Variable Speed Cordless Blower 24252 | 135 CFM and 150 MPH | Brushed | Check Price |
| | BLACK+DECKER LSW221 20V MAX Lithium Cordless Sweeper | 100 CFM and 130 MPH | Brushed | Check Price |
| | Greenworks 40V 185 MPH Cordless Blower & Vacuum 24322 | 340 CFM and 185 MPH | Brushless | Check Price |
| | Worx WG591 Turbine 56V Cordless Blower | 465 CFM and 125 MPH | Brushless | Check Price |
| | Makita XBU02PT1 Cordless Blower Kit | 473 CFM and 120 MPH | Brushless | Check Price |
Below are the detailed reviews
1
DEWALT DCBL720P1 XR Brushless Blower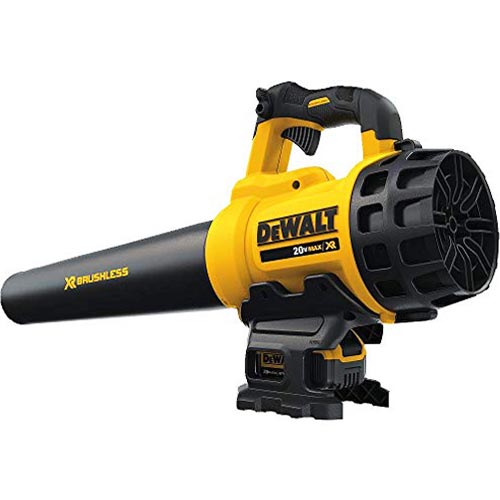 Specifications:
Performance: 400 CFM and 90 MPH
Motor type: Brushless
Speed: Variable speed controls
Includes: 20V lithium-ion battery and charger
Weight: 9.7 lbs
Spring is just around the corner and trees keep shedding their leaves on the ground. It's time to get things done up in your green world via the help of a cordless leaf blower. This tool proves to be the best bet for leaf-cleanup at sensitive areas such as sidewalk, workshops, flowerbeds, etc. It features a competitive weight of less than 10 pounds in total, which can't be more ideal either for daily use or heavy-duty jobs, not to mention its easy transportation. Probably, this is considered to be heavier than average weight, but the quality is worth it. Updated with a lightweight and ergonomic design, things like pushing a loud, exhaust sputtering machine around is a mere old prospect.
You'll be happier to hear that the innovative axial-flow fan blade will help optimize the run time from 20 to 40 minutes at the fraction of low noise about 61dB. While doing your job, just squeeze the variable-power trigger a little bit for better control and then lock that customized speed in place. Other nicer parts of the set include a battery indicator, along with a charger so that you get as prepared as possible.
As a matter of course, every cordless leaf blower comes with a downfall. And as for this tool, it lies in the matter of comfort, as the handle lacks any sort of padding, making it quite uncomfortable to hold. Regarding the price, the versatility of the set makes it rather acceptable.
Pros:
Enhancing 400 CFM and 90 MPH performance

Ideal for beginners

Smart, ergonomic design, with a sturdy base

Impressive durability

Trigger for adjustable speed
Cons:
Pretty expensive

Uncomfortable for long grip
2
Greenworks 40V 150 MPH Variable Speed Cordless Blower 24252
Specifications:
Performance: 135 CFM and 150 MPH
Speed: 6 Speeds
Motor type: Brushed
Includes: Pin lithium ion GMAX 40-volt 2.0 amp and charger
Weight: 3.3 lbs
As its name unfolds, the Greenworks G-MAX 40V 2 AH Lithium-Ion Cordless Leaf Blower is known to be a credible friend of the environment due partly to its eco-friendly lithium-ion battery. The battery charges using a complementary charger called Energy Star-rated.
The catch of this tool lies in its ability to handle every single piece of falling leaves, clippings, dirt and carry them to where you want them to be without creating a whirlwind of swirling dust after all. However, the machine still has to surrender to damp or wet stubborn leaves and debris stuck to the ground. So you will have to deal with such things yourself.
The catch of this tool lies in its ability to handle every single piece of falling leaves, clippings, dirt and carry them to where you want them to be without creating a whirlwind of swirling dust after all. However, the machine still has to surrender to damp or wet stubborn leaves and debris stuck to the ground. So you will have to deal with such things yourself.
Despite that flaw, the new GMAX 40-volt 2.0 amp hour lithium ion battery promises to optimize the run time and it is a lot easier to maneuver with a 2-piece blower tube.
Wanna do up your yard, at the same time keeping the low index of carbon footprint, then no leaf blowers can serve that function better than the 24252.
Pros:
Reasonable pricing

Lightweight

Not delivering noises thanks to variable-speed switch

Portable and compact

Low maintenance
Cons:
Struggle when it comes to a yard filled with wet leaves
3
BLACK+DECKER LSW221 20V MAX Lithium Cordless Sweeper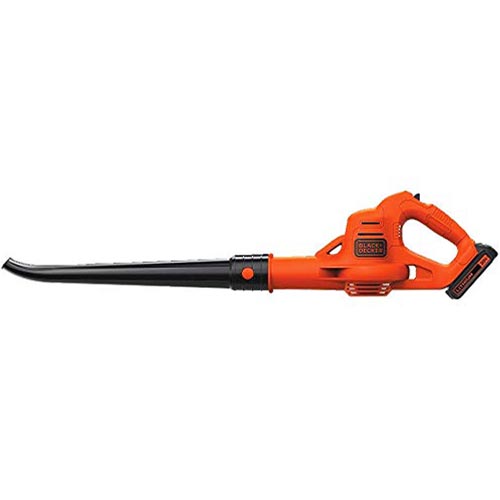 Specifications:
Performance: 100 CFM and 130 MPH
Motor type: Brushed
Battery type: 20V MAX 1.5Ah Lithium Ion
Weight: 3.7 lbs
Sound level: > 66 dB
Let me guess, at some time or other, your leaf blower scatters the peace in your neighborhood merely by its motor roaring deafeningly while in operation? Do you want to sidestep that problem to avoid blushing with embarrassment? Then, pick this Black+Decker LSW221-referred to as the quietest cordless machine.
Being lightweight in design, quiet in operation, it is easy to maneuver, perfect for use in concrete and hard surfaces. However, in return, the Black+Decker LSW221 is not powerful in that it can only do a good job of wiping away small leaves, twigging off driveways or getting your workshops clean of floating wood dust.
However, its redeeming feature is the 20V MAX 1.5Ah Lithium-ion battery with long-lasting longevity and being totally safe for users. It goes with a 2-year limited warranty. Not impressive though it seems compared to the new 60V range, which is under 3-year warranty, the Black+Decker LSW221 still has a lot to get envious of as some other manufacturers offer a 1-year warranty at best.
Pros:
Ideal for outdoor cleaning.

Quiet operation

Lightweight and portable

Easy to use
Cons:
Battery charging may take some hours
4
Greenworks 40V 185 MPH Cordless Blower & Vacuum 24322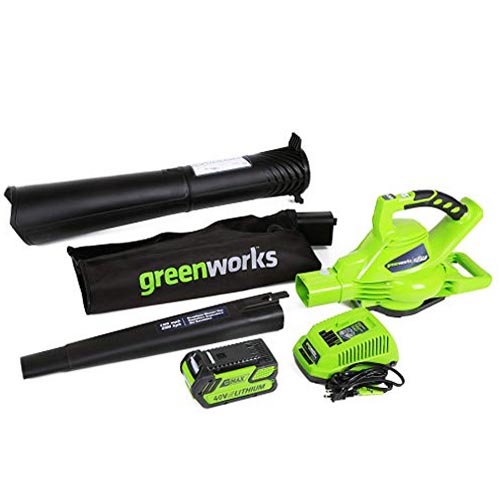 Specifications:
Performance: 340 CFM and 185 MPH
Motor type: Brushless
Speed: 6 Speeds
Battery type: G-MAX 40V Li-Ion
Weight: 5.6 lbs
Feature: Blower and Vacuum
The Greenworks 40V 185-MPH Cordless Variable Speed Blower Vacuum is ultimately the best gardening tool that money can buy in the current market. This unit offers a powerful leaf-moving solution to rival against its gas-fueled opponents. It is best suited both for cleaning of dry and wet leaves, complementing the common limitations of most leaf sweeper.
It comprises a powerful brushless motor that accompanies a wide range of versatile features for easy controllability and friendly budget pricing. It has few of the normal "wear and tear" effects, thus durability is guaranteed.
This cordless variable speed blower vacuum delivers a zero-emission solution for clearing and cleaning yard debris. Its innovative brushless motor technology expands the life-use to over 30%, with lower vibration and less noise for the sake of your comfort. Thanks to its ergonomic design, 185-mph wind speed, and 340 CFM vacuum capability, your jobs get done easily in the blink of an eye.
However, it is important to bear in mind that running the tool on its maximum speed will drain your battery on a short and long-term basis. Its mulching power is excellent and will save a lot of bag space. Regarding its bags, the Greenworks 24322 should run long enough to collect 4-5 bags of debris in one runtime.
The Greenworks 24322 works well as a blower, and fine as a vacuum. If you are looking for a tool that can balance between blowing and vacuuming, consider investing in Greenworks 24322.
Pros:
One single charge with up to 60 mins usage

Lightweight and maneuverable

2-in-1 approach (a vacuum and a blower).

Reasonably quiet.

Large bag for easier handling

Durable brushless motor.

Extra vacuum tube for greater efficiency
Cons:
Struggle with wet leaves.
5
Worx WG591 Turbine 56V Cordless Blower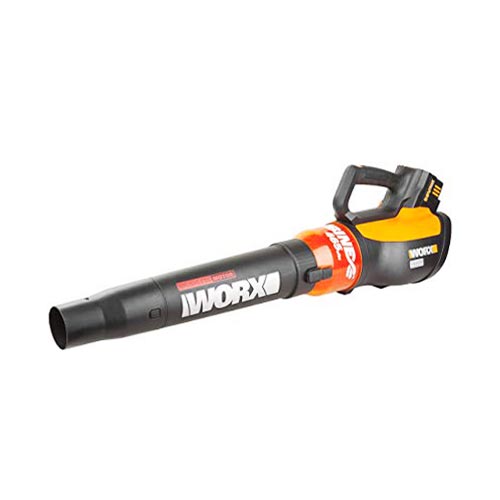 Specifications:
Performance: 465 CFM and 125 MPH
Motor type: Brushless
Speed: Variable Speeds
Battery type: Powerful 56V MaxLithium
Weight: 8.1 lbs
Convenience is what the Worx cordless blower is about. With the turbine technology, the Worx WG591 has elevated cordless and electric blower to a new high. It definitely stands out from the crowd thanks to its advanced features tailor-made for higher speed, better productivity, and reliability. For beginners, it is first impression to know about the outstanding ratio between its weight and power as the whole set weighs less than 6.5 pounds despite its extreme performance. The machine is pollutant-free as well.
Speed is the no.1 priority in this set as its brushless motor provides over 465 CFM (cubic feet per minute). Additionally, you will be pleased with the adjustable air velocity indicator, allowing you to work at your own pace.
A max lithium ion 56-volt battery powers this Worx blower. Thoughtfully, its ergonomic handle makes allowances for a firm grip and ease with handling. After use procedures are nothing but simple because you only need to hang it on your wall, using the keyhole-shaped cutout located on the back.
Above all, the WG591 leaf blower will never place you in an embarrassing conflict with your neighbors as it is quiet during its operation.
Pros:
Friendly budget price

Easy for usage and maintenance

Pollutant-free

High speed, but with low noise

56-volt max lithium battery.
Cons:
Recharge battery takes 3 hours
6
Makita XBU02PT1 Cordless Blower Kit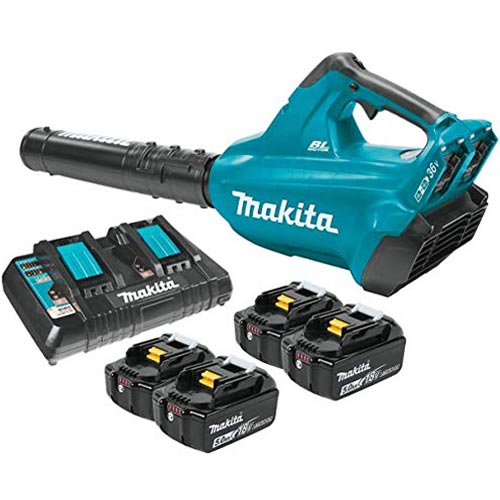 Specifications:
Performance: 473 CFM and 120 MPH
Motor type: Brushless
Speed: Variable speed control trigger with 6-stage
Battery type: 18V LXT 5.0Ah
Weight: 20.5 lbs
Noise: 61 dba
The last machine to take a slot in the best battery powered leaf blower list is the Makita XBU02PT1. Press "purchase" and you've got for yourself an extremely powerful leaf blower that will be able to handle most residential tasks. What makes it second to none on the market is its 120 mph air velocity and air volume of 473 CFM. It is not to mention the available choices open for the user to choose from 6 stages of air velocity.
The set also proves to be a "must-have" for those who would love to see their leaf blower functioning at various airspeeds in specific tasks. The leaf blower comes with 4 batteries, each measures 18 volts. Two extra batteries inserted into the blower is possible if you desire 36 volts of power. The manufacturer indicates that the blower achieves up to approximately 28 minutes of run time using the unit at mid-speed with the two batteries.
Admittedly, this is not amazingly admirable run time. However, when you consider the leaf blower comes with 4 batteries, you are essentially getting almost an hour of run time with minimal interruption. The charger that is included with the purchase allows the user to charge two batteries at one time, with each lasting around 45 minutes.
Pros:
Instant start on the first press

Compact and ergonomic design

Extremely powerful (120 MPH & 473 CFM)

4 batteries included

Smooth and quiet operation

3-year warranty on the blower, batteries, and charger
Cons:
Rather more expensive compared to its competitors

Pretty heavy.
Buying Guide
Things to Know Before Buying Battery Powered Leaf Blower
Selecting a good and powerful battery leaf blower has become more and more difficult for the homeowners and the landscapers either. These days, there are many new brands of leaf blowers are produced and sold in the markets.
I have been trying to do research to make a list of things that you can keep them as good tips before purchasing the best battery powered leaf blower for your family. These tips are so helpful for all guys especially the beginners who are looking for a perfect product for themselves. Then, keep in mind these advise because they absolutely help.
Operational Power
The operational shows you how strong and potential the battery leaf blowers are. For a good reason, if the leaf blowers are more powerful, they are more efficient and useful. To the battery powered leaf blowers, there are two different numbers that the buyers should consider when they decide what to choose from. They are the CFM and the PMH. They measure the performance and show you which kinds of air power or air force in various battery leaf blowers.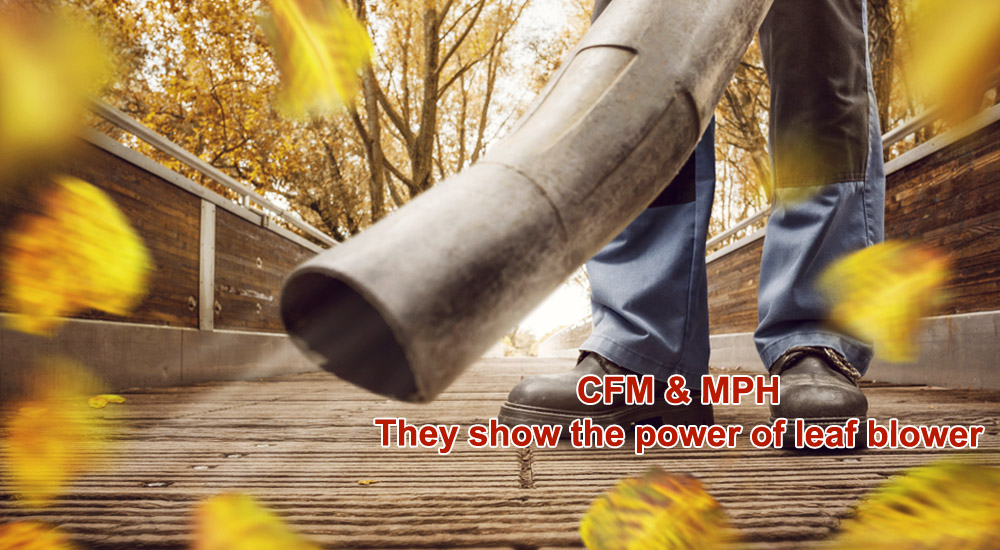 The CFM: CFM stands for cubic feet per minute. The CMF of the battery leaf blowers tells you the amount of air-flow that the device can deliver at maximum power and it also shows you how much air is being pushed through the nozzle per minute during the blowing process.
The MPH: The number of MPH gives you the information about the speed of the air is being moved in certain distances because it stands for miles per hour.
Performance
Whenever the operational power turns into performance, it focuses on the airspeed and volume of cordless leaf blowers. The performances can be measured and compared all the time. The CMF and MPH can change during blowing performances. For example, the CMF can be increased to make the pipe bigger and the MPH will be surely decreased then. The extended use is the main thing you need to think a lot for picking up the most powerful leaf blower for you.
If you are going to find out a machine hard-packed leaves, then high-power cordless blowers that use a voltage of at least 40 or 60 volts are perfect for you. They can be under pressure for a long time using thus you can use them regularly without worrying. In case you just need the blowers that are used to blow the leaves out of the small corridors or traces occasionally then a 20V battery leaf blowers are suitable for you.
Efficient Tube
The tube of the leaf blowers is one of the most important parts that the homeowners always pay great attention to it. Different types of leaf blowers come with different tubes thus you have to make sure that you know which one is the most efficient. The tubes should have good design and they need to be made from fine materials because they allow you to use the maximum sweeping and loosening capabilities. The good tubes are the ones brings you a good and smooth moving away debris and leaves process. For this reason, they have to give direct airflow so that they can perfectly and gently blow away the wet debris on the landscaping or heavy leaves in the backyards.
Noise Resistant or Low Noise
Noise is truly a problem of battery leaf blowers. Nowadays, the producers are making great efforts to find out the solutions for reducing the amount of noise caused by the blowing machines. No one likes being annoyed and disturbed by their own leaf blowers or neighbors' either. To avoid the interruption from the bad noise of the battery leaf blowers, you should just use the quieter machines that are equipped with low noise features to have noise resistant.
Charge Time
There is no steady run time in all battery leaf blowers. In fact, the run time is limited on every single model. Before buying a leaf blower, you need to know how much time it takes the battery can be charged. Some battery models can take two or even 3 hours but some just need sixty minutes for a full charging. After having a real look at charging time, you can easily find out what you want to get.
Warranty
The tools of these power battery blowers can give you 2 years warranty and some finest models like 'Worx' can have a 3-year domestic and industrial warranty. Otherwise, most models just have a sort of a warranty within a year or less.
Frequently Asked Questions
Q: Do battery powered leaf blowers work?
A: The battery-powered leaf blowers work well for you when you own a small or medium yeard. These leaf blowing machines are totally available for medium-duty cleaning jobs. They are such tools that give you light leaf cleaning, garage sweeping or clearing a dryer duct. In addition, you can easy to handle and maneuver them better than gas powered ones.
To keep cleaning and sweeping the leaves and debris in the bigger yards, you just need to get one or two batteries more for the blowers so your cleaning works will never be interrupted.
Q: Can I use leaf blowers to blow wet leaves?
A: These powerful battery blowers are designed to not only blow dry leaves but also wet ones. But, it is not a good solution for all kinds of wet leaves especially when they are soaked in the water or stuck to other things so it is better if you can collect and pick them up by your hands or rakes. When you want to blow away the wet leave as soon as possible, you just need to set the leaf blowers on high power to remove them quickly.
Q: When to use a leaf blower?
A: The leaf blowers can be used in many ways. You can use them for blowing away the debris like dried grass clippings, thin twigs, and even the dirt off your driveway, deck or sidewalk beside the fallen leaves. There is one more useful thing that the leaf blowers can do is blowing the light snow off your corridors, walkways and the chase cobwebs from the roof of the garage. Its additional usage also an amazing thing for you.
Conclusion
As our top pick about the best battery powered leaf blower reveals, the DEWALT DCBL720P1 is the no.1 choice due to its power, lightweight design, and efficiency. Though it is a bit noisy but is still nothing compared to the, said, gas or corded leaf blowers.
Another option you should consider if you need a versatile device, it is Greenworks 24322, it will please those seeking a perfect balance between a blower and a vacuum.
Once again, a lovely home is beautified by its own green spaces. And you need to maintain that to ensure your home and the space around it is always clean and beautiful. If you follow our guidelines, there is no doubt that the previously encountered leaf problems will only be a thing of the past, and surely you will always be satisfied with your green space
Spread this message, together with the above information to your beloved ones and don't forget to comment your thoughts here.