It is evident that manually cleaning out the gutters on your roof is not an easy job. Apart from the fact that you cannot deal with emptying the gutter, with tons of leaves on it, at ease, it is also the matter of safety that you should not climb up a ladder, especially in extreme weather conditions.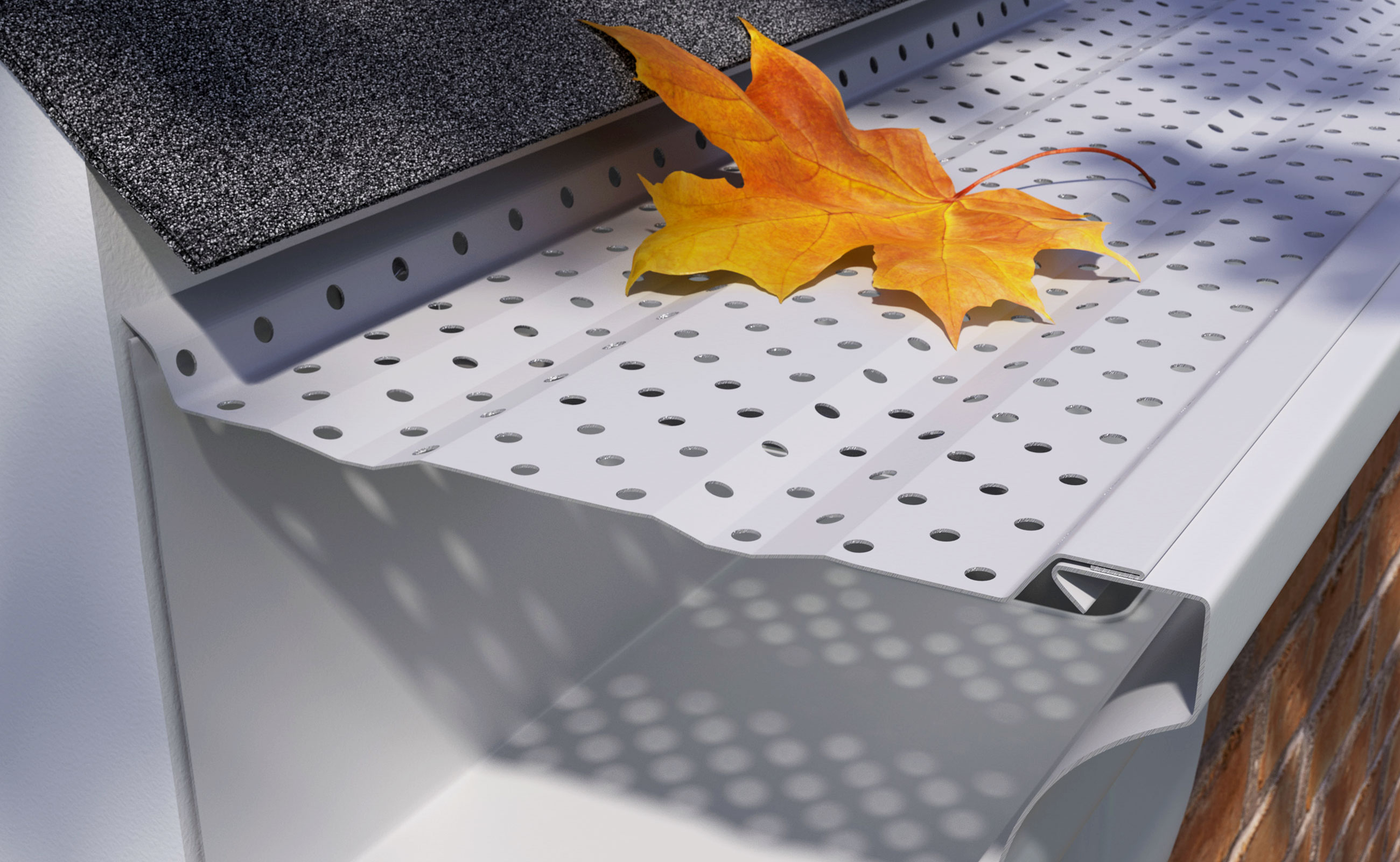 In order to ease this burden, gutter guards may be the key. They are created on safety grounds. In the article reviews about the best gutter guards, we will go through 6 of the best leaf guard in total that can help you in cleaning your roof. If you are still not sure about which units to go for, we're are here to give you some tips that may be necessary at the end of this article.
Top 6 Best Leaf Guard Reviews
PRODUCTS
MODEL
FEATURES
CHECK PRICE
Raptor Gutter Guard

Size: 5"
Guard Type: Micro-Mesh
Material: Stainless steel
Warranty: 25-Year

Check Price

FlexxPoint 30 Year Gutter Cover System

Size: 5"
Guard Type: Screen Gutter Guard
Material: Premium Aluminum
Warranty: 30-Year

Check Price

Amerimax Home Products 636025 Lock-in Gutter Guard

Size: 4", 5", 6"
Guard Type: Screen Gutter Guard
Material: Steel or Aluminum
Warranty: 10-Year

Check Price

GutterStuff EZ 5-Inch K Style Foam Gutter Guard

Size: 5"
Guard Type: Foam Gutter Guard
Material: Foam
Warranty: 3-Year

Check Price

Spectra Metal Sales GS501LC25 Armour Screen Gutter Guard

Size: 5"
Guard Type: Screen Gutter Guard
Material: Aluminum

Check Price

A-M Aluminum Gutter Guard

Size: 5"
Guard Type: Screen Gutter Guard
Material: Aluminum
Warranty: Lifetime

Check Price
Below are the detailed reviews
1
Raptor Gutter Guard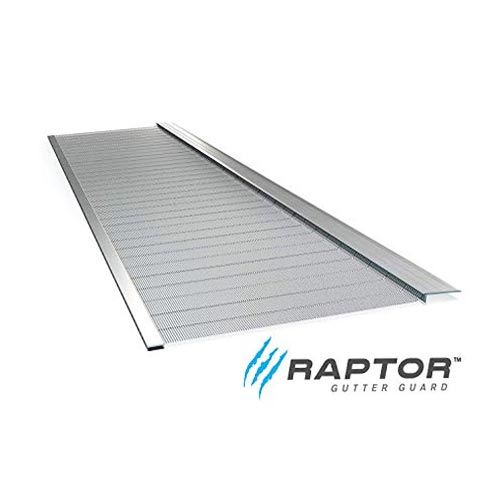 Raptor Gutter Guard is one of the best leaf guards in terms of the convenience of use. The product successfully attains the objective of a leaf guard which is to create a sterling defense for the guttering system against all types of trash from the surroundings such as leaves, pine needles, roof-moss seed pods, pests, and debris.
The material used to make Raptor Gutter Guard is not that cheap metal materials that collapse, warp, and even promote mold growth but the professional-grade stainless steel micro-mesh that can make it through all kinds of harsh conditions to filter finest debris. With proprietary patented  V-Bend Technology, it never blocks the water flow even in a torrential rain.
Most noteworthily, Raptor Gutter Guard's installation is possible with any standard 5-inch gutter, which also won't void the roof warranty.
Buying this leaf guard, you are entitled to a 25-year warranty and top quality after-sales services from a US-based support team.
A cleaning brush can be requested for free after registering the product so that your gutter guards maintain its shine and cleanliness.
Pros:
Raptor Gutter Guard is very user-friendly
It is made of stainless steel with high durability
Its installation doesn't require much effort
25-year warranty is included
There are a number of sizes to choose from
Cons:
It can overflow if heavy rainfalls
2
FlexxPoint 30 Year Gutter Cover System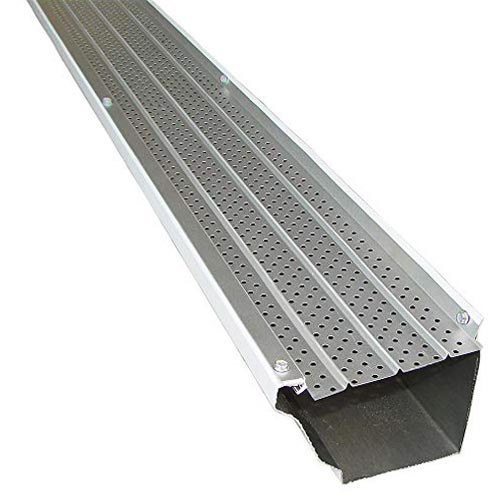 The FlexxPoint Gutter guard shouldn't be out of the list of best leaf guards regarding its good price and high effectiveness. Not only does it prevent debris and leaves from clogging your gutter but it also accelerates heavy water flow. Amazingly, even wet leaves covering can't decrease the productivity of its operation.
One thing that is appealing to customers is the stainless steel fasteners in the package of FlexxPoint Gutter guard. They are secret weapons that help the guard to mount permanently and secretly to the front lip of the gutter system. Once installed, it mounts directly into the fascia board. Thus, you won't suffer from the nuisance of moving it again after installation unless you are bulldozing your place. It has tremendous durability so gutter issues may never bother you for a long time.
It's a great fortune to have a tough aluminum-made gutter like the FlexxPoint Gutter guard in your hands. You are also presented with choices of colors: white and matte. Rest assured about the quality of this aluminum type and have no worry over the safety and security of your roofline.
Pros:
FlexxPoint Gutter guard is easy to install
It is made of durable aluminum alloy
This guard works with the striking effectiveness
There are 6 options for length
This guard has many colors to choose from
Stainless Steel Fasteners are included
Cons:
It is so light, easy to install but easily damaged by strong winds
3
Amerimax Home Products 636025 Lock-in Gutter Guard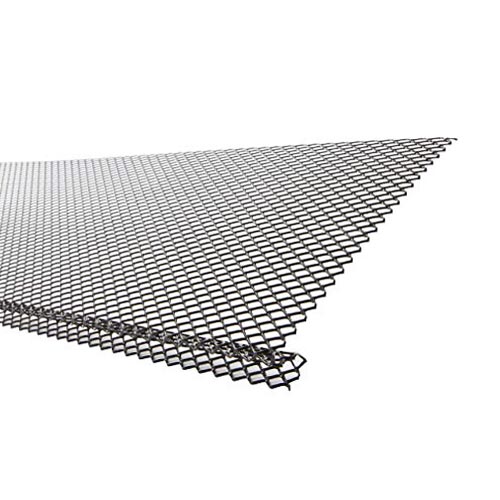 Amerimax 636025 leaf gutter guard is proven to be among the best leaf guards. Models from Amerimax are made of highly durable powder-coated steel so it is acknowledged to be solid and sturdy enough for long-term defense against extreme and erratic weather.
The tight expanded metal mesh pattern of the guard keeps out most debris and leaves to keep your gutters flow freely, especially in heavy rains and storms when there is a great deal of water pouring down the gutter
With an easy installing technique called "lock-in installation", the installation has never been simpler. You just need to slide the first row of shingles on the roof, then clip the gutter guard screen on the front lip of the gutter and you've finished it.
In addition, Amerimax 636025 leaf gutter guard comes with a 10-year warranty and can fit on
three different sizes of "k"-style gutters: 4 inches, 5 inches, and 6 inches.
Pros:
Amerimax 636025 presents no challenge to users
It is equipped with easy Lock-in installation
The material to produce Amerimax 636025 is durable powder-coated steel
This product is the solution to water flow issue in heavy rain and storms
It fits over any 4, 5, or 6-inch metal K style gutters.
Cons:
The 10-year warranty is rather short compared with some models
4
GutterStuff EZ 5-Inch K Style Foam Gutter Guard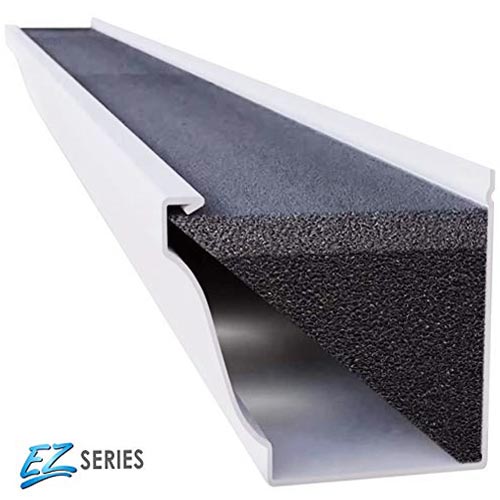 GutterStuff EZ K Style is one of the best foam leaf guards. This product is renowned for its simplicity in installation. The leaf guard is equipped with germicide and UV protection-surface coating for additional UV protection. To be clear, direct exposure to sunlight is prohibited and insects are unable to develop in the guard thanks to bactericide.
If we set up GutterStuff EZ K Style at an angle, it fits completely into the gutter and cannot be seen from below. It seals out leaves on the surface while allowing large volumes of water to flow through quickly and gather at an edge in the gutter.
The installation has never been more straightforward when other special tools are not necessary. As a self-installed polyester guard, GutterStuff EZ K Style Foam Gutter Filter is produced for the standard 5-inch type of gutters (K style). With the length of 32 linear feet in four sections, the entire set provides cost-effective protection for your gutter system.
Pros:
GutterStuff EZ K Style presents an easy and simple installation
This product is highly affordable
It can work with most types of gutter
Its sturdy material can last long
It is protected from the sun, UV protectant, germicidal and fire retardant
There are four different lengths
Cons:
Dirt may be accumulated in the gutter
5
Spectra Metal Sales GS501LC25 Armour Screen Gutter Guard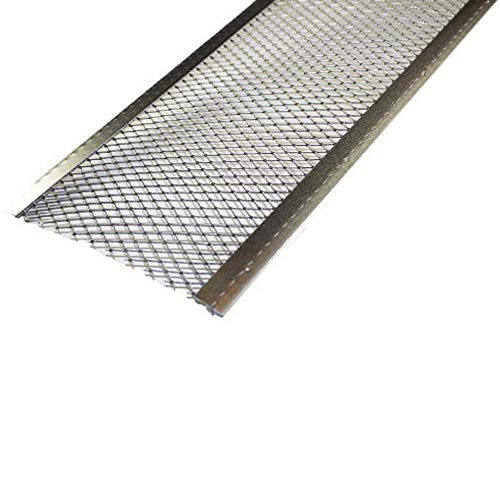 Spectra Metal Sales Armour Screen Gutter Guard is one of the best leaf guards that can perfectly protect the guttering system of your house. Made of durable expanded aluminum, Spectra Metal Sales Armour Screen Gutter Guard is ideal for long-lasting gutter protection. It can withstand the test of time through extreme weather such as heavy downpour, high wind, and snowfall.
This product from Spectra Metal Sales is well installed through a 3-step system. Self-locking c-clips are also included to fasten the guards securely to the gutter.
The aluminum mesh prevents leaves, dirt, and other debris from entering into the gutter while letting water flow freely through the gutters.
Designed for use with standard 5'' wide gutters, the model has 4 foot long pieces. For the whole set, there are 25 pieces with a total length of 100 feet.
It is designed for use with standard 5″ wide gutters and it comes in 4 foot long pieces. This set includes 25 pieces for a total length of coverage of 100 feet.
Pros:
Installation is quite easy
It has a unique and durable design
The model is made of corrosive coated aluminum
Self-lock C-clip is included
It fits standard K-style gutters
Cons:
The grates may be clogged with the stems of the leaves
6
A-M Aluminum Gutter Guard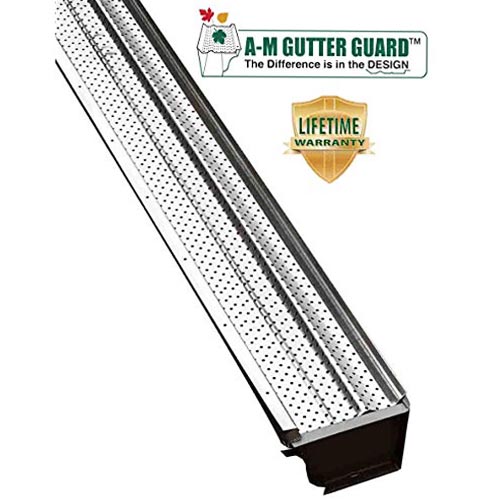 A-M Aluminum gutter guard 5" can't be omitted from the list of best leaf guards due to its attractive design and impressive features. Compared to some other models on the market, this one is highly competitive.
The leaf guards are suitable for use with not only hidden hangars which are strongly preferred but also other hangars including those of K-style.
For some leaf guards, you have to get a technician to install but it isn't the case of A-M Aluminum. Installation is as easy as pie and material is rust-resistant aluminum used in leaf guard making.
This model can cope with an exponential increase in water volume on the roof in heavy rains or tropical storms. The reason behind this is several perforations which let water easily flow into the gutters while leaves and other debris are kept outside. You can rest at ease without worrying about clogging or overflow.
The thing that needs most attention is the avoidance of roof warranty violation, especially when installing the product under the shingle. A-M Aluminum comes with a lifetime warranty covers no rust or rot.
Pros:
A-M Aluminum is easy to set up
The product presents excellent value for money
Its material is highly durable and cannot be rusted
It is virtually invisible from the ground so the roof still appears impeccable
The leaf guard survives through any weather conditions
A-M Aluminum withstands heavy rain, strong winds
Cons:
Installation requires 1/4″ Zip Screws
How to Choose the Best Leaf Guard (Gutter Guard)
Available products differ in various aspects such as design and characteristics. In this article, some useful advice will be brought in to help you pick out the best leaf guard. Let's get started!
Right Length
Each part of a house needs a different leaf guard, that's why it's important to choose the right and suitable one. Length may vary from 25 to 100 feet. Homeowners usually buy multiple sets of leaf guards for different parts of their house.
Material
You may want to choose a leaf guard mesh that is made of the same materials as the gutter guard so that it will not cause physical incompatibility. For example, it may not be a good idea to combine iron and copper or copper and zinc. Therefore, you should know from the beginning that similar materials are necessary in this case. Besides, colors are numerous for you to pick out your favorite too.
Correct Hole Size
The correct hole size is a crucial factor to consider. The individual holes must not be too large or too small. If it is too large, leaves and tree seeds can get stuck in it, especially Linden and maple seeds. And if it is too small, it can be easily covered by leaf fragments, moss or mud. 6 mm is a common diameter of the individual holes.
Types of Gutter Guards
We all know that gutter guards have the same purpose. However, they are very different considering characteristics. There are many types available on the market now. Therefore, instead of getting confused by a large number of kinds, you should smartly choose the suitable one. These are some types of gutter guards:
Brush Gutter Guards
Foam Gutter Guards
Reverse Curve
Micro-Mesh
Screens
Nylon
Non-gutter Cover
Some Other Requirements
It is extremely necessary for the surface of the system parts to be smooth. Moreover, the perforated edges should be rounded in order to reduce the risk of hurting people.
Don't choose the system parts with a curvature upwards, which can lead to hole blocking by cause leaves, moss, or branches slipping from the roof. It will cause you to have to climb up the ladder to remove the debris, or use a leaf blower to clean the gutters.
A smooth system is a very important factor because it can help leaves to be blown down or fallen down at ease.
Conclusion
Choosing the right leaf guard is a real headache when you need to take into consideration both your actual demands and the effectiveness of such a product. We understand that for a type of product like leaf guards, the most important thing is how much they can protect your gutter.
A product directly exposed to the outdoor environment requires many right features. When choosing the best leaf guard, it is advisable to see whether it expands the lifespan of your gutters, prevents the most types of debris, and can be installed with the least difficulty.
Some people also take notice of the roof warranty issue, so they prefer products that don't void the roof warranty. According to our leaf guard reviews, Raptor Micro-Mesh Gutter Guard By Gutterglove may be of your satisfaction. However, if you're living in extremely cold weather, and don't mind voiding a roof warranty, you are well-advised to consider the Amerimax Home Products 636025 Lock-In Gutter Guard.