Nowadays, the weather is getting warmer and warmer. It makes people enjoy more outside activities. Playing, dancing or having a barbecue party would be great if they can be celebrated on the smooth and fresh lawn. All homeowners always try to make their lawn straight and beautiful so that all of them want to own the best gas lawn mowers for their problems. Thanks to the strong development of Technology, there are so many kinds of lawn mowers to choose from so it is quite difficult to buy the best one for their purposes.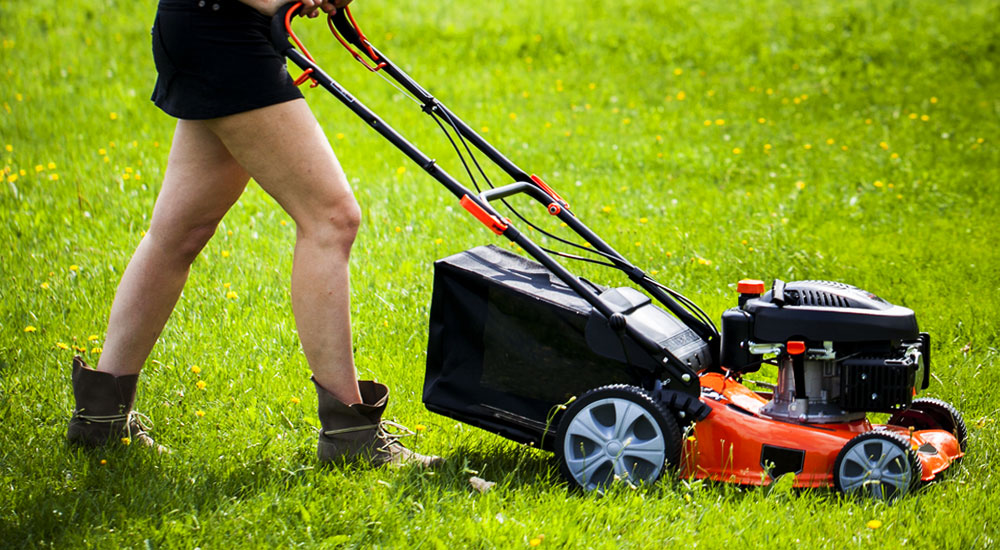 Different types of lawn mowers such as Gas Lawn Mowers, Battery-powered, Electric powered have different functionality, attachments, and engines. Five years ago, some of the lawn mowers with heavy-duty engines are homeowners' favorite because they worked well and they are long life guaranty so that they were chosen by many users. But, there is nothing enough until now, the users want to look for more and more efficient and modern design for the best gas lawn mowers that they would like to buy. To meet people needs, some modern gas lawn mowers with adjustable handles and gasoline tanks that will give great cuts and they are convenient to fill gas or oil also whenever they are out of petro. Besides, the cutting width decks and ergonomic design of the gas lawn mowers are some things we have to consider a lot before we decide to get one for our houses. The design shows us how well they work, the amount of time that is required to clean up the area. For these reasons, lawn mowers with nice design, strong engines, and good size are considered as the best gas lawn mowers that the users care about when they want to buy.
There is a list of 6 gas lawn mowers we want to share you. Keep reading this information as below will help you a lot to find the best mower to matter your lawn.
>> Related Post: Best Battery Powered Lawn Mower
Top 6 Best Gas Lawn Mowers Reviews
| PRODUCTS | MODEL | DECK SIZE | ENGINE | WARRANRY | CHECK PRICE |
| --- | --- | --- | --- | --- | --- |
| | Remington RM1159 159cc Gas Lawn Mower | 22" | 159cc Remington OHV | 2-Year | Check Price |
| | Honda HRR216K9VKA Self-Propelled Gas Mower | 21" | 160cc Honda GCV | 3-Year | Check Price |
| | Yard Machines 159cc Self-Propelled Gas Lawn Mower | 21" | 159cc OHV-Auto gas | 2-Year | Check Price |
| | Lawn-Boy 17732 Self Propelled Lawn Mower | 21" | 149cc OHV Kohler XTX | 2-Year | Check Price |
| | Troy-Bilt TB330 163cc Self-Propelled Lawn Mower | 21" | 163cc OHV 725ex | 3-Year | Check Price |
| | Snapper 12AVB2A2707 Self-Propelled Lawn Mower | 21 | 163cc OHV 725EXi Premium Briggs & Stratton | 3-Year | Check Price |
Below is the detailed reviews
1
Remington RM1159 22-inch 159cc Gas Lawn Mower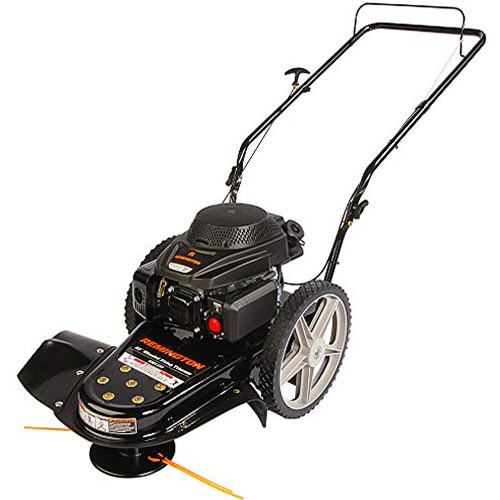 Product Specifications:
Weight: 70lbs.
Size: 34.69 x 22.01 x 21.16 inches
Deck size: 22"
Powerful 159cc Remington OHV Engine.
Warranty: 2-year
This gas-powered lawn mower is designed for large lawns. Its 22" cutting swath allows you to cut the tall and thick grass and weeds from 1 inch. to 6 inches; it helps you to maintain your lawn. You can easily adjust its height up to 3 levels, according to the fence and wall structure. It has a powerful 159cc MTD POWERMORE OHV engine, which comprises of a forged steel crankshaft, ball bearings, and a cast iron cylinder sleeve. Its 14" ball-bearing wheels give outstanding maneuverability; from slopes to rough terrains, they can smooth out any type of surface. Its design comprises of offset heads which makes it easy for you to reach all of those hard-to-reach areas.
Pros:
Ideal for large property owners
Offset trimmer head
Trimmer guard protects you from flying debris
Folding handle for easy storage and transportation
Backed by a 2-year limited warranty
Comes fully assembled
Cons:
Maybe hard to balance due to weight and may sink into the boggy ground.
2
Honda HRR216K9VKA Self-Propelled Gas Mower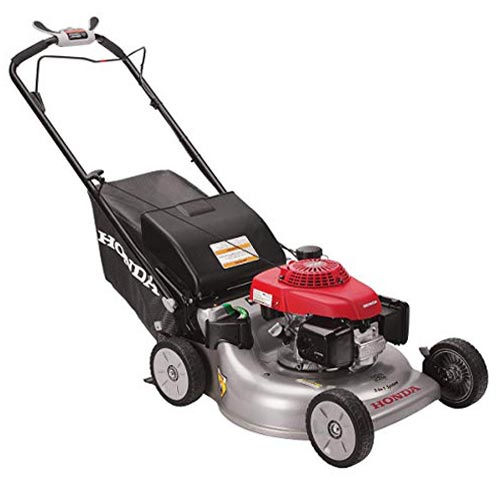 Product Specifications:
Weight: 84 lbs.
Size: 62.0 x 38.2 x 23 inches
Deck size: 21"
Engine: 160cc Honda GCV
The mower comes with a smart drive system which makes it easy to use it for a long time period and large areas. The twin blade system is just amazing as it is equipped with mini clippings that mulch very smoothly. Not only its twin blade system makes your job easy, but also saves your time as they are capable of completing the work in half the desired time. The mower will make you fall in love with its design and easy operation. You need to move a knob to switch between mulching and bagging according to your choice.
It is a mower which is equipped with a 3-in-1 Variable Speed and auto choke feature which allows you to adjust its speed to match your stride for the ultimate comfort. Talking about starting the machine, the mower has an easy-starting Honda GCV160 engine, which is capable of providing years of interrupted service to the users. Besides this, the mower is a time and money saver as the knob to switch between mulching and bagging rules out the need for costly attachments and save time by avoiding assembly of the parts.
The mower which is a charm to have for your lawn is quite a mobile machine as it comes with an easy twist knob release handle for folding the mower. This folding feature makes the mower mobile and easy to carry, besides this, it also makes the mower convenient to store and transport. Last but not the least the mower comes with a height adjustment feature which makes it suitable for all types of terrains.
Pros:
It has a smart drive system, which makes the handling of the mower easy and comfortable.
The handles are comfortable and easy to manage.
The mower is durable, easy to maintain and has cool looks.
It is pretty much light in weight.
Cons:
Sometimes it takes a few pulls to start the machine.
3
Yard Machines 159cc 21-Inch Self-Propelled Gas Lawn Mower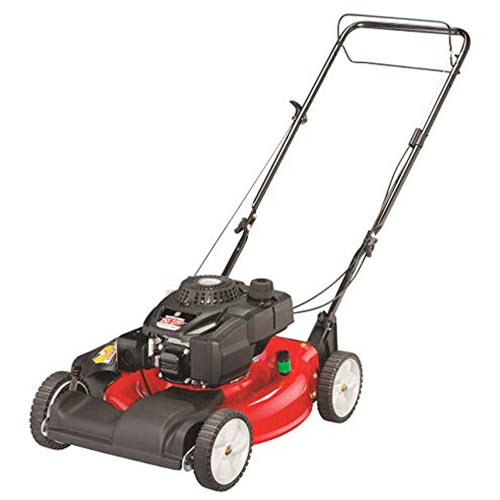 Product Specifications:
Weight: 72 lbs.
Deck size: 21"
Cutting range: 1.25 – 3.75 inches
Engine: 159cc OHV-Auto gas
Warranty: 2-year
Yard Machines 12A-A0M5700 is not one of the most powerful engines for cutting grass at the large grass yard, but it is one of the best gas lawn mowers for the yards with medium and small sizes when using a 159cc gasoline engine, mulching function and side discharge. It uses a front-wheel drive mechanism, a 21-inch cutting width that can vary in height, so it can cut grasses of different thicknesses. It is used for beautifying the yard because it can protect the beauty of grass and makes it healthy and green. It is fueled by gasoline or gasoline and oil so it takes time to fill the fuel and it can suddenly stop whenever it is out of fuel so that the users feel a little uncomfortable.
There are some strong points of this gas lawn mower such as reasonable prices and using convenience. The users do not need to have good knowledge to use it for trimming grass at their houses yards because there is no difficult information to understand before using it.
Pros:
Reasonable price
It has a large gas tank
Cutting height is adjustable
Shaving energy
Cons:
Missing a grass catching bag
The cutting area is narrow
4
Lawn-Boy 17732 21-Inch Self Propelled Lawn Mower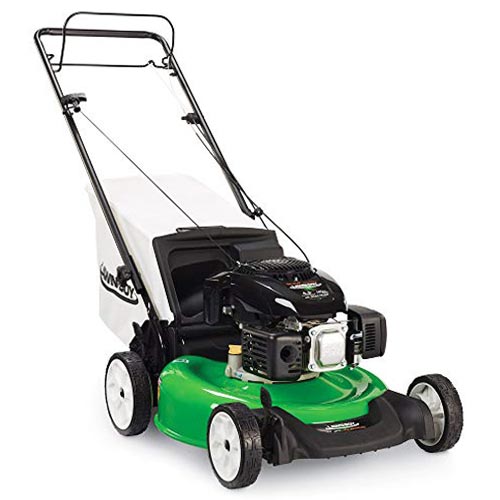 Product Specifications:
Weight: 66 lbs.
Deck size: 21"
Cutting range: 2-Point Height of Cut
Engine: Kohler XTX 149cc OHV
3-in-1 Discharge Ability
Warranty: 2-year
Another new edition of this gas lawn mower is Lawn-Boy gasoline mower. It is more modern than the ergonomic machine for cutting grass. It uses a key instead of using too much labor when controlling the gasoline engine on the way of trimming grass, so the users will not get hurt and straining in their arms. The two important things of this mower are adjustable speed settings and an adjustable deck. They are considered as great points to make the cuts around the lawn become easier. Other good features about the design of this mower are its rear wheel drive system and a lightweight frame at 66lb.
This machine deserved to be on the list of best grass mower because of its high value. It affords the better traction and control over the mower on the high and low terrains at different high cutting levels when it has the 2-point " Height-of-cut" system. It allows the mower to move smoothly and achieve perfect cuts. Moreover, this Lawn-Boy Mower would be a nice recommendation for every homeowner who would like to buy a good mower for a large and medium lawn area sizes. Besides, this machine has a small catching bag and it also limits the amount of cutting grass before until it is totally emptied to be ready for a new trimming process.
Pros:
Great handling ability
Powerful rear wheel drive
Comes with oil when buying
Key start saves pulling on a cord
Cons:
Having a small cutting bag.
5
Troy-Bilt TB330 163cc 21-inch Self-Propelled Lawnmower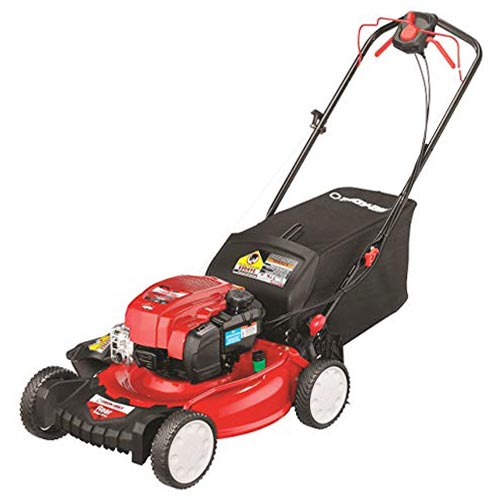 Product Specifications:
Weight: 84 lbs.
Deck size: 21"
Cutting range: 6 Cutting Positions
Engine: 163cc OHV 725ex Briggs & Stratton
3-in-1 Mulching Capabilities
Warranty: 3-year
This is one of the best mowers available in the market to fulfill all your lawn mowing needs. With an integrated deck wash, it comes equipped with a ReadyStart system. This system senses the temperature of the engine automatically to adjust the suitable air/fuel mixture. Talking about the engine, the self-propelled RWD lawn mower is powered by an easy-starting 163cc OHV 725ex Briggs & Stratton engine. In short, it will make your lawn mowing jobs comfortable and easy.
The mower comes with a single lever variable speed drive control which provides four top speed settings; it helps you get the full control over the machine. This feature of the mower favors mowing needs, convenience and comfort of the users. Talking about the technology, it comes with a 21-inch TriAction complete cutting system with specially designed blades; it makes the mulching job easier and cut the fine grass as well. The mower besides this has a symmetrical deck for superior grass flow which completely removes patches in your lawn if any.
Being on the lighter end, the mower weighs only 84 pounds and has 38 x 24 x 17.5 inches as its dimensions. You need to pull the chord once to start the machine, and you are good to go. The ReadyStart system in the mower favors the starting process at the time of pulling the cord. The deck of the mower also has a height adjustment feature that provides six different grass height settings as per the required terrain needs. The mower has 8-inch front and 8-inch rear wheels and comes with a 3-year limited warranty.
Pros:
It is stable, stylish and provides excellent performance.
The mower is economical and is a perfect choice for a first mower.
It is lightweight and easy to control on any type of terrain.
Cons:
Its levers that are used to power the rear wheel drive are made of plastic built.
6
Snapper 12AVB2A2707 21-inch Self-Propelled Lawnmower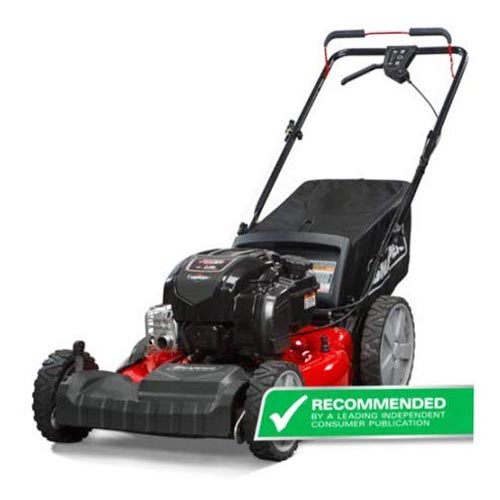 Product Specifications:
Deck size: 21"
Cutting range: 6 Cutting Positions
Engine: Premium High-performance Briggs & Stratton 163cc OHV 725EXi
3-in-1 cutting deck
Warranty: 3-year
This powerful gas lawn mower is considered as an amazing machine for cutting the lawn on the extra large yards. They are a 3-in-1 deck, a rear bag, features mulching, high wheel, and side discharge capabilities. This gas lawn mower is designed especially for trimming lawn smoothly on the all different sizes of yards up to 1 acre with the terrain, sloping and bumping areas like a high hill or uneven terrain by using the 6 cutting settings, 8-inch front wheels and 11 inch rear wheels. Thanks to high-quality technology, this Snapper 12AVB2A2707 mower gives us a high-performance Briggs & Stratton 163cc OHV 25EXi Series Engine with built-in ReadyStar makes the machine works after one pull only.
Because of using G Technology, this machine's oil tank is entire so the users do not need to change gas or oil but just fill it for the next using turn. Also, the ergonomic handle offers a better deck wash-out ports to keep the machine clean after cutting grass at the dirty places. This function is truly important for making the engine works well after a long time using. The mulch plug is included to take the nutrients back to the soil for its benefits. One more thing, this gas mower has 3 years guaranty so that we can make sure that we are having the right selection.
Pros:
3-in-1 mulching, bagging, or side discharge solution
Works well on solid and bumping areas
Easy to start with G technology
High-performance with the 163cc engine
Having useful cuts with 6 different cutting positions
Has adjustable handle
Cons:
Sometimes bagging can be difficult
Things to know before buying
Several things make the homeowners usually confused before they decide to choose the best lawn mowers for their yards. As all thing we mentioned above for the easy selection, we all know what you really need is to buy the best gas lawn mowers that makes landscaping quickly and beautifully. To meet the needs of the market, there are many different and good lawn blades have produced and appeared on the markets so far. There is nothing more important than your using purposes. Thus, you have to figure out which lawn mower can maintain your green lawn and make it healthy after trimming it. Or, you just find out how you want the clippings handled. Do not hesitate, chose what you love.
Lawn size
The best gas lawn mowers are the ones fits the size of lawn yards which need to have a cut. You should consider the benefits of each machine before buying a lawnmower. It would be great if you are able to trim the lawn in less time but your yards can achieve a professional look. Besides, you should try to find out which machine is safe enough to use when you start to use it.
Engine
You need to choose a mower with an appropriate engine power for your yard. The larger the engine, the better it handles tough cuts, wet grass, leaves, weeds, and more. There are four different types of engine: a side-valve, an overhead valve, a direct-overhead valve, and an overhead cam. The more you spend on an engine, the more fuel efficient it is. You're also looking at reduced air pollutants, a quieter mow-time, and fewer vibrations from the engine.
Landscape
How does your landscape look like is also an important aspect. Different gas lawn mowers have specific functions. Some gas lawn mowers just cut grass well on the flat yards, and some are used for a hard trimming process on solid, bumping and sloping landscapes. If your lawn yards are the complex of many kinds of different terrain then commercial lawn mowers are the ones you should take. They can work well under pressure for a long time so that they are not going to break. They are easy to use and fit your bodies so you will have not difficulties when controlling it.
Drive Control
Smart Drive uses an ergonomically shaped paddle lever designed to be used by your thumbs and palms. You just need to place your hands on the comfortable and convenient control and rotate it to match your mowing conditions. You can control this gas lawn mower and change the speed by one hand without any worries. A control system has a bail that plays as a metal rod let you squeeze the handle, a lever plays as a handbrake of the bicycle to release the speed to make the machine drive slow down or to speed it up so that the lower will drive at higher speed. It is not easy to control it and you have to have controlling and operating skills.
Extra Functions
All gas lawn mowers complete a complicated process by doing three different things at the same time to meet the users' needs. Normally, the mowers with catching bags will store the clippings after the grass are taken to mulch and cut into small pieces so the homeowners will not waste their time to clean up later. But if the mowers are not equipped with catching bags then the clippings will throw away outside at last so it is a bit inconvenient and annoying. The mowers can do more difficult things than you think.
Push or Drive
Gas mowers are the best conventional options for trimming grass on the half size yards. They have two kinds of settings with their own using purposes. One is pushing and another is driving. Instead of using a lot of power to push the engine to make the mower going, the driving mowers have a special system to push the wheels to make it works thus it is really perfect for bumping large yards with lots of slopes. And, pushing mowers are good choices for small and medium flat yards.
Air Filter
One of the important parts of a the best gas lawn mowers are the air filters where contains too much dirt in it. Thus, the best lawn mowers should have a lot of dirt-trapping spaces which are made of pleated-paper so that the users can access and clean them easily after using on the dirty areas without worrying about the risks of damaging. The higher quality the air filters are the more things the mower does. That is why the homeowners always look for a machine with good air filters even it is more expensive.
Conclusion
Having a beautiful yard with green and fresh grass is great. But it is quite tough to choose one of the best lawn mowers for yourself when you have no ideas about which one you are going to buy. Now, it does not matter when we offer you some good advice about some kinds of lawn mowers that we think they are the best ones for solving your problems. This essay offers you more than enough information to choose one of the best gas mowers that are well-suitable for your house yards. The prices are different depending on the various kinds of the features of this the gas lawn mowers. Thus, it is important to know what you need.
Don't forget to share this article and leave a comment for us.