Good shoes will lead you to conquer the world, while the ill-fitting shoes acquaint you with a podiatrist. Why? Shoes, more than a mere accessory that satisfies your aesthetic requirements, that elevates the beauty of your posture, are actually companions of human beings. Never trust a partner that hurts your feelings and never pick the footwear that makes you feel uncomfortable.
That's why shoes and health are inextricably linked as a unit. Such sayings as "one size fit all" never works in reality. Every shoe is made to serve different needs: high-heeled for runway models, "all-day" rock shoes for mountain climbers, flip flops for a summertime beach vacation and so on.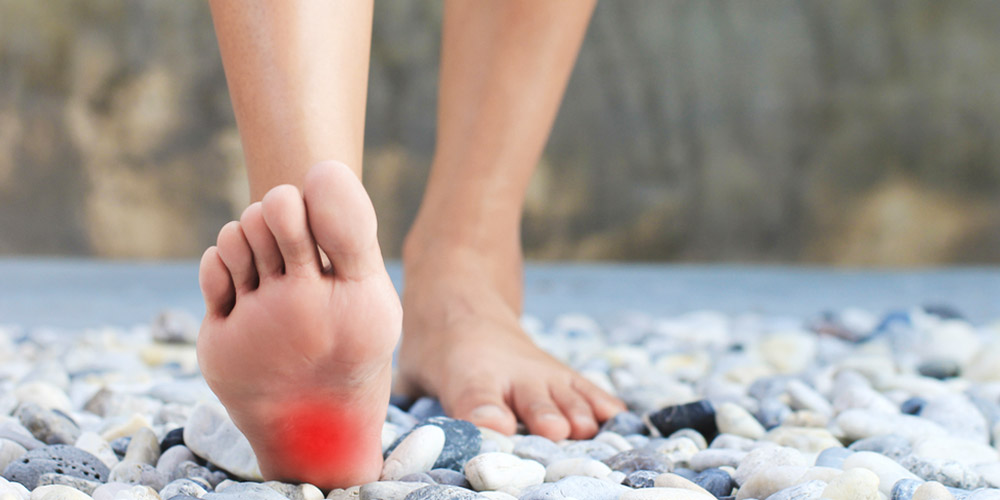 Likewise, for the sufferers of Plantar Fasciitis, suitable walking shoes should facilitate pain-relief effects and be able to comfort your feet during walking or running experiences. Bad footwear may exacerbate your condition, but a high-quality, tailor-made pair of shoe may make things different. To understand how effective it is, check out the best walking shoes for Plantar Fasciitis.
What Is Plantar Fasciitis?
Basically, Plantar Fasciitis is caused when there are unexpected convulsions or interruptions on the plantar fascia. The plantar fascia is a fibrous network that extends from the heels and expands to the toe joints. It supports the longitudinal arch with other ligaments, tendons, and bones. Patients know they suffer from this condition when they feel a stabbing pain in the bottom of the heel after a morning wake-up.
So, what exactly are the convulsions mentioned above?
Well, the "wear and tear" theory is applied in this case. After loads of hard grunt work in your day-to-day operations, the plantar fascia ligaments designed to absorb the external shock and support the arch of your feet get irritated by too much pressure and tension placed on them. The tissues, therefore, may suffer from small tears before the damages get greater. A visible symptom of this occurrence is inflammation in the injured areas, which later leads to heel pain and stiffness of plantar fascia.
Who Is More Prone to Plantar Fasciitis?
Although Plantar Fasciitis can arise with no apparent reason or distinct expressions, some people are more likely to meet the condition:
Those aged between 40 and 60 that are still on an active status
Obese or overweight individuals. Remember that excess weight means extra tension exerted on your ligaments.
Those who are in a condition so-called excessive pronation, when a divergence from normal foot position.
People who have a flat foot or a high arch
Pregnant women
People who regularly do exhausting activities that require intense stretching of the muscles, such as long-distance runners, ballet and aerobic dancers.
Those who stand or move on the concrete surface most of the time such as teachers, models, workers.
Those with inappropriate or worn out shoes
Treatment
If you are enduring excruciating heel pain, the best thing you can do for yourself is to wear supportive shoe gear so that your internal anatomy has external support. But at times this method is too weak to work miracle, so you may have to take further action:
Try some self-treatment therapy at home, such as stair stretch exercises. Be sure to perform the exercises in slow, relaxed motion, and use a stair, stool as aiding equipment
Apply a frozen water bottle or gel pack into your foot for 20 minutes. A massage running deep to the heel can also help
Avoid moving on your foot too much throughout the day
Use night splints while sleeping to boost rehabilitation and provide temporary pain relief
During pain flare-ups, take some medicine for pain relief, such as ibuprofen paracetamol
Use foot orthotics, namely heel pads and arch supports.
If your heel pain is not resolved after constant attempts to apply the therapies above, your doctor will inject platelet-rich plasma into the problem spot that stimulates healing. This method is known to bring about lasting relief for your suffering. Often, people choose to have surgery to get rid of the pain.
Why You Need the Best Walking Shoes for Plantar Fasciitis
We aren't saying that plantar fasciitis shoes and other accessories will help cure your plantar fasciitis pain, but what they offer is adequate protection against further damage. Our feet experience most trauma when we are walking or running on hard surfaces, so investing in high-quality working shoes is a critical decision to make. Incorrect shoes will take their toll on your limbs immediately, you will notice it when your feet throb painfully after stepping on uneven surfaces or tripping.
It is by no means easy to find shoes that fit well with your condition. Remember that a well-made pair of shoes must basically provide cushioning to your arches and footbeds, at the same time, help prevent the pressure of body weight from triggering pain flare-ups as we…
Shoes with removable insoles will allow you to insert custom orthotics, so go for one. Many testers give consistently high reviews for Vionic comfortable walking sandals thanks to its ability to effectively alleviate heel pain. Most patients can fully recover from mild plantar fasciitis symptoms.
Nothing can be better than letting nature take its course. The pain will get healed in its own way, and your job is merely to purchase a pain-relief "pill" yourself.
How to Choose the Best Walking Shoes for Plantar Fasciitis
Basically, all we want from a powerful pair of healing shoes is less pain and more comfort. This definitely means a lot more than the mere four words on paper. There are a bunch of benefits offered to your feet, such as proper foot alignment, shock absorption, ease of pain from the torn ligament, etc.
A minor symptom can evolve into a chronic disease, so if you have already endured the pain, it is important to make sure that there is an insurance policy to protect you from any unexpected factors that are going to make matters worse.
Below are the key ingredients to look for in good plantar fasciitis walking shoes.
Supportive Arch
The arch is an important structural feature of your feet which works to reinforce your step by enduring stress and pressure caused to it. That's why arch support should be a priority factor to start with.
Preventive shoes with built-in, removable orthotics do more than just allowing you to remove the available insoles and insert your own for better use but it also helps avert possible risks of musculoskeletal issues that can lead to disability.
Flexibility
Even if you may not need flexibility, spare of thought for those joints and tendons located in your feet as they do need it. Sufficient space for stretching, flexing, bending, and feeling is crucial to reduce the stress put on the heel, connect tendons and distribute the weight focus on your foot evenly.
To achieve this, the insole, midsole, and outsole of the shoes must provide a reasonable amount of comfort in the suffering point. Either too much or too little flexibility is not good.
But, how can we know if a pair of walking shoes is flexible? Well, a simple hint is to bend the toe and the heel together to feel the agility it gives.
Level of Cushioning
The craze where low-profiled shoes mimicked running barefoot caused an increase in foot injuries and disorders. We since realized that cushioning is essential for soothing pain and preventing injury.
A solid cushioning mechanism is what many customers crave from a nice walking pair of shoes. For those with sensitive feet, a thorough consideration of this factor is needed.
Those low-profile shoes on the market prove to be a false version of running barefoot since all they give the user is soaring pain, injuries, and disorders. On the contrary, a sound investment offers the opposite values: pain soothing effects and injury prevention.
Ethylene Vinyl Acetate Midsole
The midsole is the "pillar of support" for your shoes, a part that provides support and cushioning to a superior grip of your feet against hard objects. It will work wonders if it is well-made. Therefore, the material that appears to suit this demand is the man-made EVA.
EVA is known for its excellent, durable shock absorbing properties which offer stability to your feet, as well as endure all the obstacles caused by the elements, terrain, etc,
In short, it is a nice companion to be with during walking or running experiences.
Lightweight
The disperse of body weight, the strain on ligaments, etc are too much for your feet to endure. If your chosen walking shoes continue to be a bunch of heavy "burden," it is no longer an accessory designed for healing purposes, but for worsening ones.
So make up for that unavoidable sufferings by having shoes that are lightweight, and versatile enough to wear comfortably all day long, for a workout, a meeting, a jog or simply everyday activities. Once again, the right shoes for plantar fasciitis should be lightweight to absorb all the impacts of stress and tension.
Shoes such as the Orthofeet Proven Pain Relief Mens Sneakers and the Brooks Women's Adrenaline GTS 19 are made from a special mesh that is lightweight, flexible and breathable. Comfortable movement is the final aim of the manufacturers. All wanted a material that can keep your foot cool during any type of activity. Mesh is a super lightweight material, easily bent and twisted which helps reduce tensions, stress; thus eases your heel pain.
Friendly to the budget
While it is true that quality goes with the price, owning a top-class pair of plantar fasciitis shoes doesn't necessarily cost an arm and a leg. Indeed, you are totally capable of finding your best bet reasonable priced.
Pick one with all the functions you need and with the price range you desire. Just let this footwear do the trick for you as dealing with plantar fasciitis now becomes a lot easier.
Top 8 Best Walking Shoes for Plantar Fasciitis
| PRODUCTS | MODEL | FOR | CHECK PRICE |
| --- | --- | --- | --- |
| | Orthofeet Plantar Fasciitis Orthopedic Diabetic Walking Shoes Coral Sneakers | Women | Check Price |
| | Saucony Women's ProGrid Integrity ST2 Walking Shoe | Women | Check Price |
| | Gravity Defyer Proven Pain Relief Women's G-Defy Mighty Walk Shoes | Women | Check Price |
| | Vionic Women's Walker Classic Shoes | Women | Check Price |
| | New Balance Mx608v4 Walking Shoe | Man | Check Price |
| | Brooks Men's Addiction 13 | Man | Check Price |
| | New Balance Men's MW877 Walking Shoe | Man | Check Price |
Below are the detailed reviews
1
Orthofeet Plantar Fasciitis Orthopedic Diabetic Walking Shoes Coral Sneakers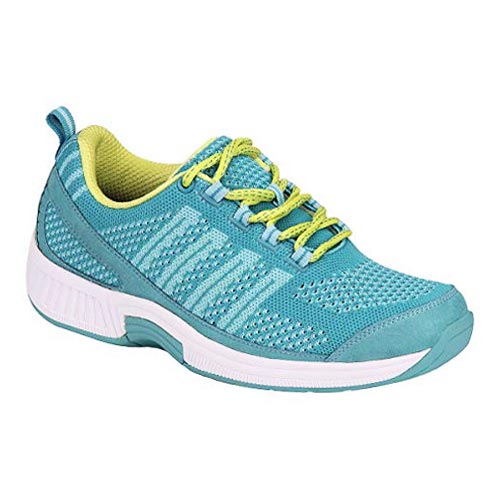 It is not any other brands but is actually Coral that earns our top pick. Our testers were blown away at the very first sight due to Coral sneakers' out-of-the-box design and fashionable look. However, we may miss out on some interesting things if we merely "judge a book by its cover." So let's delve deeper into its function.
On the surface, it already looks glossy, and elegant, but its function is also unparalleled. The sneakers come with a premium orthotic insole loaded with robust arch support and well-cushioned heel pad. If you are under stabbing pain from peripheral neuropathy, all you need is shoes with such characteristics. The heel pad will keep you stay in stride during energized walks, thus alleviate the pain endured. This feature works not only in the feet but also the heels, knees, and hips as well as your lower back. Such a real "buy one and get all" product!
The Easy Gait System incorporates a lightweight sole with air cushioning to soften your stride, eliminate irregular stress, and help facilitate a lighter step. The Ortho-cushion system similarly brings about comfy effects for your bony joints to keep you balanced and flexible in each and every step of yours.
The toe box is ideally wide thanks to the synthetic uppers which are not too rigid or too flexible but are non-binding for comfortable wear. Also, this toe box is roomy enough to accept inserts and custom orthotics as well as to allow your toes room to breathe.
The soft, seam-free interior lining, padded with foam, will provide extra support for your feet and lessen the wear-and-tear effects from strenuous activities. Your beautiful feet dislike being diagnosed with such ailments as metatarsalgia, corns, bunions, pronation, etc., so protect them with the best athletic walking shoes.
Pros:
Replaceable orthotics insole with anatomical arch support
Extra depth design offers breathability
Alleviates pain
The heel-seat is gel padded to create a springy feel
Ergonomic-stride design
Easy Gait System for proper alignment
Cons:
Relatively expensive
Wear out rather fast
Sizes run small at times
2
Saucony Women's ProGrid Integrity ST2 Walking Shoe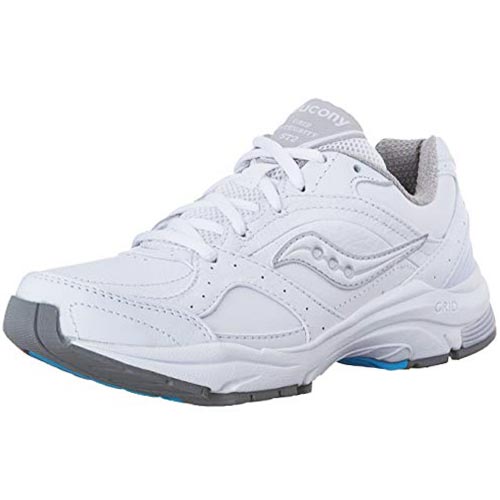 Lovers of Saucony Walking shoes for women say that this product is a big player in the review of the best walking shoes for plantar fasciitis. Can we take their words for it?
Absolutely yes. It is an all-in-one pair of walking shoe, offering everything a woman needs from their ideal athletic shoes: style, cushioning, versatility, and last but not least, budget-friendly. Luckily, Saucony checks off all of the criteria.
It is made out of mesh with rubberized sole, mesh upper with full-grain leather, which adds a real touch of class to durable, well-cushioned footwear. Its forefoot stretch zone provides the exact flexibility and breathability that high-arched walkers crave in their "magic shoes," while the compression molded EVA midsole and the high rebound compound in the forefoot help shield your arches from impacts, thereby not aggravate the condition. The Progrid cushioning system in the midsole provides a sturdy base for your feet to stick to while it still helps absorb shock and vibration from outside.
The shoes work in junction with a non-marking rubber outsole with padded tongue and collar to enhance traction on slippery surfaces, and foster comfy, pain-free movement. This extension makes the shoes popular with both outdoor and indoor usage. The toe box supports very generous stretching and flexing space for sensitive limbs. It numbs the pain and allows users to have the most confident steps.
The flexible outsoles have Walk TracTM technology that is guaranteed to give you reliable traction with a solid grip. Despite its high performance, the Progrid Integrity ST comes with a very reasonable price tag, so you get a lot of bang for your buck. It's available in white, black, and stone color options.
Pros:
Its price is affordable
Perfect footwear for aged women
100% full-grain leather
Durable rubbers for indoor and outdoor activities
Superb heel support
A great choice for high-arched walkers
Durable XT-900 material
Walk-Trac feature
Cons:
Not a good choice for supinators
Not suitable for narrow feet
Quite chunky in size
3
Gravity Defyer Proven Pain Relief Women's G-Defy Mighty Walk Shoes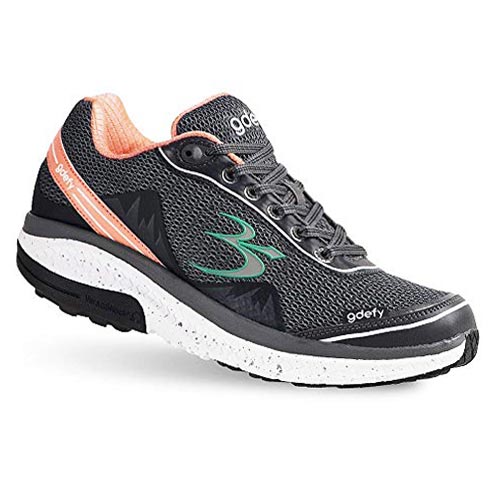 Might Walk is loved for their commitment to crafting trend-setting, fashionable walking shoes. Even when it is a healing shoe for plantar fasciitis, the sleek appearance and the topmost quality helps create an aura of confidence for the users, makes them feel comfortable and steady in their every single movement. With this shoe in hand, it's time to say goodbye to the discomfort in your legs, joints, and feet.
G-defy shoes are typical thanks to the latest VersoShock technology engineered into them. This technology works according to what its name "VersoShock" unveils: giving protection against shocks and jerks produced during strenuous work-out exercises, trekking or hiking, and converting them into fresh positive energy.
The manufacturer is so thoughtful as to introduce the seam-free interior lining for people who have sensitive feet, irritation or skin allergies. This feature makes it a smart choice for people with diabetes worrying about low-profile shoes causing them discomfort, scratches, and bruises. Also, breathable seamless mesh construction promises to provide proper ventilation and flexibility.
The key point is how much comfort the insole provides for your feet? Thankfully, this shoe has removable foam insoles that add extra cushioning and has shock absorbing capabilities.
The front rocker sole is designed to support the midfoot area as well as the toe area which in return keeps the complete foot support. For women with bunions or swollen feet, the toe box, as well as the heel area, is made wider for enough room to wiggle your toes.
Pros:
The durable, breathable mesh construction
VersoShock Technology incorporated
With a seamless interior for sensitive feet.
Extra roomy toe box
Stylish designs with various choices
Removable insoles.
Cons:
The toe area is curved which may cause discomfort.
Bad airflow makes your toe hot
A bit bulky, and rigid
4
Vionic Women's Walker Classic Shoes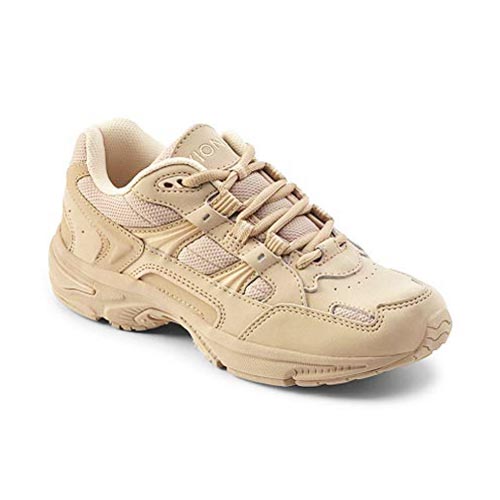 Vionic women's walking shoe has the American Podiatric Medical Association's seal of acceptance for the performance in providing effective treatment for plantar fasciitis and high arches.
The Vionic active motion system (AMS) technology has been highly praised for its delivery of excellent lightweight and cushioning properties. This is combined with a flexible rubber outsole that is designed by podiatrists to ensure that the user has a great deal of comfort. The outsole also comes with durable rubber which gives better traction and excellent shock absorption. It has high-quality textile-covered EVA footbed and built-in 0.5" elevation for a smooth transition from the heel to the toe during walking or jogging experiences.
The uppers are made of premium full grain leather with consistently high water resistant ratings. This means you can rest assured that the climate inside your footwear will be kept fresh and moisture-free even under extremely hot and humid conditions. The action lacing system is another unique feature that makes this shoe stand out from the crowd.
The thermoplastic heel counter aids to keep your feet in place and provide a strong grip with the surface. It also supports the even distribution of weight across the whole feet for better focus. Last but not least, one virtue of this shoe is its durable outsole which has been incorporated to enhance traction.
In a pair of walking shoes from Vionic, form and function are inseparable. So if you are looking for the gorgeous walking shoes for plantar fasciitis with maximum support then we recommend you the Vionic women's walker. This pair is always one of the best walking shoes for plantar fasciitis.
Pros:
Compact in design
Excellent arch support
Offer overall support for your feet
Made with diverse styles and colors
Great aesthetics design
Lightweight, shock absorption
Removable insole with anti-bacterial treatment
Orthaheel technology also helps in controlling pronation.
Cons:
Some buyers feel the sole to be stiff
The cushioning loses its efficiency sometimes
5
New Balance Mx608v4 Walking Shoe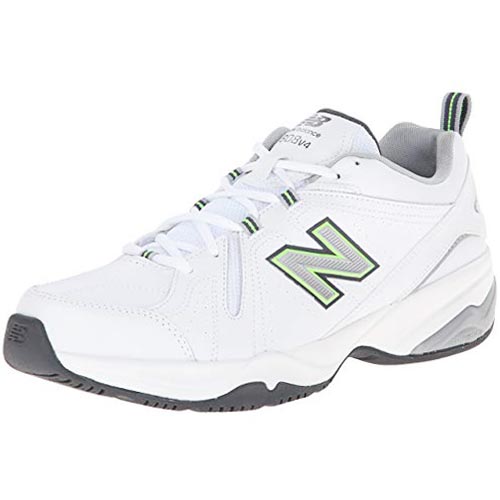 A pair of walking shoes charging you $100 to $150 may make you a little bit cynical about the quality it offers in return for this pricing range. No wonder it is human nature to go for a product that can strike a balance between quality and affordability. The New Balance Men's Mx608v4 was designed with this criterium in mind, so upon its introduction to the market, it has received tremendous love and support from male users.
We like the Mx608v4 for many reasons, not the least of which is comfort. It is made to please every user, even the most demanding one. You can't find a better shoe with such generous provisions: a high-performance rubber sole, density foam for excellent anatomical support, a cushioned footbed, and generous sizing that works for men with either wide or narrow feet.
Hey, do you think the same that New Balance is all about balance? But that's not enough. The thick rubber sole provides excellent traction as well. No more worries when performing stretching exercises outdoor on a slippery surface. If it fails to keep your body balanced, it can't be New Balance any more!
Its advanced design delivers increased forefoot flexibility, while further comfort comes from enhanced heel cushioning.
You can get the Mx608v4 in suede or leather; in either case, the upper has nice breathability that offers ventilation, thus prevent your feet from overheating whether you're at the gym or out for a long walk.
Not that you have to use the Mx608v4 for exercise and power walks only. Many men use them for casual wear and they're among the most comfortable shoes for all-day wear.
New Balance offers a variety of color options, including blue, white, red, grey, brown, black, and more. They may not be as stylish as other top men's walking shoes, but they're still worth the price, though.
Pros:
The material is of top quality
Fit all shapes and sizes of feet
Worth-buying shoes at a reasonable price
Great support & Shock absorption
EVA footbed with flexible cushioning
Generous arch support
Comfortable at the heels
Cons:
A little heavier than standard cross-training shoes.
Lacking in unique designs
Low-quality seams
Extra heel pad causes blisters
6
Brooks Men's Addiction 13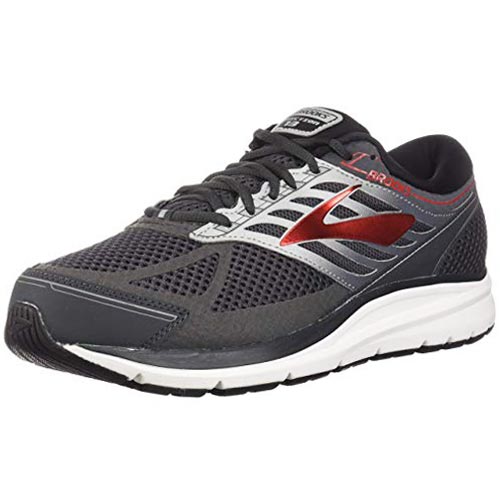 People with plantar fasciitis alone do feel that they have the worst suffering to deal with. But putting that misery into perspective, we feel sorrier for those who experience plantar fasciitis and fallen arch at the same time. Owning walking shoes can be a mixed blessing, especially when the effects the shoes bring about help relieve pain in one condition while aggravating the other. However, that is just a matter of the past since we have Brooks Men's addiction 13.
The lightweight mesh uppers allow free flow of air in and out of the shoes so you don't have to worry about foot sweating or humid environment inside in the forefoot area.
With an Extended Progressive Diagonal Rollbar, the pain from overpronation will be kept in check so that you feel your feet always making a subtle, smooth transition from place to place. BioMoGo DNA midsole not only provides high energizing cushioning but also helps the shoes come across as environmentally-friendly footwear. The material breaks down quicker at the landfill compared to similar midsole materials.
What's more to expect?
The main virtue is that these shoes have an impressive lifespan and will not easily suffer from wear-and-tear effects as the high wear zones on the outsole are supported by super durable material. After all, the fabric lining inside the shoes offers a great in-shoe feel.
Pros:
Versatile and Durable
Great cushioning for a fallen arch
Enough space for your toes to breathe
Padded tongue and collar
BioMoGo DNA Midsole provides long-lasting cushioning
Progressive Diagonal Rollbar promotes smooth transitions
Heel Segmented Crash Pad.
Cons:
7
New Balance Men's MW877 Walking Shoe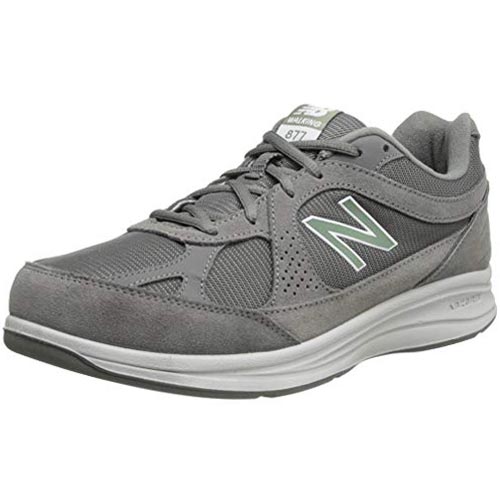 The best part about New Balance is cushioning and stability. Forget the sedentary living style! If your work requires standing for most of the time, go for this walking shoe. They are half suede and half mesh with a rubber sole to enhance traction control.
This contender appears in the list of best walking shoes for plantar fasciitis as with a classic look, so they are quite common among users who are looking forward to a versatile pair of shoes that can serves all the individual needs. But this can be a huge minus point for the product when it doesn't appear to be orthotic.
The New Balance comes with an ABZORB midsole cushioning and thick rubber on the outsole which is resistant to compression and helps absorb external impacts of every step you take so there is less pressure put on your ligaments. And the shoes give you more renewed energy than other options.
To be honest, New Balance is not all there if it lacks Walking Strike Path technology which adds to the overall lightweight construction. These shoes are perfectly designed to fit any foot without pinching, and because they are light, they make you feel as if you are barefoot. They come with the traditional padded tongue and collar to further provide you with maximum comfort, and attenuate any possible stiffness on your toes.
Pros:
Renowned for the durability and resistance
Very aesthetically appealing.
Mesh and stylish suede body
Thick rubber sole provides perfect cushioning
Great traction for balance
ABZORB middle cushioning for comfort and support
A perfect choice for flat feet
Cons:
Not very warm
Relatively small toe box
Conclusion
Plantar fasciitis can be seen in everyone regardless of age or gender. It comes at short notice without showing obtrusive signs and the footwear we use day by day decides whether we are aggravating the conditions on our own. Of course therapeutic shoes are not the end-all-be-all solution, but after all let the sore be the final judge.
We are looking at some of the critical elements that the best walking shoes for plantar fasciitis should incorporate, and finally, we gather the seven most potential products for you to choose from. Never surrender to the pain caused by whatever foot ailments, they are all the obstacles that you can surpass with the right walking shoes in hand. Invest in one and you will get your own big bucks.