Camping is such a fun task, everyone thinks of doing it at least once in their lifetime. Camping means nature lovers spent some time with family and friends without disturbance of mobile phone or internet. You can camp anywhere, whether on the hills or plane areas where you feel satisfying. But before starting camping, you need to learn about do's and don'ts so that your experience of camping doesn't go wrong because if something goes wrong, you will never go camping again.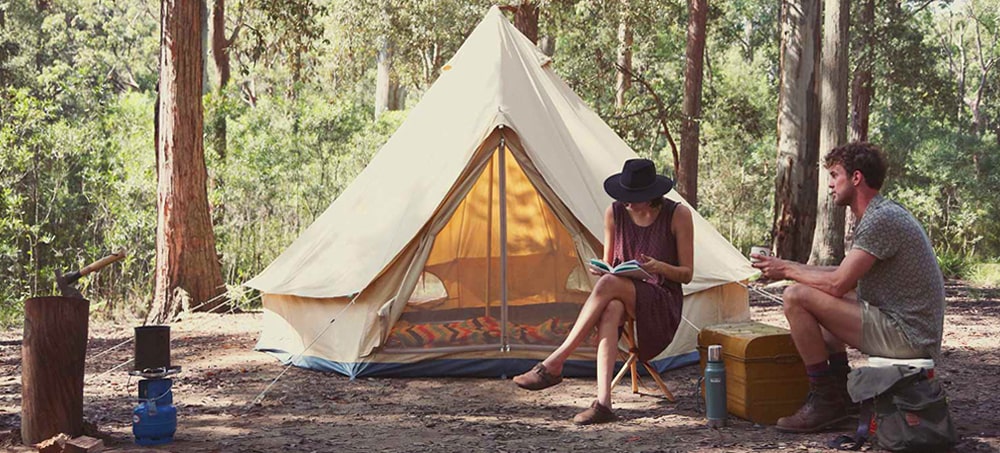 At first, it's never been easy for you to know what is right and where are you lacking. All you need to know for preparation is that what you must buy from the supermarket, what supplies you can get on rent and what you can borrow from your own house. And what is the right camping gear you can use?
You must know the answer to all these questions because I hope you don't want to carry the unnecessary stuff over the mountains. There is one more possibility is that you forget the essentials and turn the successful trip into unsuccessful. So, if you want that nothing will go wrong then let's get started with us; here we are going to give some essential camping tips to make your camping trip successful.
Camping Tips for Beginners
Supportive camping gear
It is the most important tip if you are going out camping. As the experts say, new campers tried out the camping gear first time on the campground. This first time use on ground results in wastage of lots of time, because they continuously fumble for hours to get it to fix. If you don't want to face such a circumstance, try to deal with the same situation earlier at your home. Try your TENT on the backyard; get used to of lanterns, camp stove and sleeping bag. Being familiar with your camping gears will make you a smart camper.
Tent which suits you
The tent is the basic camping gear; you never going to imagine a successful camping trip without it. It is a common mistake which is done by every new camper. Whenever you are out for buying or renting your tent, buy a tent with the capacity rated two higher than the number of family member. For instance, if you are a family of two, then buy a tent with the capacity of four, or if you are planning to go on camping with your friends or a group of four, buy a tent with the capacity of six members. And, do not worry about the size and weight of the tent because they usually fit into the car.
>> Best Camping Tents for Family
Checklist makes everything easy
Somehow whenever we are traveling, we forget one or two things unintentionally. The checklist makes retention task easy for your brain. With the help of this checklist, the possibility of forgetting something for camping is reduced to nil. Make a camping gear checklist so that you don't forget anything important before leaving your home. You can use this while you're backpacking your stuff or even one more time before leaving your place. If something is of no use, take it off from your checklist. Use the checklist, and be on the list of the smart camper.
Sleep disorder
Every person has their own sleeping pattern; some people can manage in less space, whereas some people acquire the whole bed for sleeping. A Sleeping bag is the most important camping gear. Before you go on camping, you must try sleeping in your camping gear two or three times so that you can sleep comfortably during your camping trip. In addition to that, not everyone is a huge fan of sleeping under the stars, or with the flow of fresh air with bug biting. So before you select the sleeping bag, try to know which suits you better. Exploring the tips to buy the right sleeping bag can help you to choose the one that suits you the best.
Before the time for being on time
This rule is basically for everyone, whether you are a new camper or old one. The reason behind it is that it depends on the place where are going. If you are going to the same place, you know all the tips and tricks of that place. Every new place has its own challenges, regardless of experience. Be on safer side new campers, you should reach the place before time, especially during the daylight hours. You can even try your camping gear before the arrivals of other campers.
Meals should be planned
Normally, we never think very much about the food we need to eat, but it is a vital task you need to think about when you are about to go on the camping. You need to figure out no. of meals should be taken for how many people. You can also make a menu and discuss it with other campers. Not only it will help you in grocery shopping but also keeps you healthy. The menu idea helps you in avoiding junk food which you buy on the way to the campground. It will show that you are a smart camper as well.
Campground rules must be followed
There is no real privacy on the campground other than your tent or campsite. Every small noise is easily audible to other campers as well, because sound travels with wind from one campsite to others. You can easily hear the whisperings of the next site. So, please observe the quiet hours and do not make noise in those hours, as it can awake the other campers from their good sleep. Respect the space of other and do not roam around like a wanderer.
Enough clothing is a must have
On the camping trip, most of the new campers avoid the clothing even if they don't have enough clothing. No one can neglect that clothing creates the burden while traveling, but having enough clothing is very important to avoid the risk of sickness. There are no laundry facilities available on the campsites as well. Moreover, different weather requires a different type of clothing. For instance Sweater and jackets for winter weather, swimsuits for the summer and raincoats for the rainy season. So never leave a loophole while packing your attires, but it doesn't mean you should pack extra unusual stuff.
Extreme weather should be avoided
Camping always means relaxing and chilling somewhere near to nature and away from home. But if you don't take the weather seriously, camping turns into the disaster. So, before you plan your camping trips check the weather reports of the near future as well. There is nothing painful than stacking into your tent for whole two days or raindrops constantly poking your peace or wind takes your tent away from you. Even be careful after the rain passes because the land turns itself into the mud. So be aware of the weather.
Give yourself a reward
It is relevant with respect to motivation. You can have to give yourself a better treatment once you are back from the trip. For instance, you can plan a spa day for yourself, or lavish dinner for eating your favorite meal or plan a barbeque party with your camping friends or a day in a game zone for the kids or any other thing you like.
Make an emergency bag
For all the first-time campers, you must prepare an emergency bag. It is important if you are not an outdoor person, or you love to stay at home, and for nature, you love to have your own garden or depends upon indoor plants. Some of these things are the real-life savers like bug bite relief, Nutella and peanut butter, an extra pair of socks, sunblock or bug-spray or biodegradable baby wipes. This stuff is equally important in addition to camping gear.
Play scavenger hunt with nature
It is not an important tip, but it will add the fun into your camping trip with a little bit of research and development of the area. Do some research about the place where you are going camping, then make a checklist of the herbs, plants, leaves, flowers, rocks or anything you think fits into the list well. This scavenger hunt will let you better know about the place and better connects you with nature. And take the photo with that and stick into it your travel diary. For instance, you can add something fuzzy, two kinds of seeds, something straight or something rough, a beautiful rock, a pinecone, stick or something you think is a treasure. But make sure that your camping gear has enough space to carry back all the things with yourself in case you are the lover of collectibles.
Camp closer to your home
It is the most helpful tip for every new camper; don't plan a camping trip too far from your house. It works in the case when nothing works well. For instance, your camping gear ditch you, you ran out of food, weather changes without any prior notice like sun turn into rains or winter turns into snowfall or anything which is not under your control. In such type of emergency situations, it will help you no matter what happens. If you stuck in a situation which is intolerable, pack your bags again, put them in the car and drive back home and place yourself in a safer situation.
Clean your camping gear after using it
It is vital because if you clean your camping gear after returning back home. For instance, place your tent in the backyard of your house and clean it where there is mud sticking to it. Not only it will enhance the lifespan of your camping gear, but also make it easy for you to store your camping gear for your next camping trip.
Conclusion
Basically, every new camper should try his/her camping gear before stepping out form the house. And figure out the thing he/she needs to bring with him/her in his/her backpack with the help of the checklist and always ready for an emergency with the emergency bag. Don't forget to play scavenger hunt with nature. And, once you are back from the camping, reward yourself for having an amazing camping trip and store your camping gear in the right place.
All these tips are important for the new camper because they are new to the business of camping and they don't know about the situation and condition. This list let them prepare for the worst situation as well.
Do you enjoy this tutorial? If yes, then please don't forget to share this with your new camper friends as well. Don't forget to comment below about what you think of this tutorial, and also tell us about your first-time experience or how you are going to prepare for camping if it's your first time.