Planning to go camping or hold a tailgate but cannot find a good cooler? No need to worry anymore. We're here to bring you top 6 best coolers manufactured by the Americans. Their ability of ice retention, their durability, and amazing features they possess will be taken into consideration!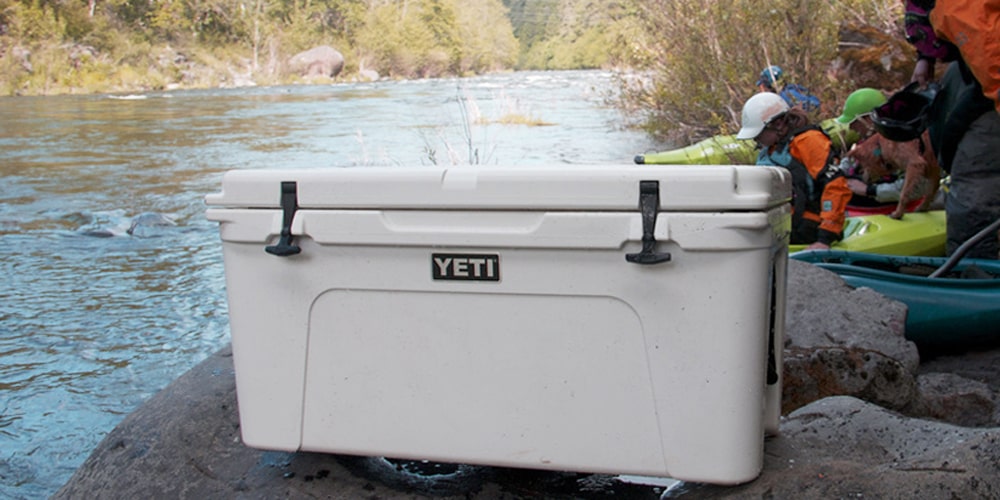 Although the market nowadays is saturated with a lot of brands and models available, there are still some notable names popping out of the list. In this article , not only will we reveal the best coolers but we will also give you compelling reasons why they are on our list! So, if you're struggling with finding one to buy, check our article now.
Top 6 Best Coolers Reviews
| PRODUCTS | MODEL | CAPACITY | HOLDS ICE | CHECK PRICE |
| --- | --- | --- | --- | --- |
| | Pelican Products Progear Elite Cooler | 65 Quart | 10 days | Check Price |
| | Engel High Performance ENG65 Cooler | 65 Quart | 10 days | Check Price |
| | Coleman 54-Quart Steel-Belted Cooler | 54 Quart | 4+ days | Check Price |
| | YETI Tundra 35 Cooler | 35 Quart | 5+ days | Check Price |
| | Igloo Iceless Thermoelectric Cooler | 28 Quart | 2+ days | Check Price |
| | Rubbermaid Durachill 75 Wheeled Cooler | 75 Quart | 5+ days | Check Price |
Please find below the detailed reviews
1
Pelican Products ProGear Elite Cooler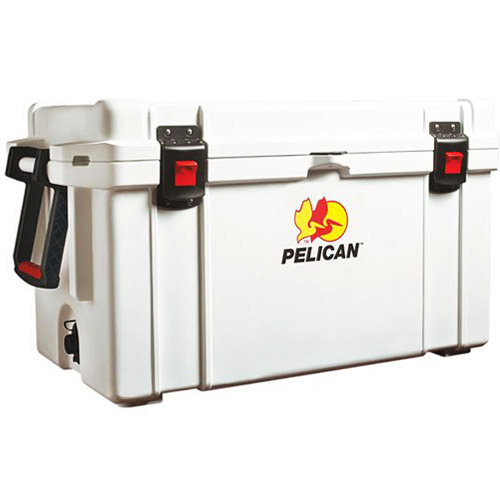 Product Specifications:
Hardware: 100% Non-corrosive Stainless Steel

Capacity: 65 Quart
Holds Ice: Up to 10 days
Insulation: 2″ Polyurethane
Weight: 48 lbs
Standing on top of the list is a familiar name – the 65-quart Pelican Products ProGear Elite Cooler. Coming from Pelican, a famous American manufacturer, this model possesses a terrific ability of ice retention, which is up to 10 days, thanks to the 2" polyurethane insulation.
Moreover, this excellent cooler is also presented with molded handles, an air-tight seal with press-and-pull latches, and a molded body. Owing to these, the durability of this model is out of the world!    
In details, the press-and-pull latches of ProGear Elite Cooler are large. Users can quickly use it with gloves on and operate it with a locking mechanism of 2 stages.
Do you hate sneaky neighbors who are always eyeing your ice-cold beers? Relax, ProGear Elite will give you the perfect solution – a combination lock attachment point.
What is going to wow you next are the threaded attachment and the flood drain coming in a sloped design. With them, the rinsing process is much more effective! There will be no gunks accumulated inside your dear cooler anymore. Having a clean cooler has never been this easy!
The only downside of this product is its heavy weight, which makes it impossible to carry around in a long distance. But besides that, we truly think its durability and performance worth the hype, especially when traveling by cars and trucks!
Coming with a lifetime warranty, we cannot find any reasons to cross out its name in the list of the best coolers all around the world. The Crown belongs to Pelican Products ProGear Elite Cooler.  
2
Engel Coolers High Performance ENG65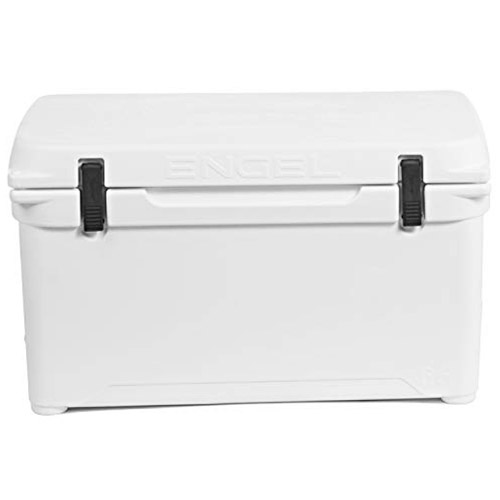 Product Specifications:
Seamless rotationally-molded construction
Capacity: 65 Quart
Holds Ice: Up to 10 days
Insulation: 2″ Polyurethane
Weight: 28 lbs
Right behind the Pelican one, Engel Coolers High Performance ENG65 is a formidable contender in the list of top 6 best coolers. The same as the crowned cooler, the ice retention ability of ENG65 is also up to 10 days. With a steep-jumped performance and a superior ice-retention ability, this is the best cooler to preserve your food for over a week!  
Thanks to the silicone gasket and the marine-qualified compression latches, food and drinks inside ENG65 will be completely vacuum packed. A note is to clean your gasket when you're back home after each trip.
Having a solid polyurethane foam of 2 inches surrounded the entire cooler, this product also provides you the fantastic feature of a high degree of insulation!
But it's not over yet. Owing to a handy anvil hinge, which holds the lid upright when opened, you will no longer struggling with taking some items out of the coolers with one hand or digging inside to find things.
Last but not least, this model also achieved the bear resistant certification of IGBC. With this recognition, it's no doubt that Engel Coolers High Performance ENG65 is the best cooler in animal-friendly areas. Having sufficient features and high performance as the Yeti one, this cooler wins over with a much more reasonable price.      
3
Coleman 54-Quart Steel-Belted Cooler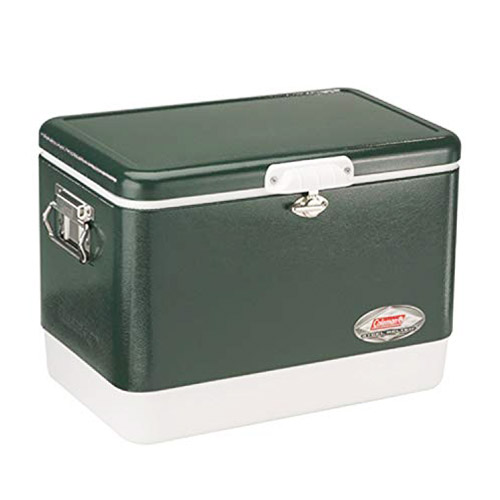 Product Specifications:
Hardware: Stainless Steel

Capacity: 54 Quart
Holds Ice: 4+ days
Insulation: 1″ Foam
Weight: 19 lbs
Falling in love with retro-designed coolers? Then we bet this will be the best cooler for you. Initially produced and launched by Coleman in 1954, the timeless appearance of this 54-quart cooler will steal the heart of nostalgia lovers!
Despite its bulky and large weight, this Steel-Belted Cooler is nearly bomb-proof and can be easily store anything inside.
Possessed 25x17x17 – inch exterior dimensions, it's hard to tell whether it's a behemoth or compact. Its capacity is so large that users can place up to 85 cans or contain several bottles of two liters upright.
As this cooler is made of rustproof stainless steel and has an excellent cleaning design, there is absolutely no room for bacteria surviving in nooks and crannies.
About durability, this Coleman's cooler won't let you down. Thanks to steel handles and metal brackets, the cooler is solid and durable.
What makes this product sitting in the list of best coolers for the campsite, tailgate party, and BBQ is the Have-A-Seat lid. Therefore, it's no strange that this cooler has been nominated for the titles of the best cooler for decades!
Also, Coleman is also famous for high-quality coolers at a reasonable price.
4
YETI Tundra 35 Cooler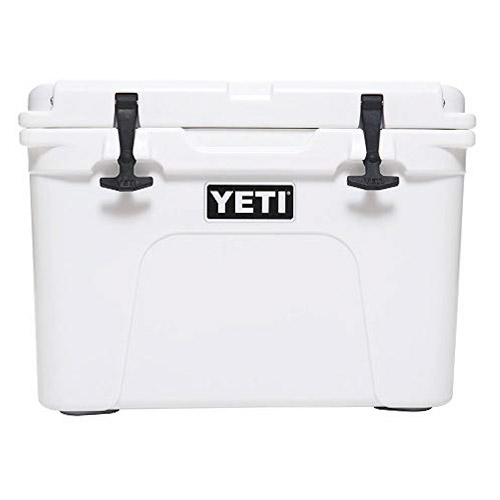 Product Specifications:
Capacity: 35 Quart
Holds Ice: 5+ days
Insulation: 3″ PermaFrost
Weight: 20 lbs
The next cooler we want to introduce is YETI Tundra 35. Mentioned the quality, there are no competitors against YETI ones. But considering the price, coolers from Engel and Pelican is much better.
Different from cumbersome coolers we've seen above, YETI's size is small and can be easily carried around. This is the reason why this product is fantastic for personal uses and short rides at the parade, air show, or beach.
It can contain up to 20 cans of brew, which ensure you to have enough drinks for a few friends under the hot summer air. In case of needing a larger size, the 65-quart size will be a great alternative.
Despite its size, the weight of YETI is up to 20lbs. In return, this cooler will give you serious 3-inch insulation, which includes a rubber sealing gasket, and two rubberized latches to seal the lid.
Moreover, it's also designed to be bear resistant, too. Now, there will be an absolute way to keep those tough buggers away from your food and beverage (Although it's the best not to try it out).
All YETI products are packed with a dry-goods basket, which keeps the ice and water separated. Your food will stay crispy till the end!
The YETI Tundra 35 Cooler is a perfect selection for those carrying not too many cold F&B. It's the best cooler for campers for sure. YETI always provides the best coolers in the market.
5
Igloo Iceless Thermoelectric Cooler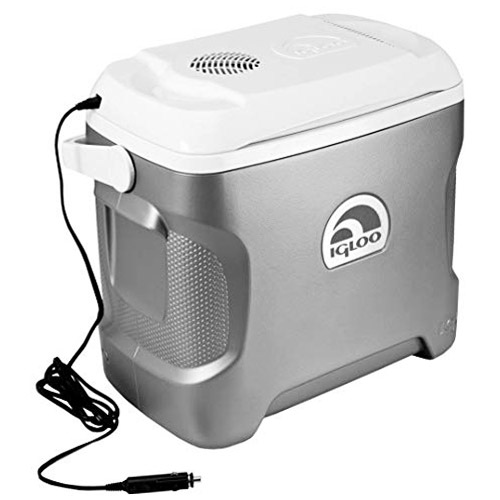 Product Specifications:
Capacity: 28 Quart
Brushless motor
8 feet long power cord that can be plugged into any 12V DC port
Weight: 9 lbs
Igloo Icless thermoelectric cooler provides an advanced technology solution for transporting cold food or drinks for a long time. Many people like to use this model because of its convenience: portable, quiet, and self sufficient.
This cooler is a good choice for people who often go on the road and want to bring food or drinks with them. It is capable of cooling up to 36 degrees below the outside temperature.
The main complaint regarding this Igloo product is that the wall-mounted adapter is needed to charge the cooler anywhere else outside the car, not to accompany it when buying a cooler, you must purchase separately.
All in all, the Coleman PowerChill Thermoelectric Cooler Overall is the best one for campers and frequent travelers.
6
Rubbermaid Durachill 75 Wheeled Cooler
Product Specifications:
Primary Material: Plastic
Capacity: 75 Quart
Extra thick insulation keeps ice up to 5 days at 90°F
Built-in cup holders fit 12-oz cans and 20-oz bottles
Weight: 15 lbs
Worry that your budget won't fit any good coolers? No problem! We got one for you – the Rubbermaid Durachill 75 Wheeled Cooler. As the price range goes lower, the features it brings back may be fewer than others.
Although the manufacturer – Rubbermaid claims that Durachill can keep your F&B well-preserved up to 5 days, the truth is: it's not! It will approximately last 2 day or so based on the frequency you open the cooler as well as the temperature outside.
Also, its hinges aren't solid, too. Thankfully, users can quickly replace them. Another downside is that there are no anvil hinges, which is pretty inconvenient. Users will have to hold the lid with one hand and get their goodies out with the other.
In return, their wheels make it easier than ever to carry around, especially with tons of ice and goodies from your car to the campsite.
Since the market of coolers with wheels aren't that big, you only have a limited number of options. Among all, this product is your best choice!
The 75-quart Durachill is bulky with the ability to contain up to 130 cans of your favorite beverages.
It's a plus that Rubbermaid equips four drink holders on the lid. It's perfect for tailgate parties and camp nights. Considered its price, this is the best-wheeled cooler for those who don't have special needs or requirements.
What you must know when purchasing a cooler!
Durability
No need to discuss, this is one of the must-consider standards when choosing coolers. It must be long-lasting as users may use them in various activities from camping nights to hunting excursions. We have done a few field tests to shortlist the ice chests that are the best durable. Our requirements are simple: unscathed shells, intact handles and latches, and no appearance of strange objects (dirt, etc.) inside the cooler.
Ice Retention
Another standard of a good cooler is ice retention – how long can your goodies remain cold? We've made several consumer tests to find out the best average length of ice retention before the temperature inside the cooler reached 42 degrees Fahrenheit.  The construction also plays a huge role here – those with thick insulation will last longer. The latches also take a considerable part – the tighter they seal the air, the longer the cold stays in.
Handles
Usability and comfort are what handles need to provide. Generally, rope handles are more favored than plastic ones. However, molded-in handles (especially on the Cabela's cooler) are also highly-appreciated thanks to its comfort and functions.
Drain
Well, you may underestimate the drain, but it is essential. Its mission is to remove excess water and completely drain the cooler after each time of use. Higher-ranked drains need to have large water flow and high durability. Most of the time, manufacturers often forget about this part when thinking about the durability of the overall cooler itself.
Portability
It's obvious that we reach out for coolers because we couldn't carry our refrigerator around. Although lightweight coolers are much more portable, users only tend to head for durability and ice retention ability. But in here, we also searched for coolers with good heft with which you can easily travel. On the other hand, wheels also help! For us, well-constructed hard plastic or rubber wheels are our favorites.
Latches
As mentioned above, sturdy and easy-to-use latches play an essential role in the ability of ice retention and durability. Typically, we could find several types of them: heavy-duty rubber, plastic, and metal. Among all, the performance of the rubber is the best.
Value
On the list below, we've already crossed out those coolers the price of which we consider doesn't worth the price. After all, we're consumers just like you, and we don't want you to waste your money.
How to Pack a Cooler for Adventure Travel
To sum it up
All in all, a cooler shouldn't only keep your food well-preserved and fresh. It should be convenient and comfortable as well. There are a lot of factors to take into consideration before coming down to a final decision.
Remember to take a look at a few reputable brands, in particular, to narrow down the range and choose one that fits you the best.
Of course, the price is a critical role. You should only look for the best cooler for the money. That's why the Pelican ProGear Elite stays on the top of our list.
This fantastic cooler provides both the high quality and the affordable price! So have you made up your mind? Tell us your best coolers in the comment section down below!