If you're living in a humid area, then you should find a dehumidifier for yourself immediately, which can help you stay away from harmful microorganisms, mold, etc. And if you were still not satisfied with a normal dehumidifier, then get a dehumidifier with pump. These devices have a pump inside to push water to a drain hole or a sink.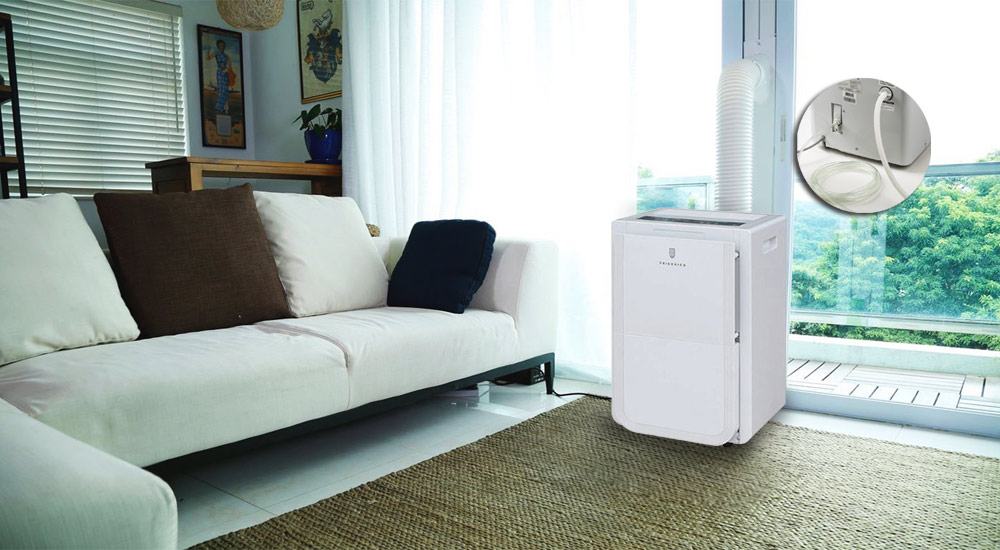 Most of the pumps are convenient and easy to use. Moreover, it requires little effort thanks to the automatic water emptying. However, there are many types of this available on the market, so it's hard to choose one. Stay tuned! We have picked out some amazing ones to test in terms of productivity, coverage area, size and water tank, to name a few. Let's read this article and maybe then you will figure out the best dehumidifier with pump.
Why Do You Need a Dehumidifier With a Pump?
Permanent and Portable
Dehumidifiers with pumps live up to customers expectations with its permanence and portability. Some long-lasting stuff needs hanging on a wall but portable dehumidifiers can be carried easily from one place to another. You can also put it in your storage when not use.
High Performance
Why do we choose a dehumidifier with a pump but not the one without? There are several reasons to explain. First of all, a dehumidifier without a pump must be placed in an elevated position so that the water can flow into the drain. For dehumidifiers with pumps, you can put it anywhere you like, it does not have to be laid on a high place or beside a drain also. Second, you don't have to notice it all the time, instead doing another thing. Some dehumidifiers even can pump water out to a drain 15 feet away.
A Great Choice for A Garage
The version of a dehumidifier enclosed with a pump looks like it is designed right for a garage. Kinds of stuff stored for a long time can be rusty and damaged. However, with a dehumidifier with a pump, you can have your pieces of stuff stay new. You also don't need to empty the water tank daily because the device would do it automatically in case you set it up.
Automatic
If you planned to have a vacation but you still want your dehumidifier operating, then this kind of device would be useful thanks to the auto-restart feature. It can remember how you programmed it last time, so if there is an electric cut, the device will switch back itself when the electricity is back.
The Best Way to Use Your Dehumidifier
If you are possessing a dehumidifier with a pump or you are going to get it, you won't have to hang it on a high position because it doesn't need the support of gravity to work. Leave it anywhere you want (as long as it is near a drain), but you need to look through the length of the hose going with the device to make sure it is suitable.
Think about the place to put the device. You should put it in areas with high humidity and air circulation. Also, remember to keep it away from walls or ceilings to make sure that it allows the vent to work. To do good for people with allergies or respiratory problems, you should use a vacuum cleaner before the dehumidifier. Additionally, it also helps dust not get stuck in the air filter.
Features to Consider Before Choosing a Dehumidifier With Pump
If you are still confused about which is the best dehumidifier with a pump available, let's consider again based on these functions. They will help a lot in washing away the moist.
Capacity
Capacity refers to the amount of water that a dehumidifier can remove per day (not the capacity of the water tank). It can range from 25 to even 95 pints. Large capacity models work more productively than small ones as they condense more water vapor during the time they are being switched on. Different capacities are suitable for different sizes of areas. A 50-pint model is advisable for a 1000 – 2500 square feet areas, while 2500–4000 square feet areas often needs a 70-pint model. If you want to save time and energy, choose a large model.
Suitable Pump Power
Check the pump carefully before purchasing to ensure that it is strong enough to pump out water. If the pump is too weak, it can't expel water effectively. The water then may flow backward into the water tank rather than released to a drain. This can be very irritating so you should consider before buying.
Display Feature
Choosing a suitable LED screen may help a lot, later on, sometimes it's too small to make you notice. Also check out details that can be seen on the interface such as humidistat, fan speed, time settings, alert on filter changes and other important information that helps to manage the device efficiently.
Energy-Saving Feature
There are dehumidifiers with timer feature so you can set the time you want it to work. Some also have an auto-shutoff function which would be activated as the rooms are dry enough. A frost control usually goes with the device to help it not freeze up when the temperature is too low.
Warranty
Anyone needs long-lasting products, but sometimes a certain dehumidifier turns out not to be good as it is thought. In this case, a warranty is extremely necessary. The expiration date can range from 1 year to 5 years, the coverage can be full parts or just some, so check it when you decide to buy a dehumidifier with pump. The longer the warranty and the more it covers, the more likely you should choose this one.
Top 6 Best Dehumidifier With Pump Reviews
| PRODUCTS | MODEL | CHECK PRICE |
| --- | --- | --- |
| | TOSOT 70 Pint Dehumidifier | Check Price |
| | Ivation 70 Pint Energy Star Dehumidifier with Pump | Check Price |
| | hOmeLabs 70 Pint Dehumidifier | Check Price |
| | Friedrich D50BP 50 Pint Dehumidifier | Check Price |
| | Whynter Energy Star 70 Pint Portable Pump Dehumidifiers | Check Price |
| | EdgeStar DEP701WP 70 Pint Portable Dehumidifier | Check Price |
Below are the detailed reviews
1
TOSOT 70 Pint Dehumidifier

Best Overall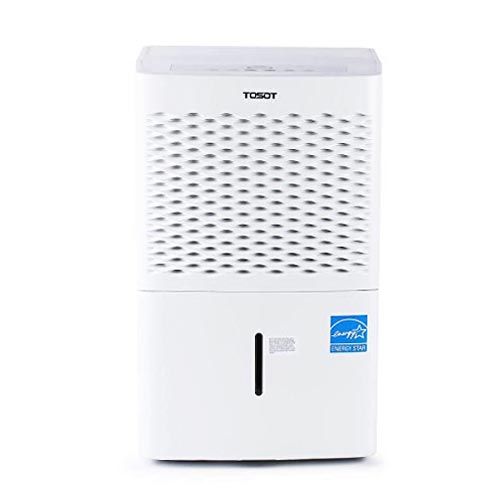 A familiar name, the TOSOT 70 Pint Dehumidifier with Built-In Drain Pump is extremely good at having your house getting rid of moist and dust. Its capacity is up to 70 pints which make sure that your house is clean and dry all the time. There are 3 magnificent Drainage Options: is the removable condensate bucket, the Intuitive built-in drain pump, and the continuous drainage outlet to maximize the moisture removing process.
The TOSOT 70 Pint Dehumidifier with Built-In Drain Pump has a digital touch controls panel that offers customers ease of use. The digital control panel shows the humidity levels and room temperature, making managing the device is not difficult anymore. The device can be set up from 30% to 90% RH of humidity levels. It works well in most types of areas, but low-temperature areas are the best. 41°F (5°C) is extremely fine. It leaves a good impression on customers with the energy-saving function. The amount of energy can be saved up to 30% a month. It's such a good deal to afford so don't miss it.
Pros:
Easy to operate
Quiet operation
Indicators for filter and tank
Automatically restart after a power cut
Auto defrost mechanism
It has a removable water reservoir.
The built-in pump allows for continuously releasing water.
Built-in roller casters that simplify movement
Cons:
Quite more expensive than the others
Short insurance
Ivation 70 Pint Energy Star Dehumidifier with Pump

Best for Extra Large Rooms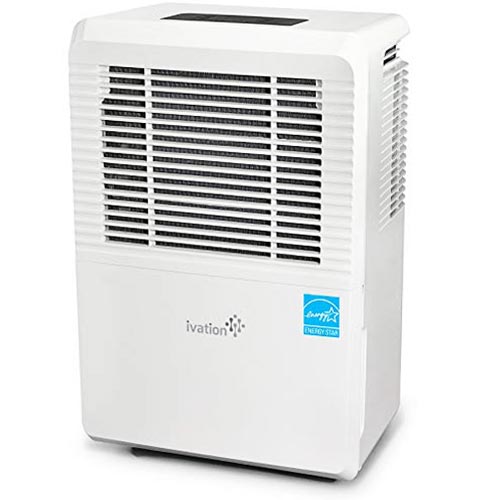 Designed with a 70-pint-capacity, this unit is very suitable for large spaces such as a hall or lounge. It can be used in 4,500 square feet areas and remove a lot of humidity in the air with its high productivity. Because of high capacity, it is usually used for commercial purposes; however, it is pretty small and compact. Wheels and carrying grooves are also included for easier movement.
The device includes both a water tank and a pump. The water tank can hold up to 1.3 gallons of water whereas the pump can help you take care of the device so that you don't have to keep an eye on it all the time. The dehumidifier also has a water indicator so whenever it reaches the warning line, it will auto-shutoff. Therefore, your floor is never wet due to water spills.
Recognized by Energy Star as an eco-friendly dehumidifier, it causes no damage to the environment. Energy is also saved with this device which helps you a lot cut down on electric bills
Pros:
It is eco-friendly
Quick and easy setup
Easy movement thanks to wheels and carrying grooves
Built-in humidity meter and display
Two fan speeds
Efficient energy
Auto shutoff/restart
Auto-defrost sensor
Water indicator
Cons:
It is portable but slightly heavier than other portable units.
It does not allow us to check the water level from outside.
3
hOmeLabs 70 Pint Dehumidifier

Best for Basements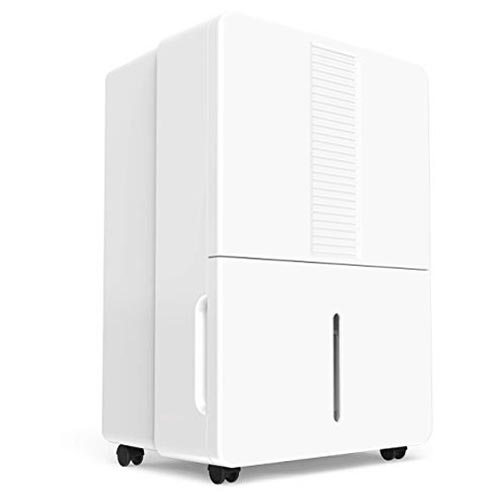 hOmeLabs 70 pint is a large dehumidifier that does good for the air quality in your house thanks to using intelligent humidity control. Installation is kind of easy. Besides, it has the energy-efficient function which would help you save up a lot of money. It works in the room temperature range of 41 ⁰F to 90⁰F. Up to 70 pints of water can be removed per day thanks to the modern design. Finally, it is enclosed with heavy-duty handle, cord winder and gliding wheels for easy movement.
There are a lot of amazing features such as are six different settings to adjust with LED display, digital humidistat readout, child- lock, 24- hour timer and automatic shut-off when the bucket is full. Moreover, there is a pump inside that releases water into drainage or sink.
Pros:
It is suitable for large houses.
Built-in pump
It is easy to use
More energy-efficient helps reduce spending
Good value for money
Auto shut-off and restart
LED display with electronic controls
Cons:
Using it outdoors is not as comfortable as indoors.
4
Friedrich D50BP 50 Pint Dehumidifier

Budget Pick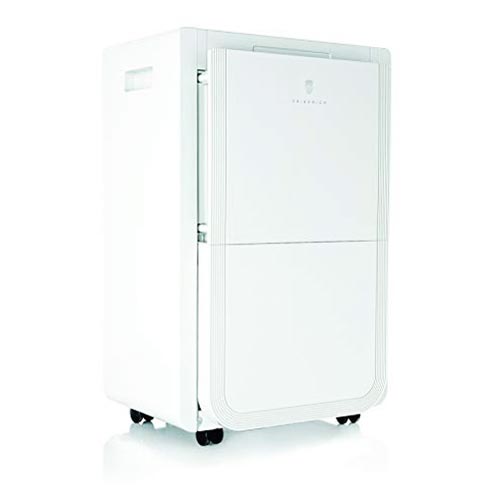 Friedrich D50BP 50 Pint Dehumidifier makes little noise when operating. Moreover, it has a built-in pump which helps get rid of water by pumping it out to the near drainage or sink.
The amount of humidity in the air is shown on a digital LCD, along with the room temperature. It takes less time to remove the moisture than other devices because of the powerful dehumidifying features. Caster wheels are also included for easy movement. The water bucket is adjustable and the carrying knob facilitates installation.
This 50-pint dehumidifier is compact; however, it can clean up the whole large spaces such as bathrooms, bedrooms, etc. It is confirmed by ENERGY STAR to be an energy-efficient device.
Pros:
  Impressive warranties
  Built-in pump
  Clear display and easily control
  Remove humidity efficiently
  Produces less noise
  Shows room temperature and humidity level
  Casters for easy movement
Cons:
The fan is noisy at high speed
5
Whynter Energy Star 70 Pint Portable Pump Dehumidifiers

Quiet Operation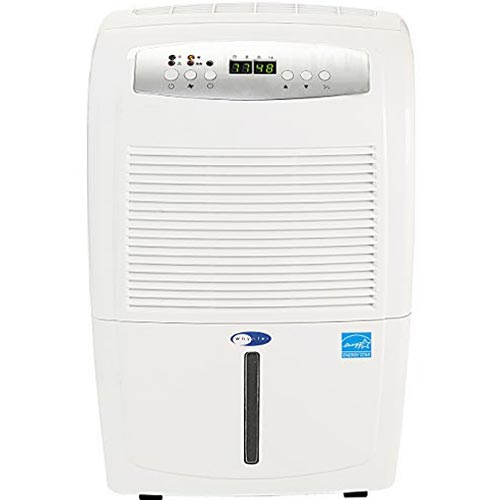 Whynter is famous for producing dehumidifiers. Its 70-pint dehumidifier is one of the largest capacity ones that are available on the market. It can remove up to 70 pints of moist a day; therefore it helps you stay away from all harmful microorganisms in your house.  Moreover, it possesses a wonderful balance among all features which few devices do.
You can control the humidity level. And you don't need to worry about water being spilled because there is a handy 18-pint storage bucket that used for containing water. Whenever it is full, the device will auto-shutoff. Its maximum coverage is 3800 square feet.
Pros:
It is easy to use.
Reasonable price
Powerful capabilities
LCD Displays
Wheels and handles for easy mobility
Built for high capacity usage
Auto-restart and auto-shutoff options
Cons:
It cannot be used in crawl space
6
EdgeStar DEP701WP 70 Pint Portable Dehumidifier

Eco-friendly Operation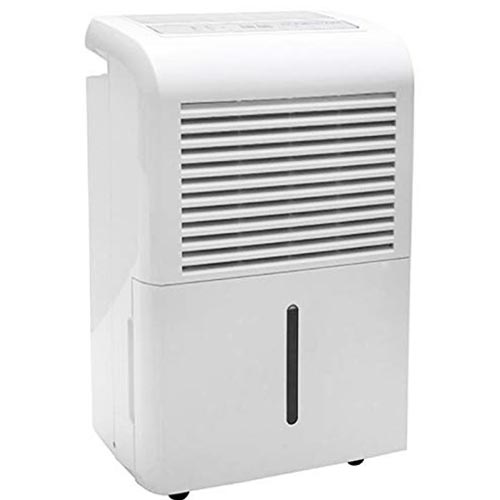 The EdgeStarDEP701WP dehumidifier is enclosed with a drain pump which can expel moisture horizontally and vertically up to 16 feet away. It is originally designed for large spaces, up to 1500 square. Its pint capacity is large so it can remove 70 pints of moisture out of the air a day. Despite large capacity, this device is so compact and small. You can let it even in the smallest corners of your house. It is also easy to move this unit from place to place because of the casters. Finally, when power is cut, the auto-restart feature will be activated. Therefore, there would be no cancellation of your work.
Pros:
It rarely makes any noise
Compact and can be moved easily
Can remove 70 pints of moisture daily
Dual speed fan
LED display control panel
Auto-restart feature is advantageous when having a power cut
Energy Star certified dehumidifier
Cons:
Ice may build up on the filter when the weather is cold
Conclusion
A high humidity surrounding is the best place for harmful microorganisms to breed and cause a lot of diseases. A typical dehumidifier uses a fan to remove moist out of the air whereas the ones with a pump do not just stop there, they are enclosed with a pump which can automatically expel water into drainage or a sink. It depends on your case to choose the most suitable one. However, from our perspective, like the TOSOT 70 Pint Dehumidifier with Built-In Pump is the best dehumidifier with a pump as a whole, considering its productivity and energy-efficient feature. You should choose carefully before making a purchase.
If this article helps you choose your suitable dehumidifier, just leave a comment below as a kind of support for us. If you still have any questions, also let us help you by commenting below.