Every family needs a dehumidifier to make sure that their house is clean enough. If you commonly get allergies or you are now living in a humid climate, then a  dehumidifier is completely necessary for you. Dehumidifiers reduce humidity levels, helping you a lot in getting rid of allergens such as dust mites, mold, and mildew, which can cause infectious diseases. They are not annoying to your daily life and run quietly and productively in the background without most people even noticing.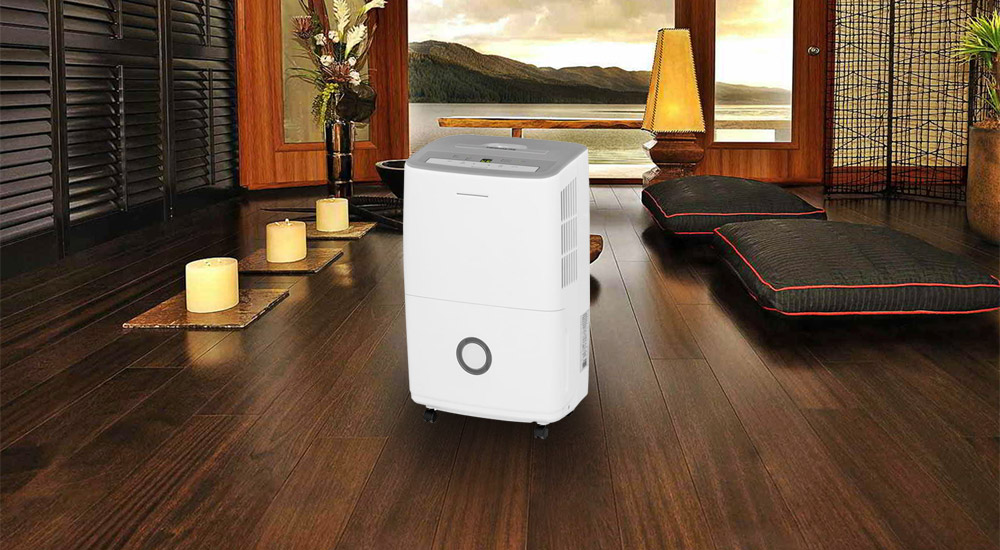 Dehumidifiers are used for humid places in their house, like the bathroom or the basement. They are designed to dehumidify even narrow places namely as crawl spaces. Therefore, every nook and cranny of your house is assured to be clean and dry enough.
Choosing a suitable dehumidifier is important but not easy at all because there is a great number of dehumidifiers available in the market now. But don't worry because we have chosen some of the best dehumidifiers and make a comparison between them so that you can buy the best dehumidifier for your own house.
Why Do You Need a Dehumidifier?
Moisture from the air can cause mould in your house. Mould is nothing but disgusting and damaging. Your walls might be destroyed by mould throughout the time, given that no precautions or measures were taken. Moreover, damp can be harmful to your health because it is the main reason for respiratory diseases namely asthma, allergies or chest infections. Possessing a dehumidifier can help you get rid of such dirty spores which are the potential for many diseases.
What Type of Dehumidifier?
Dehumidifier technology is divided into 2 major types: Desiccant and refrigerator coil technology.
Desiccant Dehumidifier
These work by letting the air go through a rotor that contains dampness adsorbent desiccant material. The water is expelled from the air, resulting in the return of dry air to the spaces. Water is kept in the desiccant wheel and vaporized to make sure the certain places are clean.
Normally, silica gel is used as the desiccant material. It is not as same as other standard textures, it is a porous form of granular silica in which contains a system of tiny interconnected pores. Moisture is basically pulled out of the air, vaporized and pushed out the atmosphere again in form of dry air. As a result, the desiccant wheel is free and continues to collect moisture.
Refrigerator Dehumidifier
Dehumidifiers work by taking moisture from the air, then cooling them below their dewpoint temperature. Condensation after that is put in a cold coil of the devices, where you can empty easily. Some dehumidifiers even remove the water automatically or have a pipe where water can run through.
On the other hand, the dry air is moved to the warm condensing coils, gets heated again before getting rid of the machine. This dry air is expelled from the machine into the humid spaces to make these places dry.
Are Dehumidifiers Safe?
Generally speaking, most brands are reported to be safe and harmless to customers. Despite this, in 2013, a few dehumidifiers were notified of sudden burning. Luckily, dehumidifiers are all well equipped with features like auto-turnoff and auto-defrost in case they might come in handy. It is obvious that these fail-secure devices need turning on so that no undesirable accident might happen. A majority of models are enclosed with a guarantee. Customers ought to check out the guarantee before making any purchase. It will help you stay safe or receive compensation if any problem unluckily happens.
Things to Know Before Buying a Dehumidifier
Type
There is now a variety of dehumidifiers on offer, at least more than 100 models. Therefore, people find it difficult to pick out the most efficient one but affordable too. Let's begin with the first step, choosing the type of your dehumidifier. You may like a compressor, a thermoelectric or a desiccant-based model. Though all models work well, each one has its advantages and disadvantages. For example, the compressor-based model is quite strong but also noisy because of its powerful engine. The thermoelectric dehumidifiers are productive, whereas the desiccant ones are the most affordable. Paradoxically, the last ones aren't very popular to consumers.
Pint Capacity
The dehumidifier is designed based on the amount of moisture that can be removed in one day. For indoor dehumidifiers, the following sizes can be divided:
– Small: Removes 30-35 pints
– Medium: Removes 35-50 pints
– Large: Removes 60-70 pints
Pint capacity describes a maximum amount of moisture that a dehumidifier can take from the air while it is running. Different spaces need different dehumidifiers. For instance, 70-pint-capacity devices are suitable for a house whilst a building needs a large size capacity which is specially used for industry.
Digital
Another aspect that you can consider is whether you want digital or manual controls. Modern devices have a digital interface which allows you to adjust power and timers. Manual devices are more simple and basic. It depends on your own needs to choose one of these devices to buy.
Ease of Use
Please check out recommendations and reviews of customers in advance for not buying the devices that you do not know how to use or find it difficult to control. Let's make sure you can buy a dehumidifier that won't drive you mad afterward.
Portability
Dehumidifiers can be too heavy to carry. Therefore, wheels and handles may help a lot. Cord storage also should be involved in case it will come in handy when moving.
Special Features
You must be clear about all features of the devices you are going to purchase. Since there are distinguished types on the market, you should be careful about buying processing. The device's power and capacity totally depend on the expanse of your spaces. If you need a quiet dehumidifier and less noise, you can see our article on quiet dehumidifiers.
Top 6 Best Dehumidifiers Reviews
PRODUCTS
MODEL
FEATURES
CHECK PRICE
Frigidaire FFAD7033R1 with Effortless Humidity Control
- Moisture Removal: 70 Pints/day
- Tank Capacity: 1.6 gallons

Check Price

TOSOT 70 Pint Dehumidifier
- Moisture Removal: 70 Pints/day
- Tank Capacity: 2 gallons
- Built-in Pump: Yes

Check Price

hOmeLabs 70 Pint 4500 Sq Ft Energy Star
- Moisture Removal: 70 Pints/day
- Tank Capacity: 1.6 gallons

Check Price

Pro Breeze Electric Mini Dehumidifier
- Moisture Removal: 18 ounces/day
- Tank Capacity: 52 ounces (0.4 gallons)

Check Price

Vremi 70 Pint Energy Star Dehumidifier
- Moisture Removal: 70 pints/day
- Tank Capacity: 1.6 gallons

Check Price

Frigidaire FAD301NWD Energy Star
- Moisture Removal: 30 pints/day
- Tank Capacity: 1.5 gallons

Check Price
Below are the detailed reviews
1
Frigidaire FFAD7033R1 with Effortless Humidity Control

Best Overall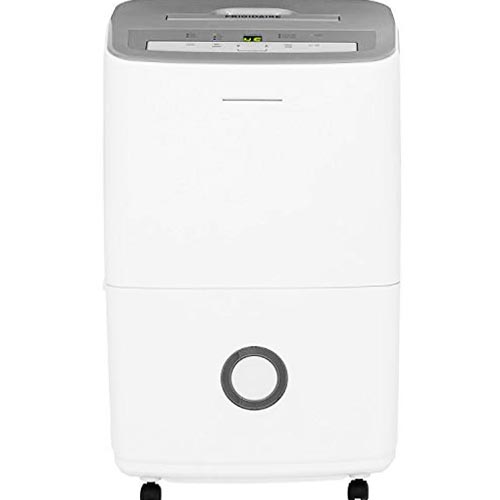 Specifications:
Dimensions : 11.6 x 15 x 24.4 in
Weight : 47 lbs
Tank Capacity : Size of 13 pints (1.6 gallons)
Moisture Removal : 70 pints per day
Coverage : up to 4500 square feet

The Frigidaire FFAD7033R1 is not only powerful but it is also portable, which is a suitable choice for large and open spaces. Its pint capacity is up to 70, allowing our house to quickly get rid of humidity. Besides, its size is quite comfortable, specifically 24.4 inches x 11.6 inches x 15 inches. The device's weight does not exceed 50 pounds. It is also enclosed with wheels for easy moving.
This dehumidifier does not make any annoying noise when running at low to medium speed. It is equipped with a 13.1-pint tank which can contain a considerable amount of water. Water needs pouring out whenever the tank is full. Therefore, you should keep an eye on your device in order to empty the tank in the nick of time. Moreover, the Frigidaire FFAD7033R1 is responsible for ruling out harmful microorganism that can get access to your respiratory system. To conclude, the Frigidaire FFAD7033R1 is the most suitable choice for large and public spaces.
Pros:
Highly effective
More durable and reliable
No irritating noise
Keeping users away bacteria, recommended for sensitive nose
Quick humidity removal
Easy cleaning thanks to the water draining pump.
Energy Star recognizes as effective-energy
Cons:
No scale for measuring water level
2
TOSOT 70 Pint Dehumidifier

Best Dehumidifier with Pump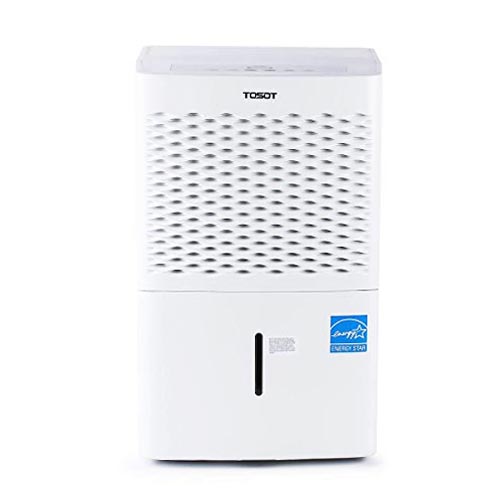 Specifications:
Dimensions : 14.76 x 11.38 x 24 in
Weight : 48 lbs
Built-in Pump: Yes
Tank Capacity : Size of 16 pints (2 gallons)
Moisture Removal : 70 pints per day
Coverage : up to 4500 square feet
If you are often busy and absent-minded, then go for the TOSOT 70 Pint. It can pull out even 9 gallons of moisture in just one day. With its internal pump, you can leave the device in humidity spaces, let it work automatically and pay your attention to other things without any worries about water being leaked. This TOSOT 70 Pint is very suitable for places with high humidity such as the basements or wet floor.
Worry about no drain for the water? No problem, because this device is enclosed with a 1-gallon bucket which can be considered as the quickest choice to store water. Maybe this is not the most powerful dehumidifier and its pump is also not the best. But its design brings lots of benefits such as power outage restart and the quality of each part is acceptable. Significantly, it gets the Energy Star's approval. And it may be the best one to purchase for your bedroom or office because no noise would be made.
Pros:
It is easy to use.
Efficiency is assured.
Quiet operation.
Filter light discloses in the need of cleaning
Restart automatically after a power cut.
Energy Star Certified
Cons:
The device has no water pipe
High-priced
3
hOmeLabs 70 Pint 4,000 Sq Ft Energy Star

Best for Large Rooms and Basements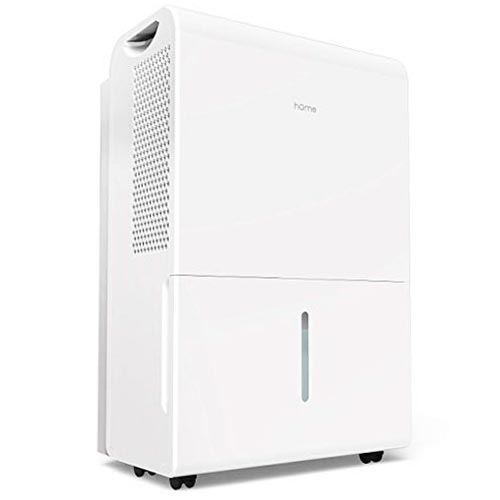 Specifications:
Dimensions : 15.4 x 11 x 24.3 in
Weight : 40 lbs
Tank Capacity : 1.6 gallons
Moisture Removal : 70 pints per day
Coverage : up to 4500 square feet
The Homelabs 9 gallon (70 pints) is an amazing device with subtle design. Its elegant smooth shape and touch control panel is especially suitable for official occasions such as a conference. The Homelabs has a 9-gallon-capacity which is ideal for large rooms. For example, a humid basement, a lobby or a hall is where needs this device. Because of great engines, it can be active throughout 24 hours; hence it makes sure your house is always in good condition.
The dehumidifier also contains a pump compressor inside with continuously remove moist, unpleasant smells and harmful microorganism. As a result, it helps your family to stay away from allergies and respiratory problems. Sometimes, your places are too humid and dirty. That is the reason why an extra feature called Turbo Mode appears, allowing you to maximize the speed of the fan. Finally, you can use this dehumidifier for large spaces up to 16 x 11 x 25 inches.
Pros:
Modern and sleek design
Useful for large rooms
Ease of use
Quiet operation
70 pint-capacity
Wheels included for easy movements
Auto-restart, shut off and defrost
Cons:
Give out hot air
The alarm sound is noisy and disturbing
4
Pro Breeze Electric Mini Dehumidifier

Best for Bathroom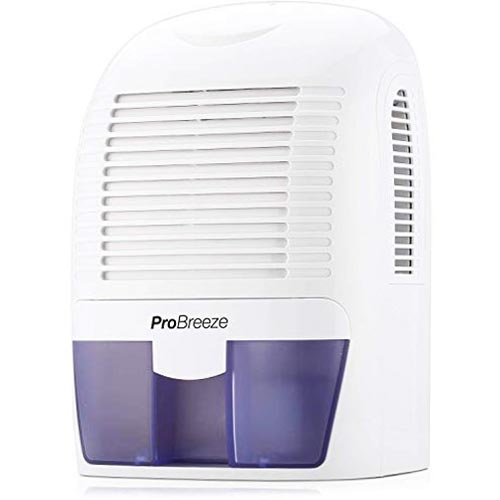 Specifications:
Dimensions : 6.6 x 9 x 12.7 in
Weight : 5.1 lbs
Tank Capacity : 52 ounces
Moisture Removal : 18 ounces per day
Coverage : 220 square feet
Despite the small size, this dehumidifier is very powerful and quiet. Equipped with the   thermal electric cooling mechanism, you hardly have to hear any noise from the device. Therefore, it is widely used in offices and sleeping areas.
Whenever the tank is full, it will shut off automatically and the LED indicator also shows some signs. 9 ounces of water can be collected in one day and this device is usually used for up to 220 square feet room. It will help you remove unpleasant smell and moist. By the way, the operating temperature ranges from 59 to 86 degrees Fahrenheit which keep your house always dry.
There is a plug on the water tank. It can be pulled out easily to empty the water inside. It does not take much time to do, then you can lay the tank back exactly in its place.
More importantly, the brand offers a full one year warranty; hence if the device does not work well until the warranty expires, the warranty will allow the purchase to be returned, replaced or repaired.
Pros:
Compact and light
Easy to control
Clear and exact LED light indicators
Smooth running thanks to whisper technology.
Auto shut off when the tank is full
Cons:
Low water-tank storage
Does not have a compressor
5
Vremi 70 Pint Energy Star Dehumidifier

Best for Large Spaces and Basements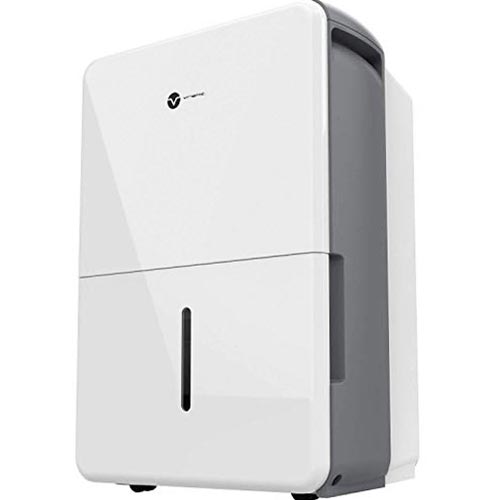 Specifications:
Dimensions : 16.6 x 11 x 24.3 in
Weight : 44 lbs
Tank Capacity : 1.6 gallons
Moisture Removal : 70 pints per day
Coverage : up to 4500 square feet
There it is, a pretty good but affordable dehumidifier which you are looking for. The Vremi has a pint capacity of 70, so you could use it to clear up your large house or basement. If you go for this choice, you will have 2 ways of controlling your device. The first one is to let it run continuously until the tank is full. The second way is to control it yourself. Turbo Mode is included too. In addition, its drain allows a pump to connect so that it is easier for you to control the water inside.
There is a paradox that it is very productive (removing up to 9 gallons of humidity per day) but it is also reasonably priced. One drawback is it makes quite a noise, so consider carefully and just choose it if noise is not your big problem.
It has an advanced filtration system that filters and eliminate all impurities from the air. Its fan helps you get rid of all foul smells and allows air-circulation in the room. There is a water-level bar for you to control the tank.
Pros:
Sleek and portable design
Works efficiently
Filter for wiping the air clean
Easy to clean filter
Used for large spaces, specifically up to 5000 square feet areas
Continuous humidity removal
A suitable choice for large rooms and basement
Cons:
You have to wash the filter regularly
Making noise
6
Frigidaire FAD301NWD Energy Star

Best Small Dehumidifier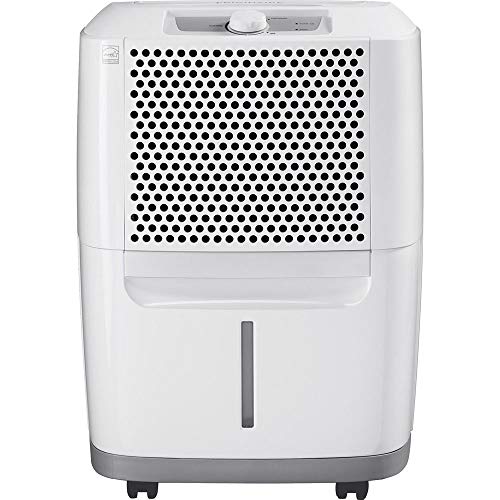 Specifications:
Dimensions : 12.6×15.8×20.9 in
Weight : 31 lbs
Tank Capacity : 1.5 gallons
Moisture Removal : 30 pints per day
Coverage : up to 1500 square feet
If your house is not big, you have to choose an alike dehumidifier. Frigidaire offers you a choice of a small device for your little home. It can remove 30 pints of moisture a day, which is adequate for small areas.
Despite the fact that it is small, it is well-equipped. There is a filter to make sure that the air is dry and clear after being released. If you want to keep yourself away from respiratory issues, invest in a dehumidifier like this. You'll soon figure out the differences between having and not having a dehumidifier.
Unlike other devices, this will not give you a chance to forget emptying the tank. Why? Because the dehumidifier has two significant things: an auto-shutoff feature and an alarming system that reminds you whenever you forget about the full tank. Having designed in small size, it is totally easy to move it from one place to another. Furthermore, it has both the wheels and the handles which really save up time.
Pros:
Easy to set up
Reduces moisture effectively
Easy to remove and empty the tank
Handle and wheels for easy portability
Long power cord
Filter clean up the air
Energy Star certification
Assurance for 5 years
Cons:
Manual control
Advisable for small areas only
Conclusion
It depends on the size of your accommodation and the amount of moisture where you live that you can choose your own dehumidifier. We considered many dehumidifiers from various aspects, including customers' comments and eventually pick out the Frigidaire FFAD7033R1 model as the best dehumidifier.
We made a comparison of Frigidaire FFAD7033R1 model among others and realize that it is very powerful, comfortable and long-lasting. Although some features are not the best, there is a balance among all of them. Furthermore, it comes from a famous company; therefore, you would take some comfort from its origin.
If this article works with you, leave a comment below as a motivation. If you still have something unclear, just ask.